Andrew Stuart: Britain's last resident commissioner to Vanuatu whose skill ensured independence in the face of French machinations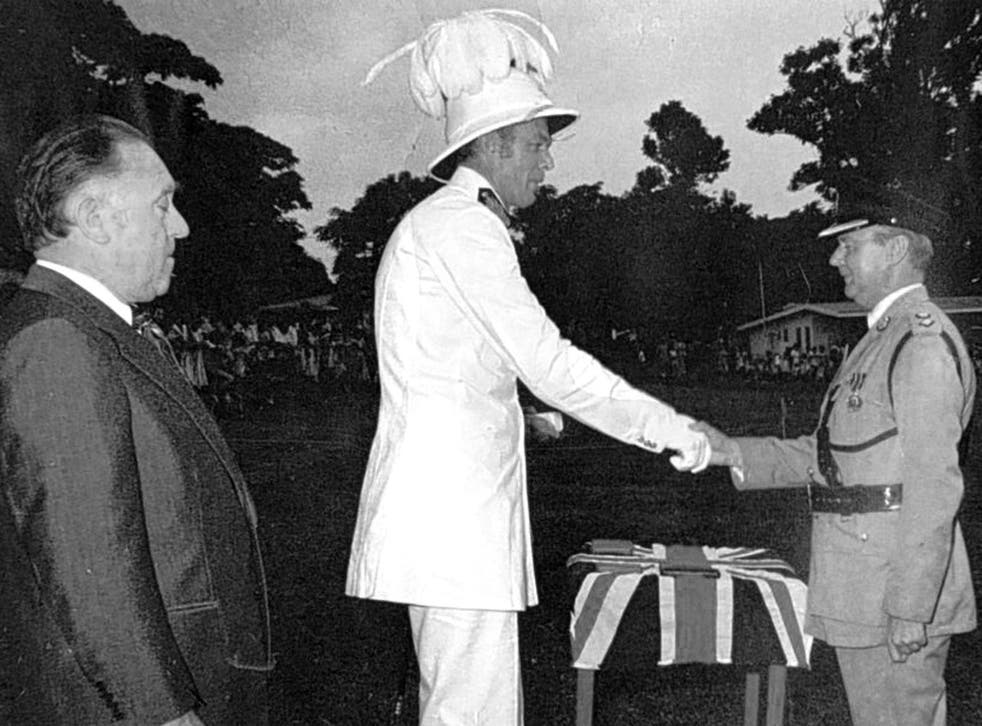 Andrew Stuart was a diplomat with long experience in Africa who later became Britain's ambassador to Finland. But the most colourful period of his career was that spent as the last resident commissioner on Santo, the largest of the 80 islands of the New Hebrides, now Vanuatu in the South Pacific. He arrived there in 1978, with the brief of bringing the islands to independence. That he managed to see this through in the face of a local rebellion and machinations by the French was tribute to his cool-headedness under pressure.
The colony had been run by Britain and France jointly since 1906. Each district in the volcanic outcrops scattered over 500 miles of sea had two government agents, one British, one French, and disputes over such matters as the exact height of flagpoles were legion. Stuart and his French opposite number, Inspecteur-General Jean-Jacques Robert, occupied separate residencies, the French a white-painted building in the capital, Port Vila, and the British up 179 steps in a bungalow perched on Iririki island in its harbour.
In the election held before independence in 1979, a 90 per cent turnout of the then population of 150,000 returned English-speakers with a two-thirds majority on all the islands including Tanna and Santo. The winning party was Vanuaaku Pati, led by an Anglican priest, Father Walter Lini.
But rebel Jimmy Stevens, leader of the francophone cult "Nagriamel" cargo-cult movement on the 4,000 km sq Santo refused to accept this outcome and, tempting his bow-and-arrow-wielding followers with the promise of acquiring modern gadgets and vehicles, established the "Republic of Vemarana".
Stuart and Robert had been supposedly working in concert to establish independence. But on its eve, in 1980 a secret plan by France was hatched, focused on Stevens. There were hopes, kept from Stuart, that Santo and another French-speaking majority island, Tanna, would break away after independence and remain under the influence of France. Robert, who paid visits to Stevens without telling Stuart, took his cue from the French interior ministry, which covers overseas territories, in Paris.
Thus the radio broadcasts of the extravagantly bearded rebel leader Stevens were often Stuart's only clue to what was really going on. After one such broadcast, during which Stevens announced that he would drive the new agent out within a week, Stuart hastened to Santo to support the appointee. He endured the nightly loudspeakers blaring out Boney M's 1976 disco number "Daddy Cool" – "I'm crazy like a fool – what about it, Daddy Cool?", and also explored "Million Dollar Point", where Americans had been stationed in the Second World War (these included US Navy lieutenant commander James A Michener, author of the 1947 book Tales of the South Pacific that became a Rodgers and Hammerstein musical and in 1958 a film).
And then Steven's half-naked army arrived, supported, as Stuart wrote in his book Of Cargoes, Colonies and Kings (2001), by "a group of unofficial Frenchmen... with an assortment of explosive weapons", and the new agent fled and hid for three days in the bushes. Stevens' collusion with the French became clear when Robert's personal representative secured the agent his freedom.
But Stuart had the last laugh. By his planning it was Royal Marines who oversaw the transition to self-rule. The 120 Marines of 42 Commando and 80 of headquarters staff travelled from Plymouth to join a French force that Robert, assuming the British would not come, had brought 300 miles from neighbouring New Caledonia. This force, under a French commander, was allowed to do no more than guard a flagpole, while the rebellion continued.
But on independence, as the French pulled out, Stuart persuaded Lini that the Marines were vital on the ground to hold Santo's airfield open. Lini had invited a peacekeeping force from Papua New Guinea to take over, and it was feared Santo might still secede if Stevens could stop this force from landing. Stuart's arrangement worked, and he had the satisfaction of seeing Vanuatu's independence go ahead with no breakaways.
He went on to be Ambassador to Finland, which awarded him the Order of the Lion. In 1961 he had won the Colonial Police Medal as a district officer in Uganda when he calmed a situation by speaking the local language while climbing a dangerous rock to reach a spear-wielding rabble-rouser, who was arrested.
The 6ft 7in Stuart, son of the Rt Rev Cyril Stuart, Bishop of Uganda, was educated at Bryanston and Clare College, Cambridge, where he studied law. A keen rugby player, mountain climber and swimmer, he joined the colonial administrative service in 1953, and served in Uganda, through independence in 1962, until 1965. He then joined the British diplomatic service, had postings in Finland and Indonesia, and was head of the Foreign Office's Hong Kong and Indian Ocean Department. In retirement he was principal of the United World College of the Atlantic in South Glamorgan.
Andrew Christopher Stuart, diplomat: born Ludlow, Shropshire 30 November 1928; CPM 1961; CMG 1979; married 1959 Patricia Kelly (died 2008; two sons, one daughter), 2010 Susan Lines; died Wareham, Dorset 27 January 2014.
Register for free to continue reading
Registration is a free and easy way to support our truly independent journalism
By registering, you will also enjoy limited access to Premium articles, exclusive newsletters, commenting, and virtual events with our leading journalists
Already have an account? sign in
Register for free to continue reading
Registration is a free and easy way to support our truly independent journalism
By registering, you will also enjoy limited access to Premium articles, exclusive newsletters, commenting, and virtual events with our leading journalists
Already have an account? sign in
Join our new commenting forum
Join thought-provoking conversations, follow other Independent readers and see their replies