Andy King: Cultured Everton midfielder remembered by Toffees fans for a glorious Merseyside derby winner in 1978 Comments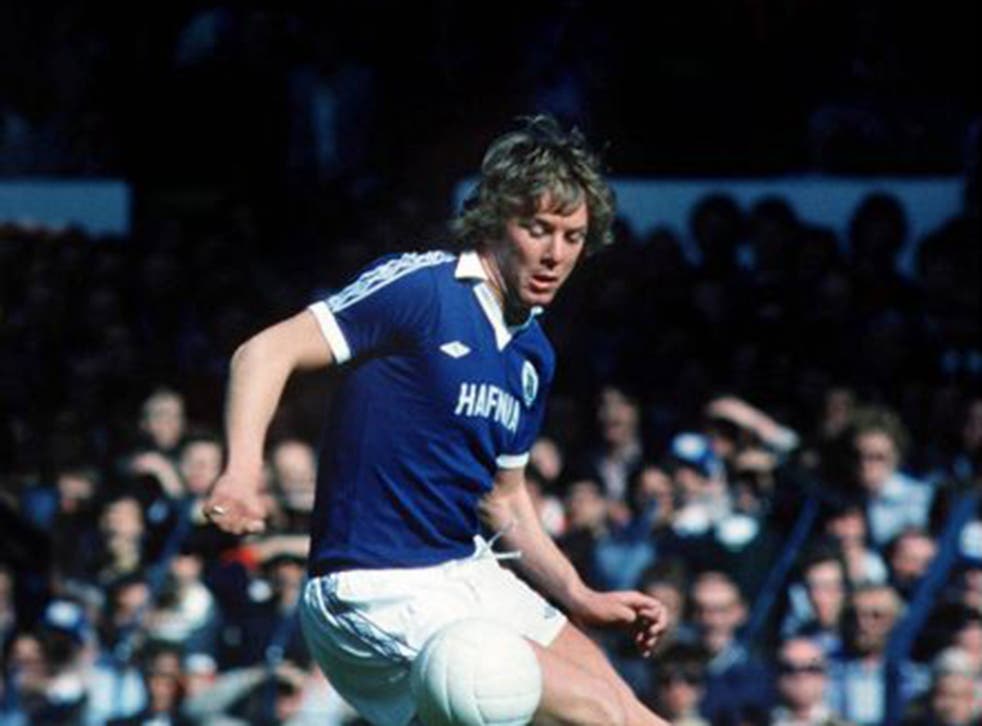 Andy King was an effervescent character who embodied the simple joy of playing football, his lifelong obsession. He exuded an impudent zest which endeared him to the fans of his many clubs, especially Everton, with whom he reached an early peak in the second half of the 1970s.
A midfielder of whom it was written that he never kicked a ball without attempting to do something creative with it, King was endowed with exceptional natural talent. Frustratingly, though, it was only during the first of his two spells at Goodison Park that his full potential blossomed on a sustained basis.
At his exhilarating best he was utterly ungovernable, his signature achievement delivered in the heat of a Merseyside derby at Everton's home in October 1978. It was a time when Liverpool were ruling the roost domestically and in Europe with seemingly undentable dominance. The Blues had failed to beat the Reds for some seven years, but King confounded the odds to win the match with a sudden, sublime 20-yard volley, one of the most welcome strikes in his club's history.
When he was on song, his artistry and vision were captivating, the passes crisp and perceptive, the many flicks dazzlingly deft, the finishing clinical. Yet beyond that there was an extra dimension to King, his finest work infused with an almost childlike sense of wonder which communicated itself to supporters and caused them to love him.
Not that his long and varied career was a procession of glories; far from it. Having turned professional with his local club, Luton Town, as a 17-year-old in July 1974, he made his debut on the last day of the next season, in which the Hatters were relegated from the top tier.
In April 1976, having sparkled in the second grade, he was transferred to Everton for £35,000 and immediately produced a trio of livewire performances which inspired victories and earned the gratitude of his new team-mates, who had been promised a Spanish holiday if they could take at least four points from the three games.
After that, King's place in the side became virtually inviolate, and under new manager Gordon Lee he was one of the chief architects of uplifting improvement which transformed the Toffees from mid-table under-achievers to a third-place finish in the 1977-78 title race – and fourth a year later.
Alas, his form became patchy, and in autumn 1980 Lee – who prized solid reliability over the sometimes wayward brilliance it was in King's nature to offer – sold him to second-tier Queen's Park Rangers for £425,000. The England under-21 international, who had contributed 52 goals in 189 games for the club, was still only 24, yet never again would he shine with the consistent brightness suggested by his extravagant natural gifts.
He didn't settle at Loftus Road, nor with West Bromwich Albion, whom he joined in September 1981, but when another Everton boss, Howard Kendall, took him back to Merseyside in exchange for striker Peter Eastoe in July 1982, expectations for King's second coming were sky-high.
Kendall believed that the hitherto erratic 25-year-old had matured sufficiently to produce regular high-quality displays, and soon he emphasised his vast potential with a superbly curled goal in a home thrashing of Aston Villa.
But his momentum was shattered by a serious knee injury. Afterwards, he couldn't command a berth in a fast-improving team destined to claim serial silverware – and in 1984, having stretched his Toffees record to 68 strikes in 247 appearances, but disillusioned with life as an outsider, he signed for the Dutch side Cambuur Leeuwarden.
There followed fleeting, unfulfilling billets with Swedish club Orebro, then Wolverhampton Wanderers in 1985, before a three-match return to Luton and a last Football League stint with Aldershot in 1986-87.
Saddened but irrepressibly optimistic, King sampled management with League of Ireland club Waterford United in 1989, then coached at various levels before accepting the reins of Mansfield Town in 1993. He guided the Stags to the basement division play-offs in 1994-95, but lost in the semi-finals and left after a disappointing 1995-96.
He later coached and scouted for former Everton team-mate Peter Reid at Sunderland, then bossed Swindon Town in two spells between 2000 and 2005, taking the Robins to the third-tier play-offs of 2003-04, only to taste semi-final defeat again.
Sacked after a dreadful run of results in September 2005, he returned to management with the Conference club Grays Athletic in November 2006 but soon resigned, then scouted for several clubs, including Everton, Plymouth Argyle and Colchester United.
In 2013 he became assistant to Northampton Town boss Aidy Boothroyd, then stood in as caretaker manager before his 2014 appointment as MK Dons' chief scout, the role he was filling when he died of a heart attack at his home, aged only 58.
IVAN PONTING
Andrew Edward King, footballer and manager: born Luton, Bedfordshire 14 August 1956; died 27 May 2015.
Register for free to continue reading
Registration is a free and easy way to support our truly independent journalism
By registering, you will also enjoy limited access to Premium articles, exclusive newsletters, commenting, and virtual events with our leading journalists
Already have an account? sign in
Join our new commenting forum
Join thought-provoking conversations, follow other Independent readers and see their replies