Angelo Dundee: Boxing trainer famed for his long association with Muhammad Ali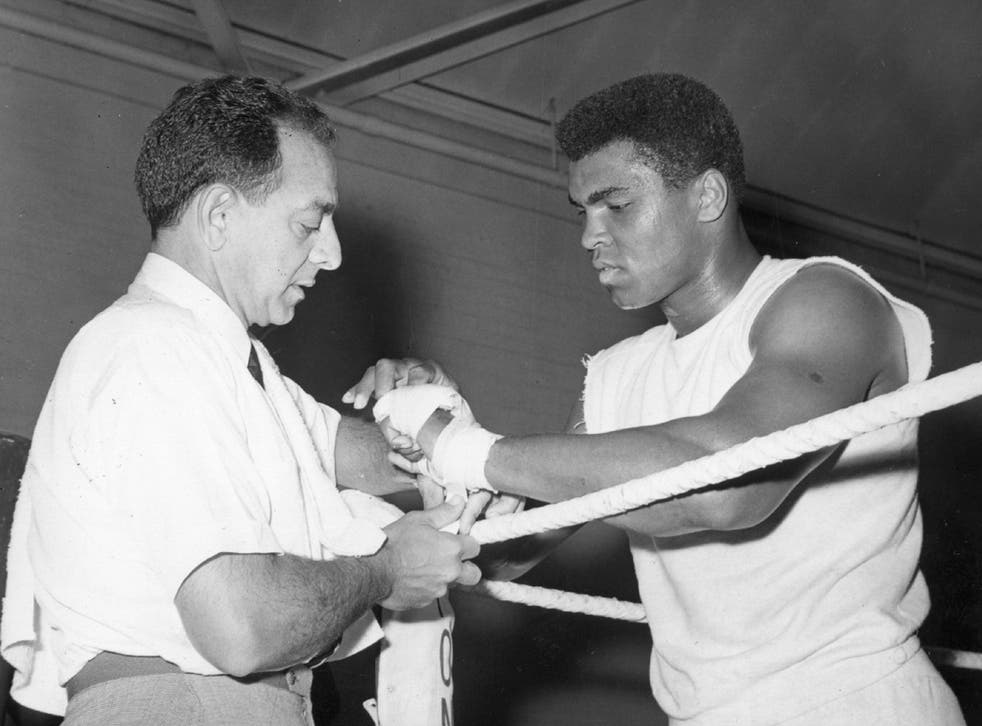 Angelo Dundee was, due to his 20-year partnership with Muhammad Ali, the best-known and most celebrated boxing trainer in the history of the sport. While others, such as Dundee's contemporary, the late Eddie Futch, may have enjoyed similar respect within boxing circles, it was Dundee's jolly, gregarious personality, combined with Ali's worldwide fame, which ensured that the stocky, bespectacled trainer-manager became a legendary figure in his own right.
Angelo Dundee: Fighting Ali's corner
Although it was occasionally suggested (sometimes by Ali himself) that the fighter known as "The Greatest" had no need of a trainer per se, Dundee's value to Ali as a corner man was beyond dispute. In 1963, Dundee famously tweaked the stuffing (and the rules of boxing) from the then Cassius Clay's split glove to allow Clay time to recover from a fourth-round knockdown by Henry Cooper.
The following year, he persuaded a panicked Clay to fight on against Sonny Liston after liniment from Liston's shoulder had temporarily blinded his young charge; Clay duly recovered and became heavyweight champion of the world. And in 1975 in Manila, after the 11th round of Ali's gruelling third encounter with Joe Frazier, it was Dundee who, in the words of Eddie Futch, Frazier's corner man, "prevailed upon" an exhausted Ali to continue, forcing a stoppage at the end of the 14th round.
Ali himself would later say that Dundee was "the best there ever was or ever will be. If you want to be champ, then you've got to give Angelo a call." Other fighters who won championships under Dundee's guidance included Carmen Basilio, Luis Rodriguez, Sugar Ramos, Willie Pastrano, Jose Naploes, and Sugar Ray Leonard.
Angelo Dundee was born Angelo Mirena in Philadelphia (often considered America's boxing capital) in 1921, the fifth son of an Italian shepherd who had emigrated from Calabria at the turn of the century (the family name was originally Mirenda before evolving, mainly due to bureaucratic error, to Mireno and finally, Mirena). After graduating from South Philadelphia High School in 1938, Angelo found employment at a naval aircraft factory. In 1943, he was inducted into the armed forces, serving in a clerical capacity in England and France.
After being demobbed in 1946 with the rank of staff sergeant, he returned to his old job. Two years later he was invited to New York to assist his elder brother Chris Dundee, a leading boxing promoter. The Dundee surname had first been taken by Angelo's eldest brother, Joe, a Philadelphia club fighter who adopted it as a mark of respect to three former world champions of Italian background who had all fought under that name. Chris and Angelo inherited it in due course, and in later years Angelo adopted it legally.
While working as a general factotum for Chris from the latter's room-cum-office in the Capitol Hotel, Dundee spent many hours in the famed Stillman's gym on 55th Street and Eighth Avenue, watching and learning from the great trainers of the day, men like Ray Arcel, Whitey Bimstein, Charley Goldman, and Chickie Ferrara. In 1950, Chris moved his operation to Miami, where Angelo, by now also working as a manager, joined him the following year.
The new location led to Dundee working with many Cuban fighters, three of whom he would later steer to world titles. In 1952, he began working the corner for Carmen Basilio, who in 1955 won the world welterweight title from Tony De Marco, and in 1957, with Dundee as his trainer, defeated Sugar Ray Robinson for the world middleweight championship.
In 1960, Dundee was approached to train Cassius Clay, the light-heavyweight gold medallist at that year's Rome Olympics. Dundee quickly realised that the traditional fighter-trainer relationship would not work with the independent-minded Clay: "You didn't train him like the usual fighter. He resented direction, so I used misdirection." By making oblique suggestions, Dundee allowed Clay the freedom to develop his unique style, while at the same time ensuring that basic lessons were learned.
Dundee was also wise enough to distance himself from his fighter's private life – a rule he observed with all his boxers – so that when Clay converted to Islam and then refused induction into the army in 1967 and was stripped of his title, their relationship remained unaffected. Following Ali's return to boxing in 1970, and subsequent losses to Joe Frazier and Ken Norton, it was Dundee who helped restore Ali's morale. In 1974, his faith was rewarded when Ali regained the championship from George Foreman in Zaire, courtesy of some shrewd observations from Dundee on Foreman's shortcomings and Ali's own improvised "rope-a-dope" tactics.
In 1980, after Ali had retired (having lost and regained the title in bouts with Leon Spinks), Dundee faced criticism for allowing Ali to fight Larry Holmes. His response at the time was both typical and understandable: "I was with him in the beginning, I've been with him in every circumstance and every condition, and I want to be with him at the end." After 10 one-sided rounds, Dundee withdrew Ali from the fight, despite pressure from the fighter's entourage to let him continue.
In the 1980s, Dundee enjoyed further success with the outstanding welterweight Sugar Ray Leonard, who he guided to victory in bouts against Roberto Duran, Thomas Hearns and the middleweight champion Marvin Hagler. His last great achievement came in 1994, when he helped George Foreman to defeat Michael Moorer and thereby regain the heavyweight title he had lost to Ali 22 years earlier.
Despite his many accomplishments, and the high regard in which he was held, Dundee remained both modest and realistic about his role, saying, "the fighter wins the fight. I never won the fight. I'm just there, and whatever little bit I do, I'm happy to do it."
Angelo Mirena (Angelo Dundee), boxing trainer and manager: born Philadelphia 30 August 1921; married 1952 Helen Bolton (one son, one daughter); died Tampa, Florida 1 February 2012.
Register for free to continue reading
Registration is a free and easy way to support our truly independent journalism
By registering, you will also enjoy limited access to Premium articles, exclusive newsletters, commenting, and virtual events with our leading journalists
Already have an account? sign in
Register for free to continue reading
Registration is a free and easy way to support our truly independent journalism
By registering, you will also enjoy limited access to Premium articles, exclusive newsletters, commenting, and virtual events with our leading journalists
Already have an account? sign in
Join our new commenting forum
Join thought-provoking conversations, follow other Independent readers and see their replies