Angus McGill: Maverick, witty columnist whose distinctive prose graced the pages of the London Evening Standard
McGill won the British Press Award as Descriptive Writer of the Year 1968, became a founder member of the SDP in 1981, and was awarded the MBE in 1990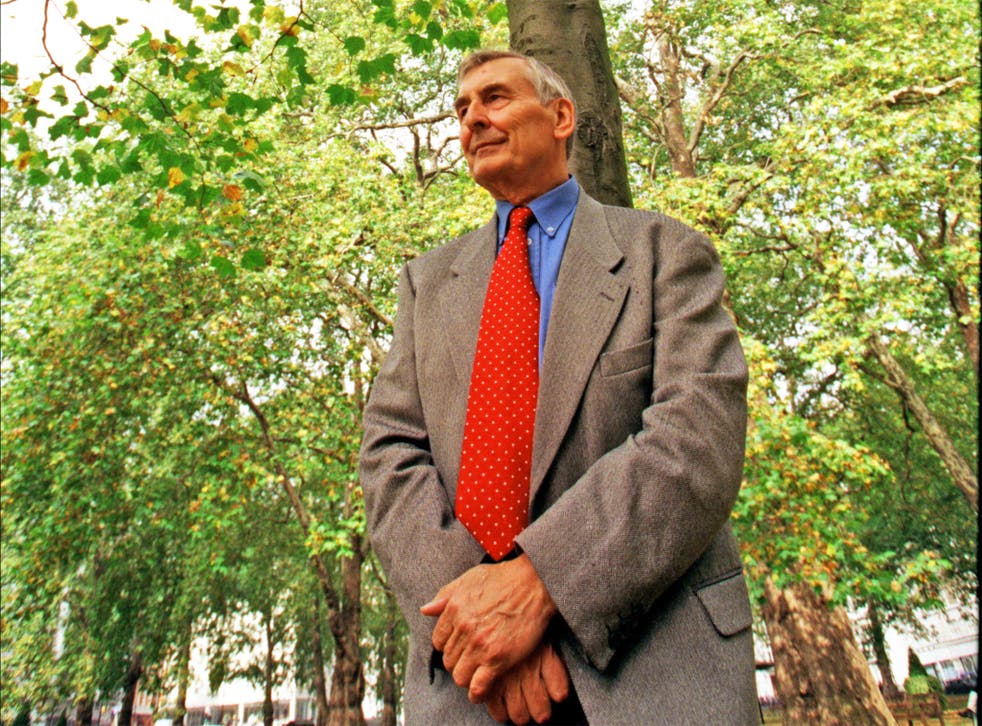 No 47 Shoe Lane was the best place to spend your formative years during the boom following postwar austerity that we dubbed the Swinging Sixties. The Evening Standard newsroom pulsated with energy in this dingy Edwardian building just off Fleet Street where the rumble of the basement presses made the tea in your mug tremble as they printed six editions a day, six days a week, long before the term "rolling news" was coined. It made stars of half a dozen young tyros who went on to edit national newspapers. And before them, Angus McGill, the restlessly witty columnist who has died aged 87 and whose weekly centre spread I usually edited over 15 years.
The average age at the Evening Standard was easily a generation younger than the rest of Fleet Street – shorthand for the historic quarter that played home to all the leading newspapers – so we weren't yet set in our ways. The liberal-minded Charles Wintour edited the most fashionable evening paper in the land and he picked savvy, curious mavericks with a keen eye on metropolitan life to create a buzzy, world-class evening paper that was air-freighted across the globe.
The Standard's owner Lord Beaverbrook declared it "my joy" and McGill became a favourite who was expected to keep the proprietor up to speed with the latest trends. "What," he once asked, "is the most popular meal in London today?" The eager young McGill responded: "Prawn cocktail, followed by rump steak and chips, followed by ice cream." And its cost? "Six shillings and sixpence." The Beaver carried no passengers, McGill recalled later, and the next day this menu was fully reported in the Londoner's Diary.
McGill was a wild card from industrial Tyneside who was 30 when the subtle irony of his features in the Newcastle Evening Chronicle came before Wintour's eyes. On meeting him in 1957 the Oundle-educated Wintour inquired: "Which set do you move in?" Those were the days when the Londoner's Diary editor took his staff to lunch to explain how to eat an artichoke.
On the first of many trips to Beaverbrook's Riviera home, McGill was expected to play both courier (bringing important despatches from head office at the Daily Express) and cabaret. At dinner in Cap d'Ail that night he found himself sitting next to Lady Cunard. Introducing McGill, Beaverbrook declared: "I hear you are the funny man. Say something funny."
Soon Wintour was emboldened to give McGill a weekly column of eccentricity and distinctive prose style, titled "Mainly For Men" and later simply "McG", which featured free spirits and trendsetters such as "King of Carnaby Street" retailer John Stephen, pioneering restaurateur Robert Carrier, inventors of the rock musical Tim Rice and Andrew Lloyd Webber, and the legendary "living lord" Maharaj Ji.
The Standard's stars came to define the swinging scene: when in 1962 pop columnist Maureen Cleave brought back from Liverpool the first mainstream interview with the Beatles, that year McGill encountered a Stamford Hill Mod called Mark Feld being intensely articulate about Italian fashion and had him photographed by the then unknown Don McCullin for the men's magazine Town, where he was writing under a pseudonym. Later, the same teenage Mod, calling himself Marc Bolan, sought out McGill at the Standard's office and handed over his first acetate demo disc of "The Wizard". A McG feature spread ensued and a pop star was born.
As well as bringing merriment to the Standard's open-plan editorial floor, McGill enrolled celebrities such as Fenella Fielding, Dudley Moore and Willie Rushton on to panels to find London's Pub of the Year and Girl of the Year, and a Wine Tasting Challenge that launched the then-actor Oz Clarke into a new career. He launched an annual Boules Championship for all-comers, heading his own team Les Enfants Terriboules. With illustrator Dominic Poelsma, he created a daily cartoon strip called Clive, soon renamed Augusta, after its true star. His Swinging London novel Yea Yea Yea (Secker & Warburg, 1963) became a film starring the hapless Norman Wisdom as a young reporter from Geordieland.
Following the Great Storm of 1987 which felled 250,000 London trees, McGill initiated a tree-planting appeal in the Standard to replace them. A year later, outside Charing Cross station, McGill inaugurated one of the few oaks on a London pavement and, on a pillar alongside, a commemorative plaque tells the tale.
He went into business during the late 1960s with his life partner Bob Jennings by opening the Louvre Centre in Bloomsbury, which quickly expanded into a nationwide chain; later, a health-food café called Jack Sprat followed in Marylebone. Long before the law was liberalised, both men showed courage and began living together – for fully 57 years.
McGill won the British Press Award as Descriptive Writer of the Year 1968; he became a founder member of the SDP in 1981; was awarded the MBE in 1990; wrote a definitive history of the Standard, Britain's oldest evening title, for the newspaper's website in 1995, and his final piece for the paper on the Pub of the Year, Battersea's Settle Inn, in 2000. He is survived by Bob Jennings, his civil partner.
DAVID JOHNSON
Angus McGill, journalist: born 26 November 1927; MBE 1990; civil partner to Bob Jennings; died 16 October 2015.
Join our new commenting forum
Join thought-provoking conversations, follow other Independent readers and see their replies