Anna Piaggi - Flamboyant doyenne of fashion writers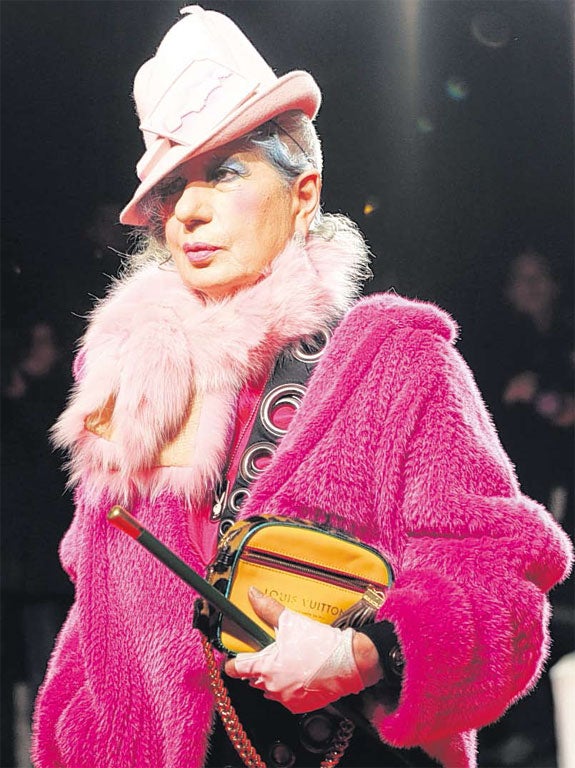 Her legendary style was the antithesis of the stereotypical Italian look. For Anna Piaggi, sartorial paradise was not to be found in exquisite understatement, unadulterated luxury or the clashing of a few Florentine patterns.
Even as an octogenarian, Piaggi delighted in excess: a blue marcel wave rippling over her right eye, a quirky hat perched precariously on her head, cupid lips covered in ruby gloss, a circular spot of clementine rouge on each cheek, aquamarine shadow surrounding her eyes.
From the neck down, the rest of Piaggi's self-portrait was just as unexpected: a riot of colour reminiscent of a circus setting, accessories assembled as though picked by a nutty magpie. She had a penchant for technicolor ostrich feathers, candy canes and pom- poms. Instead of a standard handbag, she often carried a birdcage. In 1978, at Paloma Picasso's wedding, Women's Wear Daily reported that Piaggi's feathered hat had burst into flames as she sashayed past a lit candelabra.
In common with her outlandish English equivalent, the late Isabella Blow, Piaggi's disarming appearance and maverick behaviour belied a sharp mind. She may have looked completely loopy to the outsider, but in fact she was absolutely lethal when it came to editing the wheat from the chaff. Karl Lagerfeld, a fellow octogenarian who still reigns supreme at Chanel, was a lifelong friend and fan. He defined her with characteristic precision: "Anna invents fashion." Piaggi was not only Lagerfeld's former muse but the elder stateswoman of the eccentric peacock elite – a rare breed of female exhibitionists, bordering on extinction with an indefinable but integral role within the fashion industry. Anna Piaggi was the last of the old school.
An Anglophile at heart, Anna Piaggi was born in Milan in 1931. Her father, a manager and buyer for La Rinascente department store, died when she was seven. As an adult she became a translator for the Mondadori publishing company, where she met and married the photographer Alfa Castaldi in 1962. By 1969 he was contributing to Vogue Italia; the multi-talented and visually astute Piaggi followed suit.
Like Lagerfeld, Piaggi was an ageless, other-worldly creature who mixed history and modernism, remained relevant to every decade and whose palpable presence spawned a new phrase among the younger generation: "Advanced Style". Her wardrobe was not the normal interlude between nakedness and the outside world, but a life's work. Piaggi viewed fashion as the ultimate form of artistic expression. Her personal collection of clothes – 2,865 dresses, 265 pairs of shoes, 932 hats, 29 fans, 24 aprons and 31 feather boas in 2006 – was a virtual wearable library, each piece with a story to tell.
"Every single article of clothing was imbued with meaning," said the milliner Stephen Jones, who made the majority of her extraordinary hats. "It was never just a jacket, it was 'a jacket that Karl made for me'." Their creative collaboration was a two-way street. "When I tried to put a hat on her she would put it on back to front and say, 'Now that's better'. Mentally, she showed me another way."
She always adapted her dress sense to the situation; she wore a nurse's outfit for writing to instil some clinical discipline. When she planned a healthy jaunt she rang Jones: "Oh Stephen, I'm going to a spa and I need some waterproof hats."
In 2006 London paid Piaggi the ultimate compliment, staging a tribute to her inimitable style at the Victoria and Albert Museum, Anna Piaggi Fashion-ology; Piaggi was dressed head-to-toe in Union Jacks. Piaggi's fashion sense was mercurial but her style remained the same. The first time she met Lagerfeld she was wearing an Ossie Clark dress. The last time she was photographed in public, a month ago at Margherita Missoni's wedding, she was wearing a vintage Ossie Clark chiffon dress with a candy flower print by Celia Birtwell.
It is a tribute to the intelligence of Franco Sozzani that when she became editor of Vogue Italia in 1988 she didn't employ a bright young thing to wax lyrical about fashion, but chose the woman Manolo Blahnik called "the only authority on dress left in the world". The Burlesque beauty Dita Von Teese described Piaggi as "One of my last icons of beauty and fashion. She was the height of glamorous eccentricity. I've always been so in awe of her," while the godfather of catwalk photography, Chris Moore, who captured Piaggi countless times for over half a century, said, "What can I say about the most marvellous woman? She was always very charming, the sweetest person. Never phased by anything."
There is a revealing clip of Piaggi in action on YouTube, taken on a covert mobile at a party during Italian Fashion Week. While most of the industry figures there are pressing the flesh, Piaggi is shaking her booty to a Michael Jackson classic. A vision of timeless effervescence, she is a picture of pure eccentricity, dancing animatedly to her heart's content.
Anna Piaggi, fashion writer: born Milan 23 March 1931; married 1962 Alfa Castaldi (died 1995); died 7 August 2012.
Join our commenting forum
Join thought-provoking conversations, follow other Independent readers and see their replies