Anthony Cavendish: Intrepid intelligence officer who fought terrorism in the Middle East
Tam Dalyell
Wednesday 13 March 2013 01:00 Comments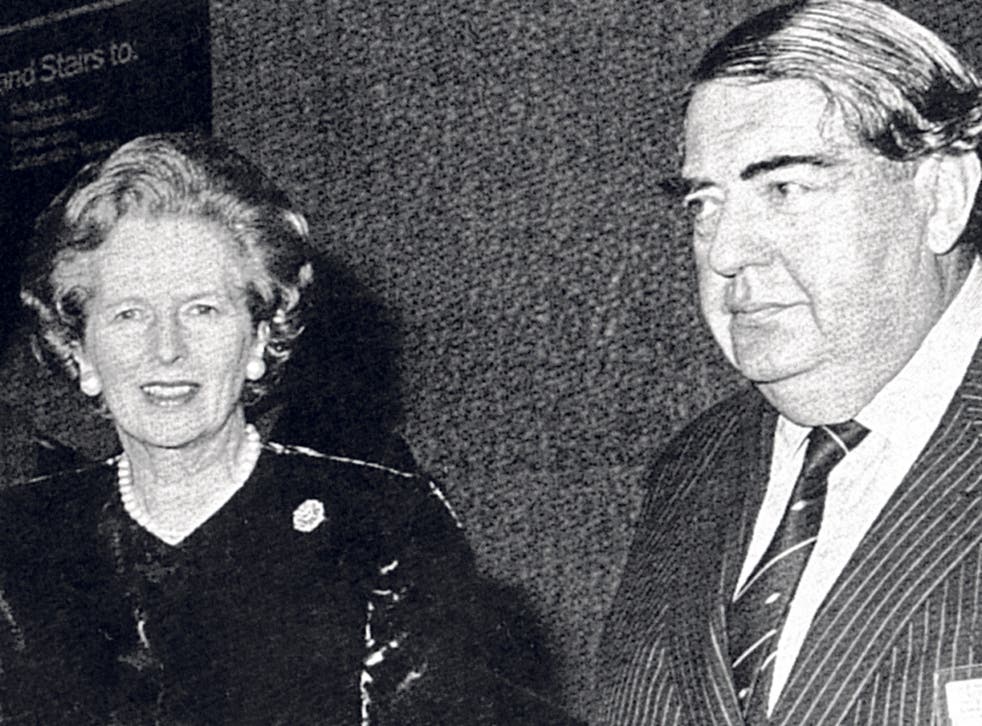 On a dozen or so occasions I was invited to lunch by Tony Cavendish, always at the same place, the same time and the same table at the Cavalry and Guards Club in Piccadilly. On one colourful occasion another club member, the late Field Marshal Sir John Stanier, sometime commanding officer of the Scots Greys, in which I did my National Service, passed our table and said with a chuckle, "My Lord, Tony, we always knew you had some very unlikely friends, but..."
Tony Cavendish did indeed have a mosaic of unlikely friends – which helped him make such a formidable operator in the world of MI6, and so supportive of and useful to his lifelong friend Sir Maurice Oldfield. I shall never forget when Oldfield – who I knew at the time only as the MI6 boss in Indochina who persuaded Harold Wilson not to accede to President Johnson's request to send "a battalion of bagpipers" to Vietnam – sidled up to me as I was buying bananas from the greengrocer's shop in ?Marsham Street and whispered, "Any friend of Tony Cavendish is a friend of mine."
When I invited Cavendish to a return match in the Stranger's Dining Room Quintin Hogg passed us and guffawed, "So now we know where all those Prime Minister's Questions come from, Tam!" Hogg was right: Cavendish loved preparing bullets for me to fire – but always in what he regarded as righteous and worthwhile causes.
He was the son of a doctor who perished in a mountain accident in 1935. His mother remained in Switzerland and sent him to a Swiss school, where he became fluent in German, Swiss-German and French. In April 1940 Cavendish and his mother boarded one of the last trains to England, coming under aerial bombardment at Calais. At the earliest opportunity, in 1944, he volunteered for the Army. Sent to SAULT (Services Administration Unit for Language Training), he was whisked away to assist in the interrogation of Germans in Brussels.
Soon he was posted to the Intelligence Corps Depot at Wentworth Woodhouse just outside Rotherham. This led to a posting in Cairo, where his boss was Maurice Oldfield. At 19 he was a lieutenant in MI5's Middle East office, working in the Jewish Terrorist Section. No sooner had he arrived in Jerusalem than the King David Hotel, which housed British military headquarters and the High Commissioner's Secretariat, was blown up by the paramilitary group Irgun Zvai Leumi, killing 91 and injuring many others.
Early in the morning the IZL stole a small truck on to which they loaded milk churns stuffed with high explosive. This was driven to the hotel's basement entrance. They unloaded the deadly churns and placed them beneath the Secretariat offices, then escaped dressed as Arabs in a stolen taxi. Cavendish told me his heart sank as heard the explosion, just before lunch. All six floors of the King David collapsed, burying many of the dead and injured in the rubble. "At that point," he said, "I ceased to be a boy and became a man at the centre of events."
Well might Jonathan Aitken remark, "James Bond was a rather dull weakling by comparison". Riding in a jeep from Jerusalem to the Palestine Police School at Ramallah, Cavendish was waved down at a makeshift road-block by what he took to be four British soldiers, in British uniforms, but Cavendish soon saw they were members of the Stern Gang. He was dragged from the jeep and his protest was answered by a blow in the face from a rifle-butt. Luckily, he was not wearing his Intelligence Corps badges but those of the Royal Army Service Corps. Equally fortunately they did not go through his pockets, where they would have found the green card exposing him as a member of the intelligence set-up.
This was but one of the many stories of Cavendish coming close to kidnapping or death. I once asked the Queen's Private Secretary Lord Charteris, who had been Lt Col Charteris in Palestine, "Are these tales that Tony tells, shall we say, embroidered?"
"No," Charteris replied emphatically, "they are all too true."
There was an enormous number of disaffected German prisoners of war held in Egypt, and it soon became clear to the Arabs in Palestine that many of them had outstanding knowledge and experience of weapons and explosives and were either sympathetic to the Arab cause, or at least antisemitic. The Arab underground started a recruitment programme, organising escapes. Escapees were then channelled to Arab groups in Palestine.
To counter this, someone had to work inside the Arab/German operation. Cavendish's ability to pass as German or Swiss led to his transfer to the Canal Zone, where most of the POW camps were. "I was dressed for the part in denim shirt and shorts and a pair of wooden clogs, and a home-made Afrika Korps peaked cap." His room-mate was Willi Steinhauer, who had twice escaped and been recaptured. Cavendish knew he must be a mine of information.
They were put together in a concrete cell about 10 feet by 14 feet, with a small gap to let in air. Cavendish dreaded talking in English in his sleep; had he done so, Willi – who became a good friend – would probably have arranged to have his throat cut. His success in uncovering information which led to the disruption of the German-Arab prisoner pipeline cemented his relationship with Oldfield, at that time a Lt Col in the Intelligence Corps. In 1988 it was in defence of Oldfield that he wrote his book Inside Intelligence – the revelations of an MI6 officer. Privately published, it became the subject of injunctions and caused huge upset to certain, though not all, members of the intelligence community.
It was not written to make money, and loyalty meant a great deal to him, but he was not prepared to see the man his former boss traduced. When Oldfield had been given responsibilities as security co-ordinator in Northern Ireland rumours of homosexual activity led to the withdrawal of his vetting certificate. Cavendish pointed out that his sometime drinking companion, Kim Philby, was never properly vetted; and Communists and homosexuals had been recruited to the Service. He did not make a penny out of Inside Intelligence; indeed, he sent copies out at Christmas to me and 499 others at a cost of £5,000.
It is 60 years since Cavendish officially left the Intelligence Service. In fact he was unofficially involved for half a century, during which time he worked as a merchant banker and as a foreign correspondent for UPI in cities including Berlin, Vienna and Budapest.Albeit fleetingly, he was a Tory candidate for Harlow in Essex in 1972. Cavendish was an independent spirit with a backbone of steel.
Anthony John Cavendish, intelligence officer, journalist and banker: born London 20 July 1927; married 1965 Odile Fret (divorced 1970; two stepdaughters), 1980 Elspeth MacDonald (one son, one daughter); died 12 January 2013.
Register for free to continue reading
Registration is a free and easy way to support our truly independent journalism
By registering, you will also enjoy limited access to Premium articles, exclusive newsletters, commenting, and virtual events with our leading journalists
Already have an account? sign in
Join our new commenting forum
Join thought-provoking conversations, follow other Independent readers and see their replies