Antoni Tapies: Catalan artist celebrated for his use of found materials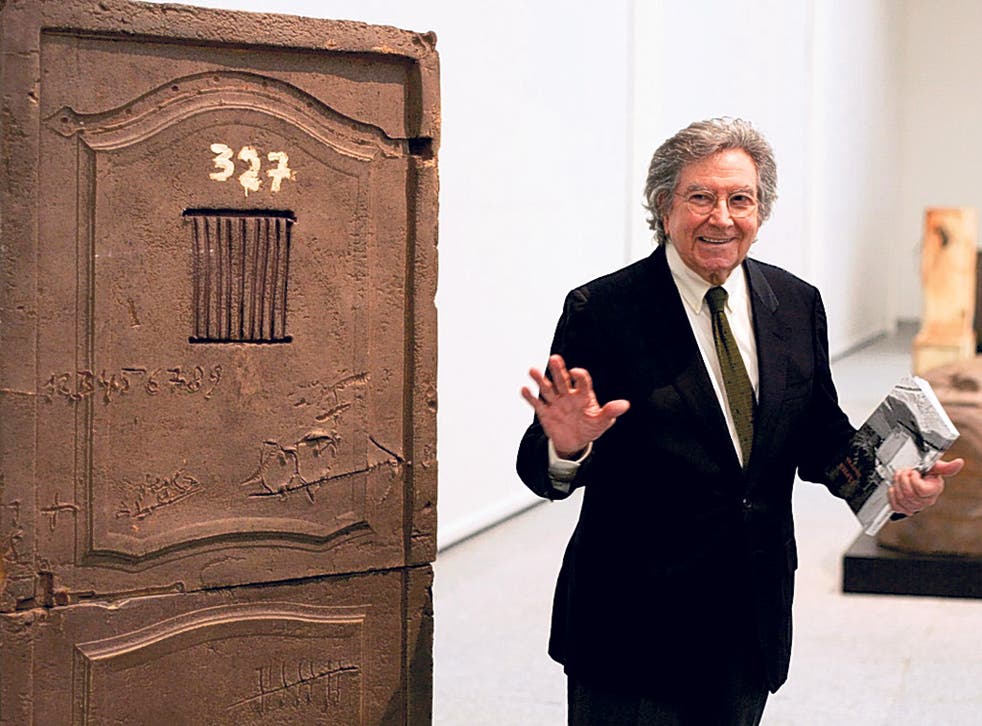 Antoni Tapies was the most important Catalan artist of the 20th century. He was a self-taught painter and sculptor, his later works instantly recognisable for their stark contrasts of colour, incorporation of found materials and widespread use of written language and geometric symbols.
Tapies was born in 1923 to Josep Tapies Mestres, a Republican atheist, and Maria Puig Guerra, a devout Roman Catholic. The family remained in Barcelona during the Civil War, enduring Franco's attacks and bombing of Barcelona, an experience which would inform and influence his oeuvre.
Following a period of serious illness brought on by tuberculosis, Tapies spent two years at a mountain sanatorium, during which time he was able to write, draw and read extensively. On his return in 1944 he started a law course at his father's urging, but dropped out. In the meantime he had pursued his passion for painting and had already found himself a studio in Barcelona.
His painting Zoom (1946) shows the influences of van Gogh and Paul Klee, whose works he admired. An inverted primitive-style head, encircled by an aura, with white handprints to its side, rises in the skies above an orange-green earth, perhaps symbolising the relationship between man and nature.
In 1948 Tapies founded the group Dau al Set ["the seventh face of the die"], together with his friends, the poet Joan Brossa, the philosopher Arnau Puig and artists Joan Ponç and Modest Cuixart, his cousin. Initially inspired by Dada and Surrealism, and especially the work of Joan Miro, the group soon forged its own individual direction. Like the surrealists, their work could explore the subtleties of interplay between conscious and subconscious, for example, but would also express their opposition to reactionary traditionalism during Franco's rule. Their eponymous journal was published without official permission during the six years of the group's existence and remains a fascinating and valuable record of its activities.
His first one-man show was at the Galeries Laietanes, Barcelona, in 1950. That year he visited Paris on a scholarship and over the next few years exhibited widely in Europe and held his first solo show in the US at the Martha Jackson Gallery, New York in 1953.
The mid-1950s saw Tapies further develop a technique that has become known as "matter painting". Here the oil paints are mixed with earth, dust or marble powder to provide relief and texture, creating works which are gritty, both literally and figuratively. Explaining the importance of matter painting in Tapies' body of work, the art historian Manuel Borja-Villel said: "There is no difference between matter and form, idea and language. It is no longer a question of representing ideas in a neutral medium but rather that from now on the observer should first perceive a medium expressing an idea."
By the late '50s Tapies' reputation was firmly established, as testified by his presence at the Venice Biennale (1958) – representing Spain together with sculptor Eduardo Chillida – and his debut at the Kassel Documenta (1959). But with the rise of pop art, the late 1960s and early '70s saw something of a lull of interest in Tapies work.
In 1974 British audiences were able to enjoy Tapies' paintings in a major retrospective at London's Hayward Gallery. Then, following Franco's death in 1975, a renewed passion for Catalan culture saw Tapies referred to as a "a father figure and cultural hero" of the region. Riding this wave of new-found freedom, Tapies was able to establish his art foundation and exhibition space, the Fundacio Antoni Tapies, in 1984.
"For me, art is a mechanism, a system that makes it possible to change the spectator's way of looking and to bring him or her closer to a state of contemplation of reality at its deepest level," he said. "The artist is like the mystic: each one acts in his own way but their common purpose is to achieve the inner illumination that enables them to perceive the depths of reality."
Despite health problems, failing eyesight and trembling hands, he continued painting and writing. His A Personal Memoir: Complete Writings v. 1: Fragments for an Autobiography was published in English in 2010. He was honoured by King Juan Carlos the same year with the title Marques de Tapies.
Douglas Baxter, president of The Pace Gallery, which represents his work, said: "It has been a great privilege to have known and worked with Antoni Tapies. In addition to being an extraordinary person and artist, his influence on subsequent generations of artists, while sometimes underestimated in the United States, has been profound and will no doubt continue for years to come."
Antoni Tapies, artist and writer: born Barcelona 13 December 1923; married 1954 Teresa Barba Fabregas (two sons, one daughter); died Barcelona 6 February 2012.
Register for free to continue reading
Registration is a free and easy way to support our truly independent journalism
By registering, you will also enjoy limited access to Premium articles, exclusive newsletters, commenting, and virtual events with our leading journalists
Already have an account? sign in
Register for free to continue reading
Registration is a free and easy way to support our truly independent journalism
By registering, you will also enjoy limited access to Premium articles, exclusive newsletters, commenting, and virtual events with our leading journalists
Already have an account? sign in
Join our new commenting forum
Join thought-provoking conversations, follow other Independent readers and see their replies