Antony Jay obituary: Co-creator of Yes Minister who gave disconcertingly real insight into the corridors of power
Jay was co-creator of the Whitehall sitcoms 'Yes Minister' and 'Yes, Prime Minster' after pioneering television current affairs programmes with 'Tonight'​​
Anthony Hayward
Tuesday 23 August 2016 20:20 Comments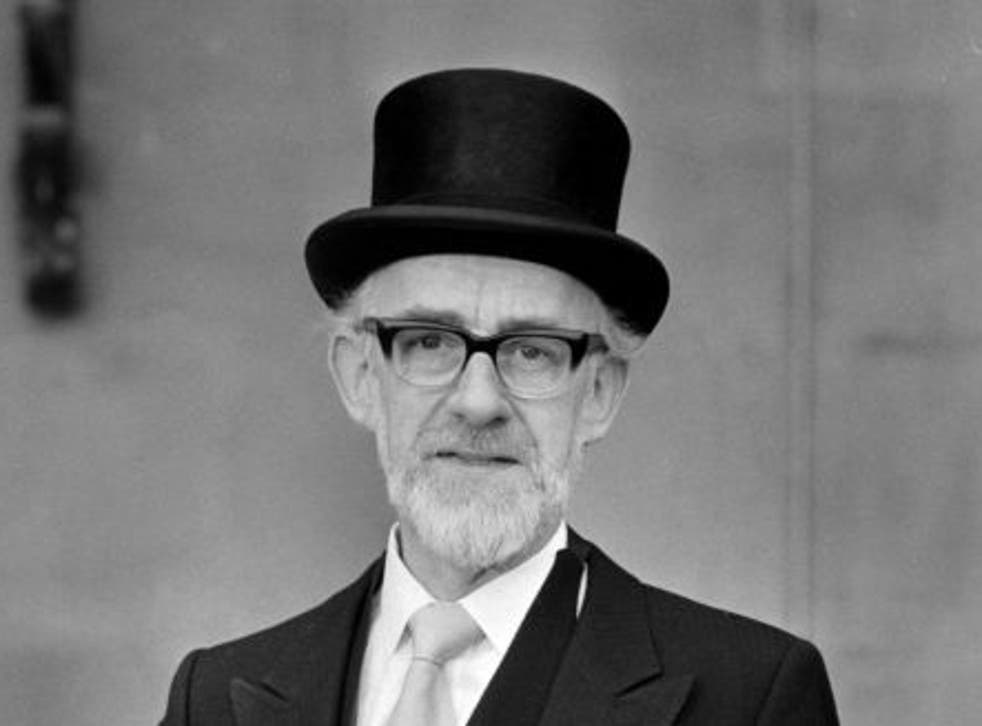 Sir Antony Jay became one of the pioneers of television current affairs when he joined the BBC's Tonight programme in the 1950s before taking his communication skills to Video Arts, the company he founded with comedy actor John Cleese two decades later to revolutionise training films.
But his greatest legacy is Yes Minister (1980-84) and its successor, Yes, Prime Minister (1986-8), the satirical sitcoms he wrote with Jonathan Lynn that gave a disconcertingly real insight into the machinations of government and the power of Whitehall civil servants.
The newly promoted Minister of Administrative Affairs, Jim Hacker (played by Paul Eddington), was the idealistic MP seen trying to shake up his department with Churchillian zest while meeting firm opposition from the Permanent Under-Secretary, Sir Humphrey Appleby (Nigel Hawthorne), doggedly blocking change and speaking in long, incomprehensible sentences. Bernard Woolley (Derek Fowlds) acted the Private Secretary trying to reconcile the pair.
By the time Hacker became Prime Minister, Jay and Lynn had revealed him to be a Conservative. Margaret Thatcher, then the nation's real Prime Minister, declared herself a fan of the sitcom. "Its closely observed portrayal of what goes on in the corridors of power has given me hours or pure joy," she said.
Right-wing Jay met his left-wing co-creator Lynn while they were writing short films for Video Arts that brought humour to businesses' staff training. The most famous was Meetings, Bloody Meetings (1976), which Jay scripted with Cleese, who starred in it with Robert Hardy and Timothy West. Jay and Lynn devised Yes Minister to highlight parliamentary hypocrisy after recalling the case of Sir Frank Soskice, a Labour MP who in 1962 helped to start a petition to grant wrongly executed Timothy Evans a posthumous pardon, then as Home Secretary three years later rejected any new investigation. Both Cambridge graduates, they also recalled the characters of those studying alongside them who had political ambitions.
Using material from The Crossman Diaries and "deep throat" sources in Whitehall, they wrote a pilot episode. The BBC commissioned a first series but shelved it until after the 1979 general election. Every script was checked for authenticity by Marcia Falkender, who had famously been Harold Wilson's secretary when he was Labour Prime Minister.
While writing, Jay would imagine himself as Sir Humphrey and Lynn took the role of Hacker. Some scripts proved chillingly topical, such as Hacker falling out with his Defence Secretary in an episode screened on the same day that Michael Heseltine resigned from that real-life post.
The programmes, which won Jay and Lynn a Bafta Writers' Award in 1988, were sold to almost 50 countries, 16 Yes Minister scripts were adapted by Pete Atkin for two BBC radio series (1983-4) and Jay and Lynn's West End stage version of Yes, Prime Minister (Apollo and Gielgud Theatres, 2010-11), starring Robert Daws and Michael Simkins as Hacker and Sir Humphrey, was followed by a 2013 television revival with David Haig and Henry Goodman in the roles. Topically, the series had Hacker leading a coalition government.
Jay was born in London, the son of Ernest, an actor, and his wife, Catherine (née Hay), and educated at St Paul's School. He gained a first-class honours degree in classics and comparative philology from Magdalene College, Cambridge (1949-52), where he edited the college magazine and was a contemporary of future Conservative cabinet ministers Douglas Hurd, John Biffen, Norman St John-Stevas and Cecil Parkinson. (In 2001, he was made an honorary fellow of Magdalene College.)
Following national service in the Royal Signals (1952-4) and reaching the rank of second lieutenant, he joined the BBC in 1955. Two years later, he became an assistant film editor on the newly launched, five-evenings-a-week Tonight, which mixed serious and light items. As well as introducing an informal style to news and current affairs, it aimed to make politicians accountable. Presenter Cliff Michelmore and reporters Alan Whicker, Fyfe Robertson, Kenneth Allsop, Julian Pettifer and Brian Redhead became household names.
Jay was appointed the programme's assistant producer (1959), producer (1959-60), associate producer (1960-2) and editor (1962-3), then the BBC's head of television talk features (1963-4). He later described his outlook during those years as "a card-carrying media liberal", when he was among a post-war generation looking to leave behind years of austerity and deference to politicians.
In 1964, Jay left the BBC to freelance. Having been a writer of the ground-breaking satirical show That Was the Week That Was (1962-3), presented by David Frost, he acted as a consultant and contributed sketches to The Frost Programme (1966-7, 1973), Frost on Friday (1968) and Frost on Saturday (1968-9).
He wrote the commentaries for the television documentaries Royal Family (1969) and Elizabeth R (1992), which gave rare behind-the-scenes glimpses of the Queen. This led Jay to be appointed a Commander of the Royal Victorian Order (CVO) for personal services to the Royal Family. He was also series editor of A Prime Minister on Prime Ministers (1977-8), featuring Harold Wilson's assessments of 12 of his predecessors
Notable deaths in 2016

Show all 42
Video Arts was founded in 1972 by Jay, its chairman, with John Cleese, Peter Robinson and Michael Peacock. In addition to dozens of training films, some written by David Nobbs, it produced that writer's Channel 4 sitcom Fairly Secret Army (1984-6), starring Geoffrey Palmer as a penniless right-wing ex-major recruiting members to fight anarchy. In 1989, Cleese and Jay sold Video Arts to its management team, although they continued to make films for the company.
As an author, Jay wrote books such as Management and Machiavelli (1967), Corporation Man (1972), The Householder's Guide to Community Defence Against Bureaucratic Aggression (1972) and How to Beat Sir Humphrey (1997). He was also editor of the Oxford Dictionary of Political Quotations (1997).
Jay's wide experience led him to work on the peripheries of politics himself. He was a member of Lord Annan's Committee into the Future of Broadcasting, which reported in 1977.
Then, in 2008, Jay – a supporter of market economics – wrote How to Save the BBC, a pamphlet for right-wing think-tank the Centre for Policy Studies advocating the abolition of the licence fee and the television service being reduced to one channel.
A year earlier, he had written a CPS pamphlet titled Confessions of a Reformed BBC Producer alleging anti-Establishment bias within the Corporation. "We were not just anti-Macmillan," he wrote of his experience. "We were anti-industry, anti-capitalism, anti-advertising, anti-selling, anti-profit, anti-patriotism, anti-monarchy, anti-Empire, anti-police, anti-armed forces, anti-bomb, anti-authority. Almost anything that made the world a freer, safer and more prosperous place, you name it, we were anti it."
Antony Rupert Jay, writer and producer: born London 20 April 1930; Kt 1988, CVO 1993; 1957 married Rosemary Jill Watkins (two sons, two daughters); died 21 August 2016
Register for free to continue reading
Registration is a free and easy way to support our truly independent journalism
By registering, you will also enjoy limited access to Premium articles, exclusive newsletters, commenting, and virtual events with our leading journalists
Already have an account? sign in
Join our new commenting forum
Join thought-provoking conversations, follow other Independent readers and see their replies