Azzedine Alaïa: Couturier who bucked trends and expectations to become a giant among fashion designers
A Tunisian immigrant in 1950s Paris who was dropped by Dior after five days for not having the right papers, he became a trendsetter whose work was courted by Madonna and Michelle Obama
Peyvand Khorsandi
Wednesday 29 November 2017 18:13 Comments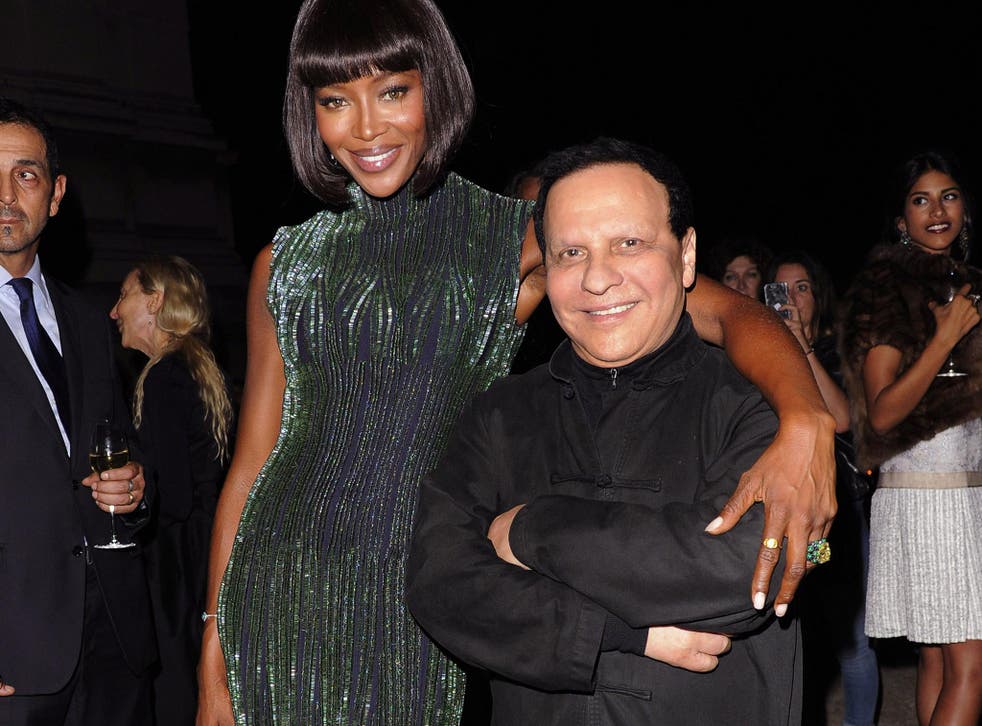 Azzedine Alaïa once put a leg of lamb on Naomi Cambell's head. She'd bruised herself falling down some stairs and it was the only ice-cold remedy he could offer his stay-over guest – from the time she was 16, he was something of a father figure to Campbell.
Speaking to The Independent in 1998, the supermodel described him as a practical joker. The pair had developed a friendship that was emblematic of his relationship with women. Yes, the couturier both loved and professed to love women, as you would expect. But reactions to his death, at the age of 77, showed him to be as singular as his dresses (which retailed for around £11,000 a piece).
"His friendship means very much to me and I hope I have it forever," said Campbell, who was photographed in tears at his funeral near Tunis last week. "It's more than just about material things and clothes," she said. "He is someone in the world I know I can call up whenever I am down, in need of anything or just want to talk."
In the same interview, Alaïa exhibited that very refusal to kowtow that won him the reputation he cultivated and cherished: that of a lone star, a go-it-alone who was prepared to pay the price of not singing to the dominant tune.
Campbell was very much his daughter, he said, running up phone bills while staying at his home in France.
Highlighting the nature of their relationship, he added: "Naomi didn't ask me if she should record her album or write her novel. I think both were a very bad idea. But it's not easy for her because she spends her whole time with people who tell her that she is beautiful."
He eschewed fashion weeks and did his own thing at his own pace – and he could get away with it because he was not cut from the same cloth as others. He, for one, knew how to cut cloth and sew. This was a designer who you could give material to and he could craft a dress with actual scissors. "Karl Lagerfeld never touched a pair of scissors in his life," Alaïa said in 2011. "I don't like his fashion, his spirit, his attitude, it's too much caricature."
The same could not be said of Alaïa , who was involved in the production of all his collections – which were rarer than his contemporaries' – to the finest detail.
As Alex Fury put it in the The Independent in 2015: "Alaïa's garments seem engineered rather than simply sewn, their fluctuating, distinctly physical relationship with the individual beneath them the real mark of his mastery of craft. They flare and wrap and grip and knead the human body, as if the flesh were clay ready to be sculpted."
That his output was outstanding is evidenced in his impressive list of clients. These include Michelle Obama, Kylie Minogue and Mariah Carey. If Greta Garbo was here to tweet, she very possibly would have joined Victoria Beckham in mourning his talents for she too courted his work.
In 2009, Alaïa fell out with Vogue editor Anna Wintour after she failed to include his designs at an exhibition at the Metropolitan Museum of Art in New York – Campbell refused to attend unless his work was included and he withdrew pieces he had designed for a clutch of supermodels on the guestlist.
In possibly not his finest moment, he lashed out at Wintour, criticising her dress sense and assuring all that Vogue editors come and go while fashion remembers designers. He certainly wasn't wrong that his output commanded attention in its own right. The episode only showed that Alaïa was nothing if not an outsider – who was adored by women.
As Amy Fine Collins put it in Vanity Fair in 2012: "A true Alaïa woman knows that she needs Azzedine at every stage of her life, from courtship to marriage, to pregnancy, and well beyond … More than any designer today, Alaïa is an initiate into the intimate, emotional, intellectual, and biological facts of being female."
The magazine credits him for a legacy of "leggings, decorative metal studs, bodysuits, push-up bustiers, bandage dresses, and perforated leather". And, of course, he was the "King of Cling".
A collection he was commissioned to make in 1980 shook up the "Annie Hall" look that marked much of the late Seventies by celebrating curves. He later dressed Grace Jones and Tina Turner.
Alaïa was born in Tunisia and brought up by his mother's parents with his sister, Hafida. His grandfather's friend ran a cinema that he frequented as a child. Alaïa would express what he'd seen using crayons – so fashion was imprinted on his psyche through film.
His mother's friend, a Ms Pineau, introduced him to fashion books and magazines. He lied about his age to get into the Institut Supérieur des Beaux Arts in Tunis, where he trained as a sculptor.
In the mid-1950s, he went to Paris and found his way to Dior, where he lasted five days, reportedly because he didn't have his papers in order. In a twist of poetic justice, in 2011, when Galliano was dismissed at Dior, Alaïa turned down the offer to take his place.
He got himself a job a "manny" and live-in seamstress with a family of aristocrats in Paris. During this time, he got in with high society circles, establishing a string of private clients to whom he operated as a "secret weapon" for achieving aesthetic excellence.
Perhaps as a testament to his low-profile persona, he adopted his trademark high-collar Chinese jacket – photographs of him abound attending to the world's most glamorous women like a ninja.
In 2007, Vogue reported on "contrary to the law of the fashion world": Prada sold 100 per cent of Azzedine Alaïa's label, which it had acquired in 2000, back to the designer himself. Contrary is a good word to describe Alaïa. A colonial who made good in the mother country, suffered the vicissitudes of being a dark-skinned foreigner, but transcended real and perceived limitations of race by imposing his personality on the world, like the architect Zaha Hadid, through the unparalleled quality of his work.
That he kept lamb in the freezer will only assure North Africans and Middle Easterners that he never forgot his roots.
Azzedine Alaia, born 1940, died 18 November 2017
Register for free to continue reading
Registration is a free and easy way to support our truly independent journalism
By registering, you will also enjoy limited access to Premium articles, exclusive newsletters, commenting, and virtual events with our leading journalists
Already have an account? sign in
Join our new commenting forum
Join thought-provoking conversations, follow other Independent readers and see their replies