Barbara Cranmer: Documentary filmmaker who highlighted the plight of indigenous people in Canada
Her award-winning storytelling focused the experiences of First Nations people and her hometown, Alert Bay, on Cormorant Island in British Columbia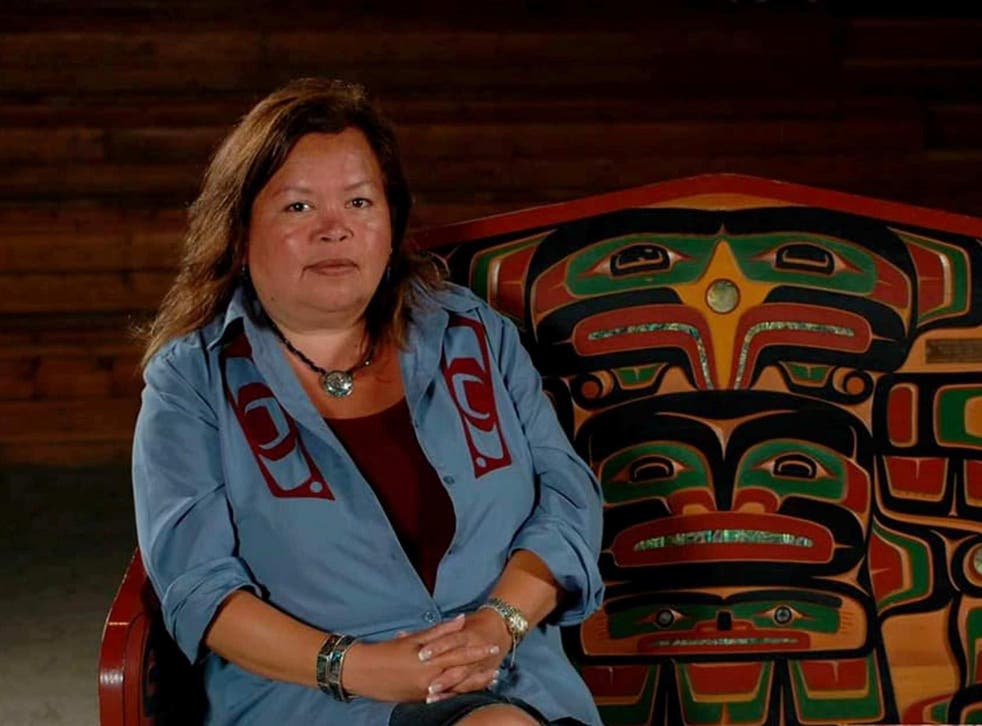 Barbara Cranmer was an award-winning writer, director and documentary film producer who used film to tell the stories of the indigenous people of Alert Bay, a village on Cormorant Island, in the district of Mount Waddington, British Columbia.
Cranmer, who has died of brain cancer aged 59, did so not only by sharing their rich, age-old cultural heritage and knowledge but also by discussing the issues affecting them and other First Nations peoples.
"I was tired of seeing negative images of us and I wanted to change that in some way. I wanted to make some sort of career out of it and so far, I've been successful," she said.
Her success was in spite of considerable odds. To make documentaries about the indigenous peoples of Canada in a male-dominated film and documentary film industry in the 1990s required not only a particular stamina to look for funding but also a firmness of purpose she never lacked.
She wrote and directed award-winning and internationally acclaimed big-budget documentaries such as Qutuwas: People Gathering Together (1997) and T'lina: The Rendering of Wealth (1999).
Aside from her successful career as a documentary filmmaker, she served as a local councillor in her native Alert Bay for several years and she was also a fisherwoman, a cultural-tourism entrepreneur and devoted matriarch to children in her hometown.
Cranmer was born in Alert Bay in 1960, the eldest four sisters. Her father was Roy Cranmer, a local fisherman and carpenter and Vera Newman, a teacher. Perhaps because she was arrived in the world feet first – usually thought of in the area as an omen to becoming a good soccer player – she won many awards as an athlete in her younger years, that is, when she was not working on her dad's fishing boat. "She could easily score from the side corner," said her sister Andrea Cranmer, "our basement was filled with awards."
Another omen of sorts was her picking up a still camera in her teenage years and accumulating multiple albums featuring "anything that moved". "It was a good life here," she said. "But I think when I turned 18, I could hardly wait to leave and just to go see what the big world had to offer me. And so, I left."
She moved to Vancouver for two years to work as a receptionist for a Native organisation, but her first steps as a successful filmmaker were waiting for her upon her return to her hometown. In 1980, an educational camera crew from Chicago arrived in Alert Bay and offered her a film course.
Cranmer, who knew she didn't want to sit behind a computer, started videotaping the oral stories of elders of her autonomous local area and government. She would spend the following years moving back and forth from Vancouver to Alert Bay, working as a researcher, project manager and production manager for other director's films, until she got the funding for her first film.
Her film Laxwesa Wa, Strength of the River, released in 1995, documented the First Nations peoples efforts to build a sustainable fishery in a global economy and the role of governments to sink the fishery industry into a state of crisis.
She founded Nimpkish Wind Productions, in 1994, after a successful collaboration with producer Cari Green on the documentary The Washing of Tears by Hugh Brody, about how the Mowachaht people, on the west coast of Canada, revived their culture and pride for it.
Cranmer's first taste of international recognition came in 1997 after she produced, wrote and directed Qutuwas: People Gathering Together, about the rebirth of the northwest coast canoe culture. For this Cranmer won the Telefilm Canada/Television Northern Canada for best aboriginal production and best documentary feature film award at the American Indian Film Festival in San Francisco.
And just two years later, her film T'lina: The Rendering of Wealth won the award for best short documentary at the same festival.
Notable deaths in 2018 – in pictures

Show all 65
But the multifaceted Cranmer, who would never give up filmmaking, settled back in her native Alert Bay in 2000, where she ran for public office and served as a councillor for 13 years. She saw cultural tourism as the get-behind industry, envisioning "toldowning and operating businesses ranging from whale-watching to kayaking".
Her last film was 2016's Our Voices, Our Stories, featuring the accounts of survivors of Canada's infamous residential school.
These church-mandated institutions were established in the beginning of the 20th century to integrate children from indigenous peoples to Canadian society, where not only they were denied their culture but were subject to all kinds of physical and emotional abuses. Some would disappear. For this she won the best documentary short award at the 40th Annual American Indian Film Festival.
Cranmer sought to bring people together and empower her community in any way she could. She spent the last years of her life working as a local councillor, organising music festivals, caring for her father and working at a store she co-owned with her sisters, a "100 per cent aboriginal-owned" gallery and a very popular stop for tourists getting off the ferry.
She is survived by her sisters Norine, Andrea and Donna. She never had children of her own, but called her films her children and was godmother to a number of children in the Alert Bay community.
Barbara Cranmer, documentary filmmaker, born 6 April 1960, died 17 May 2019
Register for free to continue reading
Registration is a free and easy way to support our truly independent journalism
By registering, you will also enjoy limited access to Premium articles, exclusive newsletters, commenting, and virtual events with our leading journalists
Already have an account? sign in
Register for free to continue reading
Registration is a free and easy way to support our truly independent journalism
By registering, you will also enjoy limited access to Premium articles, exclusive newsletters, commenting, and virtual events with our leading journalists
Already have an account? sign in
Join our new commenting forum
Join thought-provoking conversations, follow other Independent readers and see their replies