Barbara Hillary: First black woman to reach the North and South Poles
Known for her determination and perseverance, she used her newfound celebrity to support her community 
Christine Manby
Tuesday 17 December 2019 13:35 Comments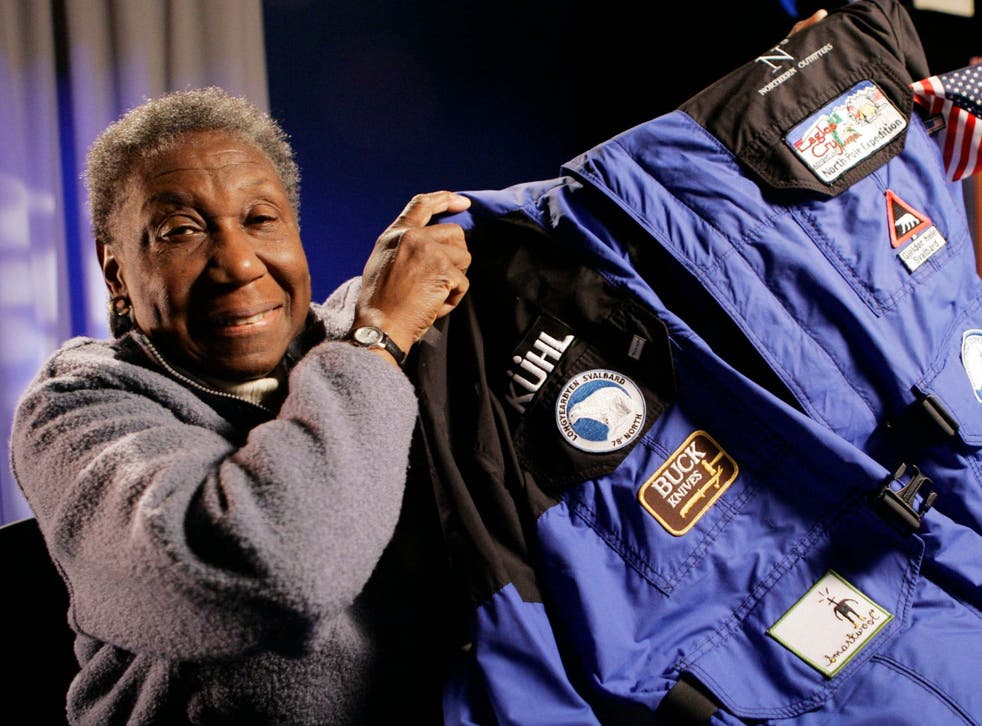 "Perseverance, determination and respect for the way my mother raised me" were the qualities retired nursing teacher Barbara Hillary cited as having enabled her to become the first black woman to reach both the North and South Poles shortly before she turned 80.
Hillary, who has died aged 88, was born in San Juan Hill, Manhattan (the area now known as Lincoln Square) and grew up in Harlem. She was one of two daughters born to Viola Jones Hillary. Their father died before Hillary turned two. Describing her childhood, Hillary said: "We were sub-depression poor but there was no such thing as mental poverty in our home ... no such thing as woe is me." As a child, Hillary enjoyed reading adventure stories: Robinson Crusoe was one of her favourites.
Hillary studied for her BA and MA at New York's New School University, before embarking on a career in nursing. Her area of expertise was geriatrics and she went on to train nursing home staff.
Having survived breast cancer in her twenties, Hillary was diagnosed with lung cancer in her sixties. She subsequently underwent an operation that reduced her lung capacity by a quarter. It was an outcome that would not seem to predispose Hillary towards any arduous expeditions in retirement, but at 71, having taken a trip to go dog-sledding and photograph polar bears in Canada, Hillary became fascinated by the idea of the North Pole. When she heard that no black woman had ever reached the pole, the challenge was set. She told The Seattle Times: "I said, 'What's wrong with this picture?' So I sort of rolled into this, shall we say."
Hillary quickly raised $25,000 to fund her adventure. She took a helicopter to a Norwegian base camp and on 23 April 2007 she set off on the 30-mile trip to the pole on skis, accompanied by two guides. She learnt to ski ahead of the trip, telling reporters: "It wasn't a popular sport in Harlem."
Despite the weight of her gear and frostbite to her fingers, Hillary made it, telling The New Yorker: "I have never experienced such sheer joy and excitement. I was screaming, jumping up and down, for the first few minutes." She dedicated the expedition to her mother.
It was an achievement that would have been enough for most twenty-somethings, let alone a septuagenarian, but Hillary's taste for adventure had been piqued. In January 2011, just a few months shy of her 80th birthday, she became the first African-American woman to reach the South Pole too.
Returning to New York, Hillary found a new career as an inspirational speaker and climate change activist. She worked to share her message well into her eighties. In 2019 she travelled to Outer Mongolia to meet a nomadic tribe whose way of life is threatened by the climate crisis.
She was involved with her local community, and was the founder and editor-in-chief of The Peninsula magazine, distributed in Queens. She also founded the Arverne Action Association Inc, to support her neighbours in Arverne and Rockaway.
In 2017 Hillary gave the commencement address at the New School, her alma mater. Summing up her life's philosophy, she told her audience: "At every phase in your life, look at your options. Please, do not select the boring ones."
Barbara Hillary, polar explorer and climate change activist, born 12 June 1931, died 23 November 2019
Register for free to continue reading
Registration is a free and easy way to support our truly independent journalism
By registering, you will also enjoy limited access to Premium articles, exclusive newsletters, commenting, and virtual events with our leading journalists
Already have an account? sign in
Join our new commenting forum
Join thought-provoking conversations, follow other Independent readers and see their replies