Barbara Marx Hubbard: futurist who inspired thousands to imagine a better world
The prolific public speaker's mission to inspire a shift in collective human consciousness won her legions of followers and led to a brief encounter with mainstream politics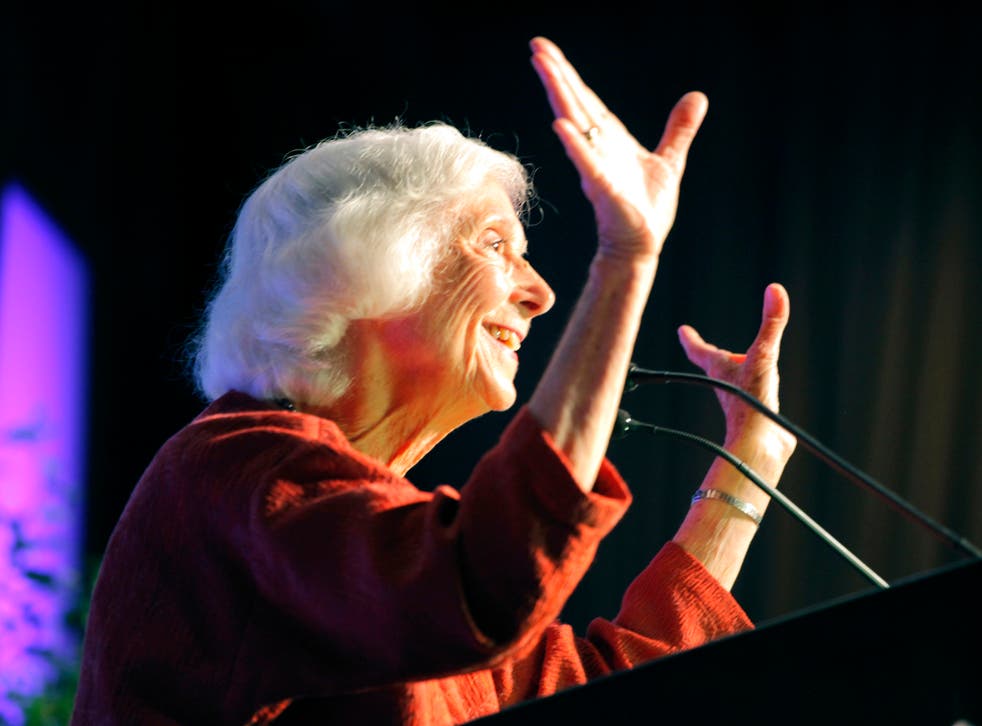 Barbara Marx Hubbard was an author and public speaker who devoted her life to exploring a better future for humankind.
Through her observations of the planet's ills, such as climate change and warfare, she saw an opportunity for a shift in collective human consciousness.
Her activities as a futurist – a term usually used to describe those who systematically attempt to predict possible, probable and preferable futures for the world – led to a prolific writing career and even inspired her to run for high office.
Marx Hubbard was born in New York City just before the financial crisis of 1930. She was the first daughter, out of four children, of Irene and Louis Marx, a successful toymaker.
Because of her father's business, Marx Hubbard had as many toys as she could have wished for – but, when she was just 13, the death of her mother would leave a profound mark. She realised from an early age that "more toys cannot make us happy". She said it was one of the most important lessons of her life.
Following the conclusion of the Second World War, Marx Hubbard studied political science and attended Paris's La Sorbonne University for a year. It was there she would meet her first husband, Earl Hubbard, outside a restaurant. She asked him to share the bottle of wine she was having on her own. He told her: "I am an artist seeking a new image of man commensurate with our powers to shape the future."
She finished her studies at a women's liberal arts college in Pennsylvania, where she graduated with the highest honours. After college, she moved to Connecticut to start a family with her husband, and they had five children together.
While living in the Constitution State, she spent years writing and editing books about consciousness along with her husband, who was an artist and also a futurist.
In 1965, Hubbard Marx came across Jonas Salk's writings about the future of humanity. She would send a letter to the inventor of the polio vaccine and it changed her life. Salk, who allegedly told her she had stated his vision better than he ever could have, arranged to meet her and this encounter empowered her to go to Washington to spread her message on the evolution of human consciousness.
She divorced her husband and started to write on her own. It was in Washington that she started her career as a motivational speaker who believed that when "enough good people realise how prevalent they are, their synergy will evolve human culture quickly".
She is said to have founded, or at the very least coined the term for, "conscious evolution", a movement imagining a "new story for the evolution of our species with us becoming conscious participants of our evolutive path". She began giving talks, teleseminars and courses in the US.
Science news in pictures

Show all 20
By 1984 she was an influential public speaker. This led her to a brief encounter with mainstream politics ahead of the US elections that year as she sought to become the Democratic vice-presidential candidate. At the party's national convention in San Francisco – where almost 4,000 district representatives had gathered to nominate candidates for the presidency and vice-presidency – more than 200 delegates nominated her.
In her bid to earn the delegates' votes, she gave a speech calling for the creation of an Office for the Future and also a "Peace Room" in the White House, in order to "scan for, map, connect, and communicate what is working in the United States and the world". Lawyer Geraldine Ferraro, the first women to run for vice president, ultimately received the Democratic nomination.
A 2016 documentary on her life, American Visionary: The Story of Barbara Marx, detailed her Birth 2012 campaign, an ambitious initiative looking to create a "Global Birth Day" by connecting 100 million people over a webcast, who would join through silence or meditation, to "foster the emergence of a sustainable planetary civilisation", in contrast to what she perceived was a negative panic about the end of the world.
The publicity from this event led to many more public engagements, where she continued her quest to inspire people to reimagine a better world.
Last month, Marx Hubbard, who had lived at the Sunrise Ranch, a spiritual retreat in Loveland, Colorado, was hospitalised for a knee injury and died a few days later surrounded by her family. Her memorial was streamed on YouTube for her thousands of followers.
Barbara Marx Hubbard, futurist, author and public speaker, born 22 December 1929, died 10 April 2019
Support free-thinking journalism and attend Independent events
Register for free to continue reading
Registration is a free and easy way to support our truly independent journalism
By registering, you will also enjoy limited access to Premium articles, exclusive newsletters, commenting, and virtual events with our leading journalists
Already have an account? sign in
Register for free to continue reading
Registration is a free and easy way to support our truly independent journalism
By registering, you will also enjoy limited access to Premium articles, exclusive newsletters, commenting, and virtual events with our leading journalists
Already have an account? sign in
Join our new commenting forum
Join thought-provoking conversations, follow other Independent readers and see their replies