Barrie Cook: Abstract artist who saw painting as 'a way of thinking'
The Birmingham-born artist championed the technique of spray-painting in a fine art context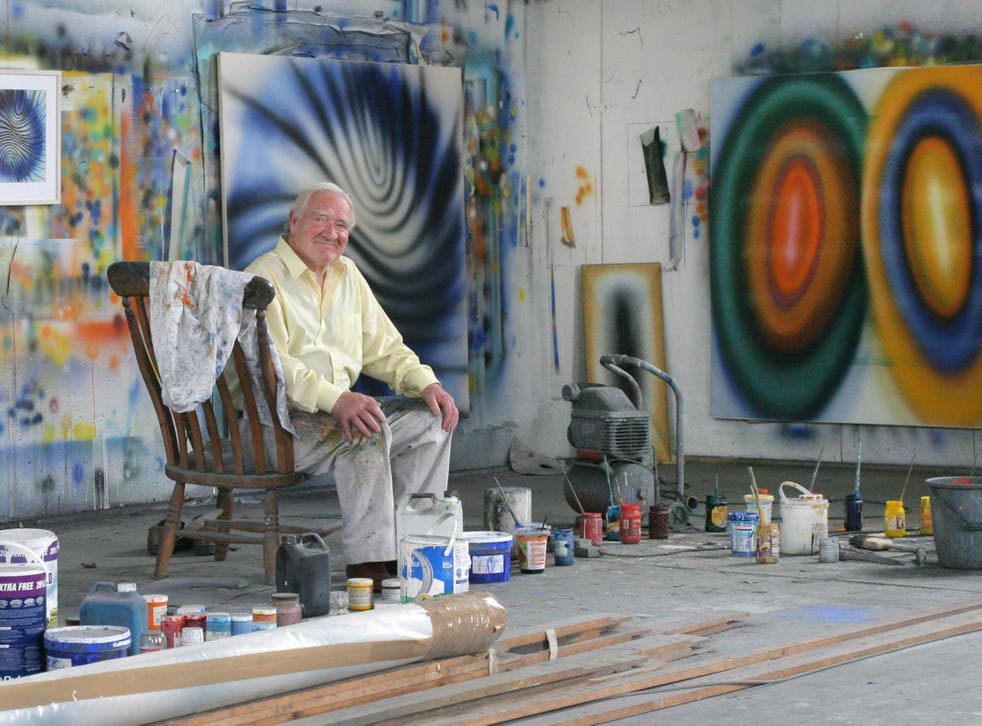 Barrie Cook was one of Britain's most distinctive artists, renowned for his use of spray painting in a fine art context to produce bold and intriguing works that combined beauty with technical prowess. Cook, who has died aged 91, said of his artistic approach: "Painting is a way of thinking. Each picture requires its own special logic. I use paintings to hint at, or make manifest, the unseen and the intangible. I see them as an aid to contemplation and meditation."
Barrie Cook was born in Birmingham in 1929. He reluctantly undertook wartime military service in the RAF and postwar went on to study at Birmingham College of Art from 1949 to 1954. It was there that he met his wife Mary, whom he married in 1951. Cook began his working life as a teacher at Bourneville Boys Technical School, where he taught art for 10 years.
He first experimented with the use of spray-painting in artworks during the mid-Sixties while sharing a studio with John Walker in Blackwell, Worcestershire. Finding that the use of spray-painting would "break the habit of brushstroke mentality", Cook discovered a new sense of freedom that would characterise his future oeuvre.
These novel works found their first major public outing at London's Whitechapel Gallery in 1975 for a one-man show entitled Large Paintings from Black to White. The canvases at that exhibition hinted at Mark Rothko, Patrick Heron and especially the optical art of Bridget Riley, all artists whose influences Cook acknowledged.
In 1974, Cook and his family moved to Wales where he became a senior fellow at Cardiff College of Art, with a studio in the city's docklands area. By the end of the Seventies he was head of fine art at Birmingham Polytechnic.
Four large works by Cook from his Continuum series of the late Sixties were shown at the Serpentine Gallery in 1988, with each of the paintings taking up a whole wall of the central gallery. And a huge canvas, measuring 3m by 5m, is currently on show at Falmouth Art Gallery as part of its exhibition 20/20 – A Different Way of Seeing. Henrietta Boex, director at Falmouth, said: "We were delighted to be able to accession one of Barrie's whoppers' at the end of last year. As with Rothko, many of his canvases evoke a spiritual response and Towards the Holy Grail certainly does. At the other extreme, during a bout of ill health he took to doing delicate pastels of garden flowers and I greatly regret that I did not buy one there and then. He and Mary will be greatly missed."
Cook had spoken of his fascination with working on a large scale: "I have always been interested in the rapport one is able to set up between the painting and the spectator. My work became larger and larger because I wished the painting to spread beyond the peripheral vision of a person so that it might envelop one. This I felt would attack a person's gestalt system and the mind would become a little disorientated."
Cornwall had been a great love for Cook since spending childhood holidays there. He and his wife moved to Mullion, near Helston, in 1992, where he found kindred spirits such as Sir Terry Frost. Cook bought the Methodist Hall at Ruan Minor and converted it into a space for creating his immense canvases. "Having worked from a studio in Cardiff's docklands my work had a certain industrial ambience," he noted, "Once I moved to Cornwall my palette lightened."
The Museum of Modern Art Wales held a major retrospective for Cook in 2015, recognising his links with the country and his significant contribution to contemporary abstraction.
In recent years he had achieved minor renown in a very different world, that of medicine. Researchers based in Cornwall and Surrey suggested that both Pierre-Auguste Renoir and Cook, who lived with rheumatoid arthritis, could have developed the disease through their use of toxic cadmium yellow paint.
Cook was represented by Lemon Street Gallery in Truro, whose owner, Louise Jones, said in tribute: "From the beginning of his career, he championed the technique of spray-painting, a working method with few notable adherents, and established this way of working as a legitimate and versatile mode of expression in a fine art context."
Cook's wife and lifelong partner, Mary, died on 15 July. Their son predeceased them and he is survived by his daughter.
Barrie Cook, artist, born 18 May 1929, died 13 July 2020
Join our new commenting forum
Join thought-provoking conversations, follow other Independent readers and see their replies