Barry Cole: Critically acclaimed novelist and poet whose career was overshadowed by the death of his friend BS Johnson
Johnson was in his bath; next to a half-full bottle of brandy was a suicide note: 'Barry – finish this'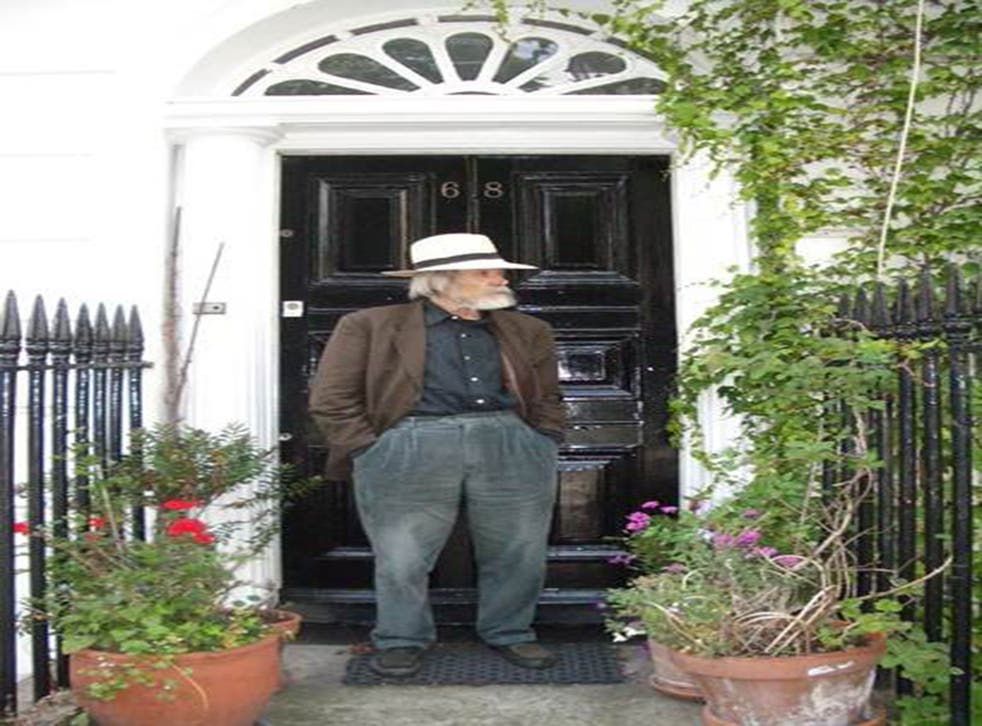 In the 1960s the poet Barry Cole was a quintessential London literary figure, but his later life was haunted by the death of another writer, BS Johnson, the poet and experimental novelist.
He began in a far from bookish environment in Balham. He learned to type as part of his National Service in the RAF, where he began to write poetry. In 1959, he married the 19-year-old Rita Linihan and the first of their three daughters was born. He was a clerk at St James Hospital in Tooting, then a copywriter at Reuters and The Public Ledger (which he called the pubic lodger). In the mid-'60s he sold antiques from a trestle table in Camden Passage then secured a post in the Middle Eastern branch of the Central Office For Information.
One day in Islington, Bryan (BS) Johnson, best known for his book-in-a-box The Unfortunates, called out from the window of a white transit van. "You're Barry Cole!" Johnson had been offered some of Cole's poems for Transatlantic Review, where he was poetry editor. He and Barry became very close.
A sharply dressed, suave, raffish young man with a gift for friendship, Cole soon had many literary pals, including the Ambit magazine editor Martin Bax and poets George MacBeth and Peter Porter. In 1967, bookseller Bernard Stone's Turret Books published his first pamphlet of poems, Blood Ties. It introduced a distinctive, individual poet, happy to mix classical allusions with an account of contemporary mores, arguing, for instance, that "Self denial is itself excess" ( "An Excess Of Virtue"). Methuen took him on as poet and novelist. His first collection, Moonsearch, was a Poetry Book Society Recommendation.
Dedications to friends were important to Cole. Moonsearch's reads "Rita!!!" His first novel, A Run Across The Island, was dedicated to the unfashionable and unashamedly provincial Nottingham novelist, Stanley Middleton (joint winner of the 1974 Booker Prize), who Cole had written about, sought out and befriended. The critic Ronald Hayman described his debut novel's "basilisk prose that fixes its subject matter with a cold, clean, killing gaze".
Cole's second, most successful novel, Joseph Winter's Patronage (1969, reissued 2008) is dedicated "to Bryan" but owes more to Middleton. An absorbing, multi-viewpoint account of the rage and passions of old age, it is all the more remarkable given that Cole was only in his early thirties when he wrote it. The unflinching portrait of dementia may well have influenced Johnson's novel House Mother Normal (1971).
Cole returned to more contemporary subject matter in the lively In Search Of Rita, which is dedicated to "the music of the Rolling Stones", whose "You Can't Always Get What You Want" was to be played at his funeral. The story never quite catches fire, and few finish reading Cole's difficult, final novel, The Giver, dedicated to the poet, publisher and literary critic John Lucas. Lucas was to become Cole's publisher for the last 40 years of his life, beginning with the 1974 pamphlet Dedications.
A 1969 Arts Council grant enabled Cole to leave his job. He and Rita lived for six weeks in Rome, and returned there regularly. In 1970, a two-year period as Northern Arts Fellow in Literature at the Universities of Durham and Newcastle Upon Tyne was marred by resentment from writers who wanted Geoffrey Hill in the post.
Cole stopped writing novels, he once told me, because he "ran out of ideas", although Methuen's rejection of his fifth, Cat's Cradle (never published) cannot have helped. By far the biggest blow, though, was the 1973 death of Bryan Johnson. Johnson had separated from his wife Virginia and was drinking heavily. He held a series of ominous "last suppers" for friends.
It was Cole, who, at the behest of Virginia, broke into Johnson's flat. Johnson had killed himself in "the roman manner", slashing his wrists in the bath, at the side of which was a half-full bottle of brandy. The bottle had a note attached: "Barry – Finish This". Cole drained most of the bottle that night, which was his birthday.
In some ways, Johnson's death finished Cole, too. His drinking, already heavy, became worse, and his literary career fell apart. He was able to return to the Office of Public Information, where he worked until his retirement in 1996. In the late 1970s his family lived in Johnson's old London flat, then moved across Myddleton Square to the house, overflowing with paintings and books, that they were to occupy for the rest of his life.
Cole did freelance editing while writing poetry and copious journals, encouraged by his friend, the Dublin gallery owner Patrick Taylor. In 1997 John Lucas's Shoestring Press published Inside Outside: New and Selected Poems, drawing on his five major collections and adding 46 new poems. The collection re-established Cole as a consistent, laconic, intelligent eye, his work laced with black humour, a true "city poet", as Martin Dodsworth describes him in his preface. Ghosts Are People Too followed in 2003.
In 2006 he was diagnosed with cancer of the oesophagus, too advanced for any operation, yet lasted eight years. A final pamphlet, Broken Sonnets, was distributed to friends in 2008. Each of its 13 characteristically casual, free verse sonnets is dominated by elisions. The reader is left to guess the unknown, missing words.
Cole is survived by Rita and their three daughters, Celia, Rebecca and Jessica.
Barry Cole, poet and novelist: born 13 November 1936; married Rita (three daughters); died 26 June 2014.
Register for free to continue reading
Registration is a free and easy way to support our truly independent journalism
By registering, you will also enjoy limited access to Premium articles, exclusive newsletters, commenting, and virtual events with our leading journalists
Already have an account? sign in
Register for free to continue reading
Registration is a free and easy way to support our truly independent journalism
By registering, you will also enjoy limited access to Premium articles, exclusive newsletters, commenting, and virtual events with our leading journalists
Already have an account? sign in
Join our new commenting forum
Join thought-provoking conversations, follow other Independent readers and see their replies