Benoît Violier: Chef whose perfectionist rigour led to his restaurant in Lausanne being recently named as the best in the world
It had already been confirmed that the 44-year-old French-born chef had kept his maximum Michelin three stars, maintaining his place at the top of the virgin olive oil-greased pole
Saturday 06 February 2016 00:21
comments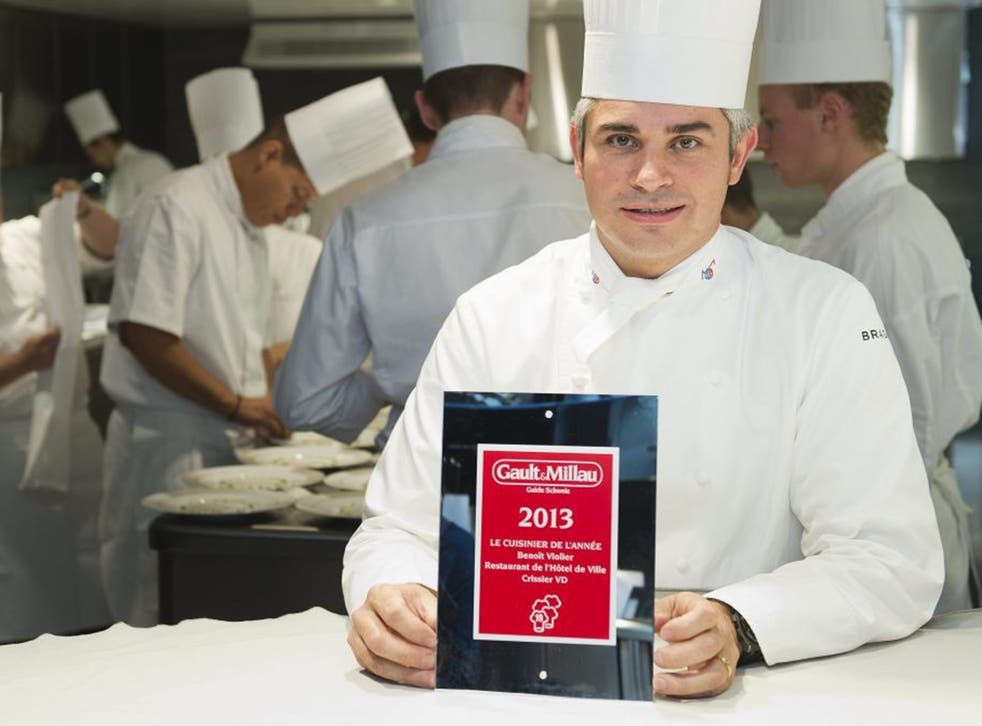 Last December Benoît Violier's restaurant near Lausanne, was named in "La Liste" as the best of 1,000 in of 48 countries. This meta-restaurant guide was the French Foreign Ministry's riposte to the equally suspect London-based roll of "the World's 50 Best Restaurants", which contained too few French establishments for the government's taste.
It had already been confirmed that the 44-year-old French-born chef had kept his maximum Michelin three stars, maintaining his place at the top of the virgin olive oil-greased pole. He had a stunning wife, Brigitte, and a 12-year-old son, Romain. Yet on 31 January the "best chef in the world" apparently killed himself with one of the guns with which he pursued his favourite pastime, shooting, though he left no note. Haute cuisine is now theatre staged in a pressure cooker, and has claimed another casualty.
To his chef-colleagues, and to the world press, this sad incident immediately recalled other hard-to-explain suicides, for example, that last April of Homaro Cantu, aged 38, whose Michelin-starred Chicago restaurant, Moto, was in the vanguard of innovative cooking. Even more poignantly, Violier's death recalled the 2003 suicide-by-shooting of 52-year-old Bernard Loiseau, the three-star chef of an historic restaurant in Burgundy.
Critics and friends are asking: is this the consequence of the cult of the celebrity chef? Perhaps these people – who have to be gifted not only with manual dexterity, but also with imagination, and have, moreover, to be possessed of accurate taste buds and a good memory for flavours, textures and aromas – are not especially fitted by nature to be hosts, managers, salesmen, ambassadors for their calling and PRs for their own businesses.
Why should being a great cook make you good on television, able to write your own books or, for that matter, an interesting personality? Is our culture – the hospitality industry is guilty, as well as diners-out, television producers, bloggers and critics – simply asking too much of one frail human being? Demanding perfection of something that should be as simple and basic as someone preparing a meal for someone else is perhaps as ungenerous as it is common.
Loiseau, whom I knew and liked, was probably suffering from undiagnosed depression. He had had a small demotion in the Guide Gault-Millau; his fears of losing a Michelin star were probably baseless, though these appeared to be the trigger. Depression is always a possibility, but Violier had no fear of any diminution of the chorus of praise for his Restaurant de l'Hôtel de Ville at Crissier. He was due to attend the Paris launch of the new edition of the Michelin Guide to France the following Monday; instead, it began with a minute's silence to remember him.
The Crissier site itself might have had difficult associations. He had been there 17 years, mentored by the previous chef, Philippe Rochat, whom he succeeded in 2012, and whose death only months earlier much affected him, as did that of his father the same year.
Before that, though, the premises housed the restaurant of Fredy Girardet, even more widely acclaimed as the world's best restaurant when I was there in the 1980s. Girardet told the Swiss daily 24 Heures that he was "dumbfounded" on hearing of Violier's death. "He was a brilliant man," he said. "Such talent, and an amazing capacity for work. He was so kind, with so many qualities. He gave the impression of being perfect."
In an interview on Swiss TV, Violier acknowledged the importance of stress in maintaining a commitment to perfection: "It's my life. I go to sleep with cooking, I wake up to cooking." The perfectionist attitude, and the need to compete with the past, can almost be felt in the walls of the building. In the last interview Violier gave, published in Libération on 26 January, he seemed to be cheerful, but hinted that he was worried whether his success would continue.
"It's all about clients coming back. I hope that it lasts. With 54 employees you have only three months' grace," he said, citing the current length of the waiting-list for a table. "You always have to remain focused." On another occasion he said: "Nothing is ever definitive, everything must be repeated every day."
Benoît Violier was born in 1971 in the south-western town of Saintes, in Charente-Maritime, where his father was a wine-maker. (There is a story that in childhood he was nearly injured by a flying cork.) In 1991 he went to Paris to train with the internationally celebrated chef, Joel Robuchon. Of his time there he said he had learned "rigour, discipline and the art of the beautiful gesture." He moved to Switzerland in 1996, at the invitation of Rochat, whom he came to think of as a second father. His wife joined him working in the restaurant in 2012. In 2014 he became a Swiss citizen.
Violier's restaurant specialised in the game he revelled in shooting, some of which he actually supplied. A friend eating there in 2012 reported that the à la carte included Alpine chamois chop, woodcock, teal, snipe, ptarmigan, wood pigeon, venison and hare.
Only two days after his death, his wife decided that the best way to remember him was to do what he would have wanted, and honour the table reservations he had accepted; so she re-opened the restaurant.
The New York Times observed on 1 February that "depression, anxiety, addiction and eating disorders are common" in the restaurant world, and reported that an American food writer has started a project, Chefs with Issues, "aimed at illuminating the job-related stresses and mental illnesses afflicting many people in the food industry."
PAUL LEVY
Benoît Violier, chef: born Saintes, Charente-Maritime, France 22 August 1971; married Brigitte (one son); died Crissier, Switzerland 31 January 2016.
Join our new commenting forum
Join thought-provoking conversations, follow other Independent readers and see their replies