Berta Caceres: Activist for the environment and the rights of indigenous people whose fears for her life appear to have been justified
Caceres, a 40-year-old mother of four, had received many rape or death threats, but said she would fight on
Saturday 05 March 2016 00:57 GMT
Comments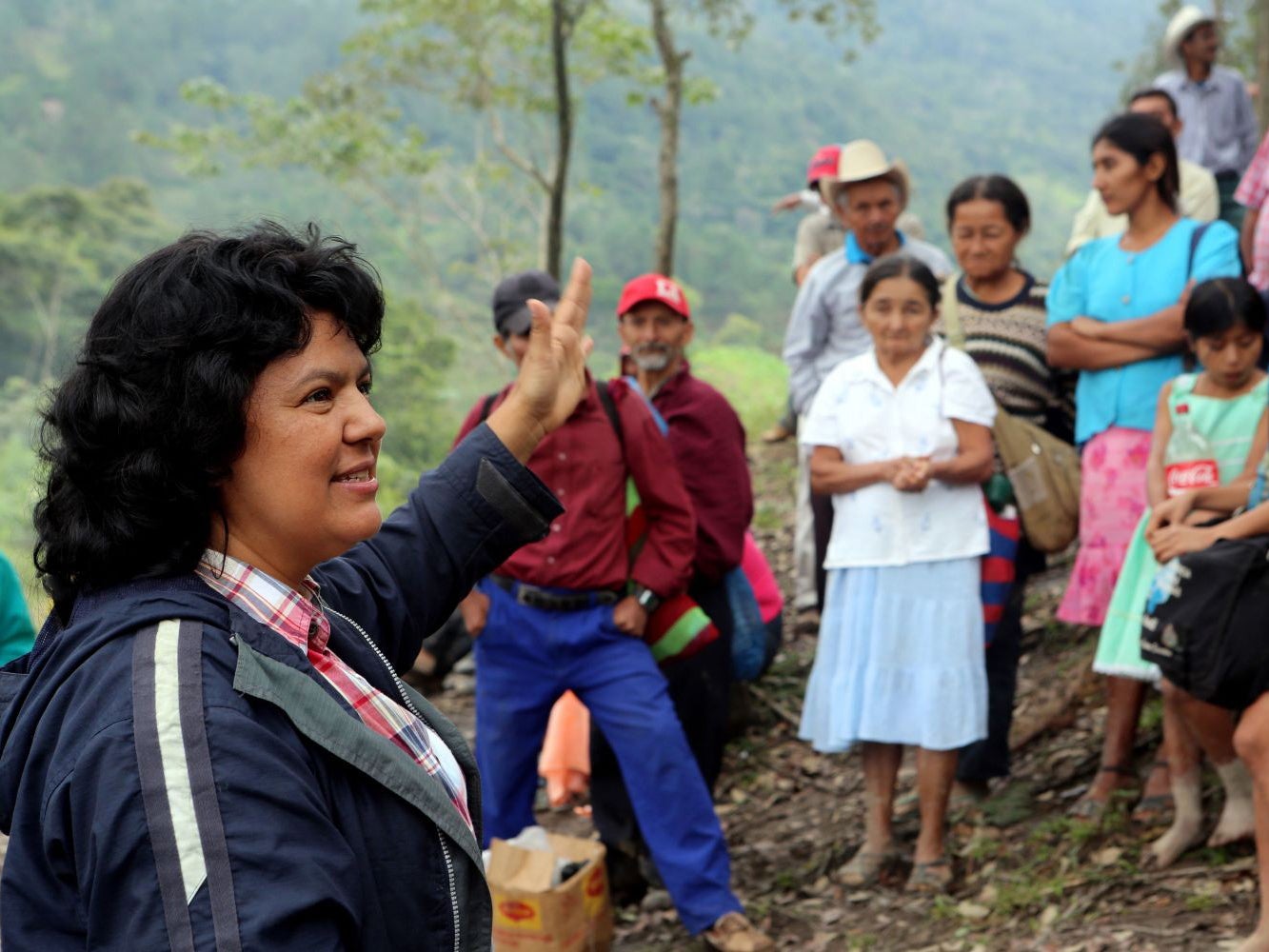 The life and murder of Berta Caceres reflected the title of her fellow Latin American Gabriel Garcia Marquez's famous novel, Chronicle of a Death Foretold. The Honduran activist, for the environment and the human rights of her indigenous Lenca people, long knew her days might well be numbered. Honduras has the unenviable reputation as the world's most lethal country for environmental activists, with more than 100 murdered over the last five years, including several during the last two months.
"I fear for my life," she told the newspaper El Universo last year. "Honduras is a country of total impunity. No one cares if they kill us. It's not that we want to be Rambo, but this is a vital fight for our ecosystem, for our home." At the time, she lived an Arafatesque life, rarely staying in the same house for more than one night and not speaking on the phone for fear of assassination. She said she was being constantly watched by police or government agents.
Having taken on big business, landowners, developers and thereby her government which backs them, Caceres, a 40-year-old mother of four, had received many rape or death threats. But she said she would fight on and called on other campaigners to do so. Given the worldwide reaction to her murder, they surely will. Hundreds of Hondurans took to the streets after her death and supporters around the world, including recent Oscar winner Leonardo DiCaprio, condemned the killing.
The government had promised to protect her and police had been posted around her home at El Calvario, near the capital, Tegucigalpa, until two months ago. But they were nowhere to been seen around her family home in La Esperanza, in the Intibuca district 150 miles west of the capital, when she was killed there. They claimed she had not told them she had moved.
How the hitmen, at least two of them, managed to break down her door and pump four bullets into her is being investigated, if the government is to be taken at its word. Her fellow activists said a Honduran investigation would have zero credibility and that it should be an international one. A government minister said she had asked the police to move away from her door because "they bothered her".
Her family and fellow activists question that, noting that many of Honduras's notorious political killings in recent years were carried out by hitmen alleged to have links with the police or army. The government said it was a burglary, but nothing was taken other than her life; and her brother, with her at the time, was only slightly wounded as he tried to protect her.
As if anyone needed reminding, her murder brought back to Honduras the dark days of the 1980s Central American guerrilla wars, in which they and their neighbours fought to rid themselves of dictators backed by the US. Many of those who died in that era were, like Caceres, from the native Lenca, the largest indigenous group in Honduras. Although she was a child at the time, she witnessed much of the horror.
The "motive" for her killing was almost certainly the fact that she had co-founded a group called the National Council of Popular and Indigenous Organisations of Honduras (COPINH), on behalf of the natives who had been in the Central American nation long before the Spanish conquistadors arrived.
More specifically and recently, she had been campaigning against wealthy plantation owners, illegal loggers and a hydroelectric project which threatened the lands and lives of the Lenca people, including what to them is a sacred river. She had kept the project stalled until her death.
"I cannot freely walk on my territory or swim in the sacred river and I am separated from my children because of the threats," she told an interviewer [three of her four children live in exile abroad]. "I cannot live in peace, I am always thinking about being killed or kidnapped.
"But I refuse to go into exile. I am a human rights fighter and I will not give up this fight. But in the end, in this country where there is total impunity I am vulnerable. When they want to kill me, they will do it."
After her death, Leonardo DiCaprio, who had called for environmental activism in his Oscar-winner's speech last Sunday, said: "This is incredibly sad news from Honduras. The world has lost an incredible leader. We should all honour the brave contribution of Berta Caceres – ecologist, humanitarian and inspiration for all."
Last year, Caceres was one of six winners of the global Goldman Environmental Prize – often described as The Green Nobel – for her opposition to the Agua Zarca dam project in the Gualcarque river basin, which includes German, Dutch and Finnish investment. One of the other prize winners was Howard Wood of Arran in Scotland for his campaign for a community-developed marine protection area. After receiving her prize, Caceres told The Guardian: "We must undertake the struggle in all parts of the world, wherever we may be, because we have no other spare or replacement planet. We have only this one, and we have to take action."
PHIL DAVISON
Berta Isabel Caceres Flores, human rights and environmental activist: born La Esperanza, Honduras 4 March 1973; four children; died La Esperanza 3 March 2016.
Join our commenting forum
Join thought-provoking conversations, follow other Independent readers and see their replies