Betsy Drake: Actress and writer who married Cary Grant, introducing him to LSD, and survived the sinking of the Andrea Doria ocean liner
Drake visited Grant in Spain while he was filming The Pride and the Passion, but on her return to the US the ship she was sailing in collided with the ocean liner Stockholm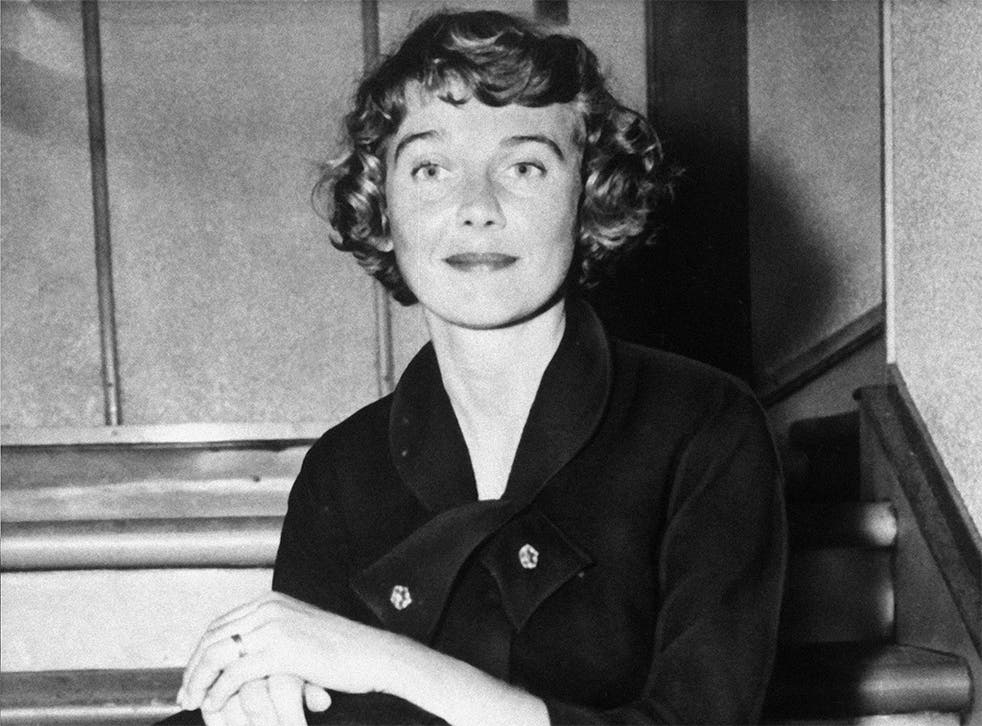 Betsy Drake was an actress and writer who in the 1950s introduced her then-husband, Cary Grant, to LSD, endured his infatuation with Sophia Loren and survived the sinking of the Andrea Doria ocean liner. Drake, whose grandfather helped build the landmark Drake and Blackstone hotels in Chicago, described a life of glittering highs and shattering lows.
She spent her earliest years in Paris, where her American expatriate parents embraced the roar of the Roaring Twenties. The stock market plunge of 1929 ended the frivolity and their marriage, and Drake was shuffled among relatives along the East Coast. She took to acting, first as a balm and gradually as a career.
By the time she left the all-girl Madeira School in McLean, Virginia at 17, she had begun to draw attention for her good looks and rumba skills. She attended a theatre school in Washington and found work in New York as a Conover model and Broadway understudy. She won a film contract in 1946 but grew so restless and bored that she feigned mental illness to break the arrangement.
The next year, she landed a leading role in the London production of Deep Are the Roots, a drama about race relations directed by Elia Kazan. Grant, 19 years her senior, twice divorced and one of the world's most debonair and captivating movie stars, saw the play and was struck by Drake's charm and low-voiced allure. By chance, they soon met aboard the Queen Mary on a voyage to New York, and she soon moved into his Los Angeles home.
With Grant's pull, she won a contract at RKO and debuted opposite her future husband in a confection called Every Girl Should Be Married (1948) as a resourceful woman in pursuit of her romantic prey, a bachelor paediatrician. The New York Times film critic Bosley Crowther called her "foxily amusing." She followed it with starring roles in trifles such as Dancing in the Dark (1949) with William Powell, Pretty Baby (1950) with Dennis Morgan and Room for One More (1952), again with Grant.
She then pulled back from her career to focus on her home life. She and Grant had married on Christmas Day 1949, with Howard Hughes as best man. She cooked Grant's meals, greeted him at breakfast each day with a poem and studied hypnosis in an effort to wean them both off cigarettes and hard alcohol. She persuaded Grant to retire – briefly – but could not interest him in fatherhood. They delved into transcendentalism, mysticism and yoga. She became a writer and took up causes which included the plight of homeless children in Los Angeles.
Grant was lured back to work by Alfred Hitchcock for To Catch a Thief (1955), co-starring Grace Kelly and set in the French Riviera. The marriage began to deteriorate and was mostly fallow by the time Grant left for Spain to film The Pride and the Passion, a Napoleonic drama released in 1957. Grant became infatuated with co-star Loren and proposed to her. A visit to the set by Drake did not go well, but events took an ever more dramatic turn when she boarded the Andrea Doria on her way back to the US.
The ship, which had more than 1,700 passengers and crew members, collided with the ocean liner Stockholm on 25 July 1956 amid heavy fog off Nantucket. Dozens were killed. Drake, who lost more than $200,000 worth of uninsured jewellery and a manuscript for a novel, was uninjured. Grant stayed in Spain.
Drake made a handful of subsequent films, including the comedy Will Success Spoil Rock Hunter? (1957), in which she played Tony Randall's fiancée. She also wrote an early script for Houseboat (1958), a romantic comedy she hoped would be a vehicle for her and Grant. In a humiliating twist, the script was reworked and she was replaced by Loren.
The Grants separated but remained what Time magazine called "intimately estranged", living apart but on good terms. Searching for an understanding of her troubled childhood and marriage, Drake began seeing a Hollywood therapist who administered LSD, then legal.
In a controlled setting, she began weekly sessions. Grant also called on the therapist, initially out of concern about the revelations his wife might make, and their potential impact on his carefully cultivated image. He found that he savoured the LSD-driven therapy sessions and promoted the treatment in interviews. "Because I never understood myself, how could I have hoped to understand anyone else?" he told Time in 1962. "That's why I say that now I can truly give a woman love for the first time in my life, because I can understand her." Soon afterward, he and Drake divorced.
Betsy Gordon Drake was born near Paris in 1923. In the 1960s, she deepened her interest in mental health issues and joined the UCLA Neuropsychiatric Institute as a director of psychodrama therapy, in which patients are encouraged to act out their pent-up feelings. She also wrote a novel, Children, You Are Very Little (1971), about a 10-year-old girl who goes to outrageous comic lengths to defy the mean adults in her life and unite her broken family. A Time reviewer praised its "flair and ferocity".
"Adults demand that children understand what they're trying to say," Drake remarked at the time, "but too often they interpret a child's most serious moments as stupid or cute or funny. So children, in self-defence, learn to play for the laugh. It's a style of craziness, a style of survival, a style of distancing. I learned this style as a child but I'm not really impressed with my comic or ironic side. I'd much rather write straight out of despair."
Drake eventually settled in London and formed a tight social circle with friends including the writer Martha Gellhorn and painter Bernard Perlin. With some exceptions she avoided speaking about Grant, who married twice more and had a daughter with his fourth wife, actress Dyan Cannon, before his death in 1986. He always spoke admiringly of Drake, remarking in 1973, "Betsy was a delightful comedienne, but I don't think that Hollywood was ever really her milieu. She wanted to help humanity, to help others help themselves."
Betsy Gordon Drake, actress and writer: born near Paris 11 September 1923; married 1949 Cary Grant (divorced 1962); died London 27 October 2015.
© The Washington Post
Register for free to continue reading
Registration is a free and easy way to support our truly independent journalism
By registering, you will also enjoy limited access to Premium articles, exclusive newsletters, commenting, and virtual events with our leading journalists
Already have an account? sign in
Register for free to continue reading
Registration is a free and easy way to support our truly independent journalism
By registering, you will also enjoy limited access to Premium articles, exclusive newsletters, commenting, and virtual events with our leading journalists
Already have an account? sign in
Join our new commenting forum
Join thought-provoking conversations, follow other Independent readers and see their replies