Betty Campbell: Wales's first black headteacher took civil rights history into classrooms
Campbell, who grew up in one of Britain's first multicultural communities, left her mark as an educator and community leader
Harriet Marsden
Wednesday 08 November 2017 17:13 Comments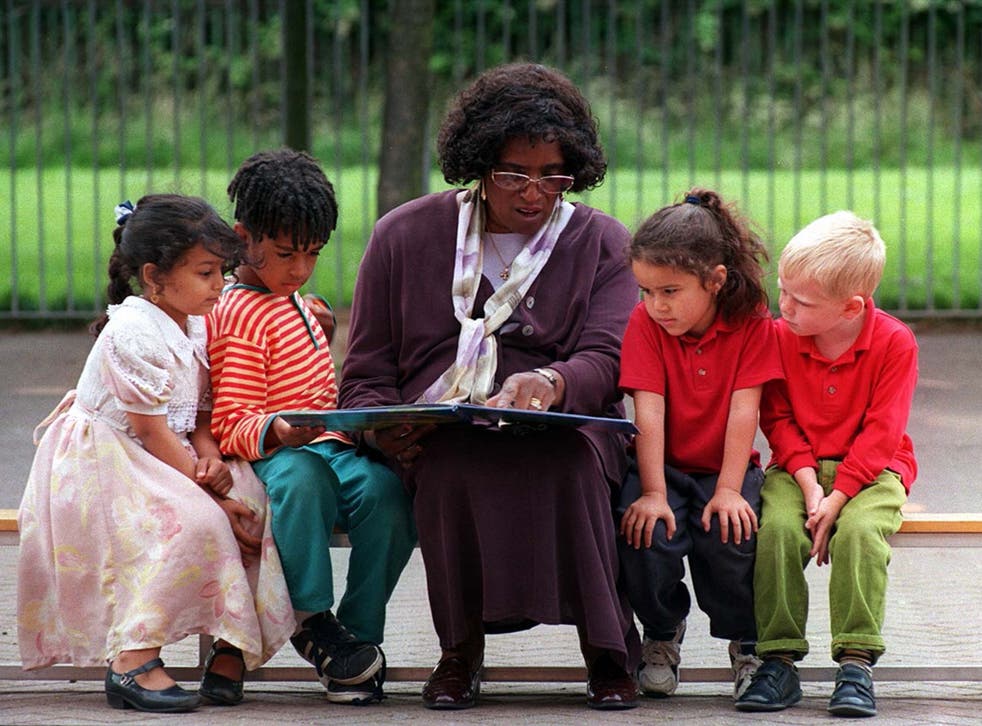 Betty Campbell was an inspiration to black pupils; a career pioneer; a community activist and racial education champion – and Black History Month in the UK can be traced back to her efforts in the 1970s. But Wales's first black headteacher remained so grounded that she preferred to be known simply as Betty.
Born Betty Johnson in 1934, she grew up in Butetown, south Cardiff, a social and cultural milieu that could have held her back from success, but instead forged her mettle. Known as "the docks", or Tre-biwt in Welsh, Butetown was one of the UK's first multicultural communities, drawing immigrants from more than 50 countries by the outbreak of the First World War, most of whom found work on the docks of Tiger Bay.
Campbell's father Simon Vickers Johnson had come over from Jamaica when he was just 15, but was killed in the Second World War when his ship, the Ocean Vanguard, was torpedoed in 1942. Her Barbadian mother Honora, known as Nora, was forced to work as an illegal street bookmaker to make ends meet.
Growing up in the poverty of Tiger Bay, Campbell would curl up with Enid Blyton novels and dream of idyllic girls' boarding schools. Eventually, she won a scholarship to the exclusive Lady Margaret High School for Girls in Cardiff, where she would study alongside mostly white, middle-class girls.
Always top the class in secondary school, Campbell confided to the headmistress that she too would like to teach – only to be told: "Oh my dear, the problems would be insurmountable."
And she never forgot the words. "I went back to my desk and I cried," Campbell once recalled. "That was the first time I ever cried in school. But it made me more determined; I was going to be a teacher by hook or by crook."
But there would be a bump or two along the way. As a teenager, she took a bus to a dance in Pontypridd and met a fitter's mate, Rupert Campbell, who like her father had come from Jamaica.
Campbell ended up doing her A-levels while pregnant with her first child, leaving school at 17. She married Rupert in 1953, and went on to have two more children, but "never gave up my dream of being a teacher".
In 1960, she read an article about Cardiff Teacher Training College, which had begun taking on female students for the first time – albeit only six of them – and she was eager to apply. But her mother told her: "Don't be so bloody soft. You've got three kids. How are you going to do that?" Campbell was to prove her mother wrong, despite struggles with the birth of her fourth child who had special needs.
After her first teaching post in Llanrumney, east Cardiff, she jumped at the chance to return to Butetown when a position opened up at Mount Stuart Primary School. But back in Tiger Bay, things weren't, as she put it, "all honey".
Butetown was in transition: new developments were being built on the docks, which was hoped would spur integration in the town. But the divide between the wealthy Cardiff Bay and the poorer Tiger Bay endured, as the housing estate became increasingly excluded.
Campbell also faced hostility from some parents. "They hadn't seen a black teacher before. It was as if you could do a job, but if you're black you're weren't quite as good."
But again she proved her detractors wrong by becoming headmistress in the 1970s: the first black headteacher in Wales. Not content to just make history, she set about making sure her students knew the history.
On a trip to America, she had been inspired by learning about the life of abolitionist and former slave Harriet Tubman and other civil rights activists. Later at the National Assembly for Wales, she explained: "I was determined that I was going to become one of those people and enhance the black spirit, black culture as much as I could."
She made it her mission to promote a diverse curriculum, which included references to black people's experiences and their positive contribution to British society. Pupils have spoken of how every month was Black History Month.
"I looked at black history, the Caribbean, Africa and slavery and the effects. There were people that said: 'You should not be teaching that.' Why not? It happened. Children should be made aware."
Her efforts did not go unnoticed: Prince Charles himself attended the school's annual St David's Day celebration in 1994, and she became a member of the Home Office's race advisory committee, eventually appointed a member of the Commission for Racial Equality.
Campbell even had her students write letters to Nelson Mandela, calling him a "fantastic role model for the children". They were rewarded in 1998 when she was invited to meet Nelson Mandela during his only visit to Wales, accepting the Freedom of the City of Cardiff.
She became known outside Wales as a leading academic and an authority on education, but she never forgot her Butetown roots. Representing her community as councillor from 1999 to 2004, for both Labour and as an independent, she oversaw a difficult time in Tiger Bay history. Welsh coal exports were over, jobs were scarce, and the development was eventually bulldozed to make way for new tower block council estates.
Cardiff South MP Stephen Doughty, who first met Campbell when she was just a child, said: "She was fiercely strong in her advocacy for local people, and fiercely passionate about the diversity and history of the amazing docks communities."
Campbell continued to teach a series of workshops for Black History Month to raise awareness of the role of Butetown's citizens in the Second World War, and the involvement of their countries of origin, right up to her death.
In 2003, Campbell was awarded an MBE for services to education and community life. She was also honoured by Unison Cymru's Black Members' group in 2015 with a lifetime achievement award for her contribution to black history and Welsh education – and award she said meant more to her than her MBE.
Carwyn Jones, First Minister of Wales, called her "a true pioneer and inspiration to other black and ethnic minority people".
Betty Campbell (née Johnson), teacher and councillor, born 1934, died 13 October 2017
Register for free to continue reading
Registration is a free and easy way to support our truly independent journalism
By registering, you will also enjoy limited access to Premium articles, exclusive newsletters, commenting, and virtual events with our leading journalists
Already have an account? sign in
Join our new commenting forum
Join thought-provoking conversations, follow other Independent readers and see their replies