Big Jay McNeely: Saxophonist who revolutionised rhythm and blues as the 'King of the Honkers'
Whether bringing traffic to a standstill or playing his trademark ultraviolet horn, McNeely was a pioneer who brought showmanship to jazz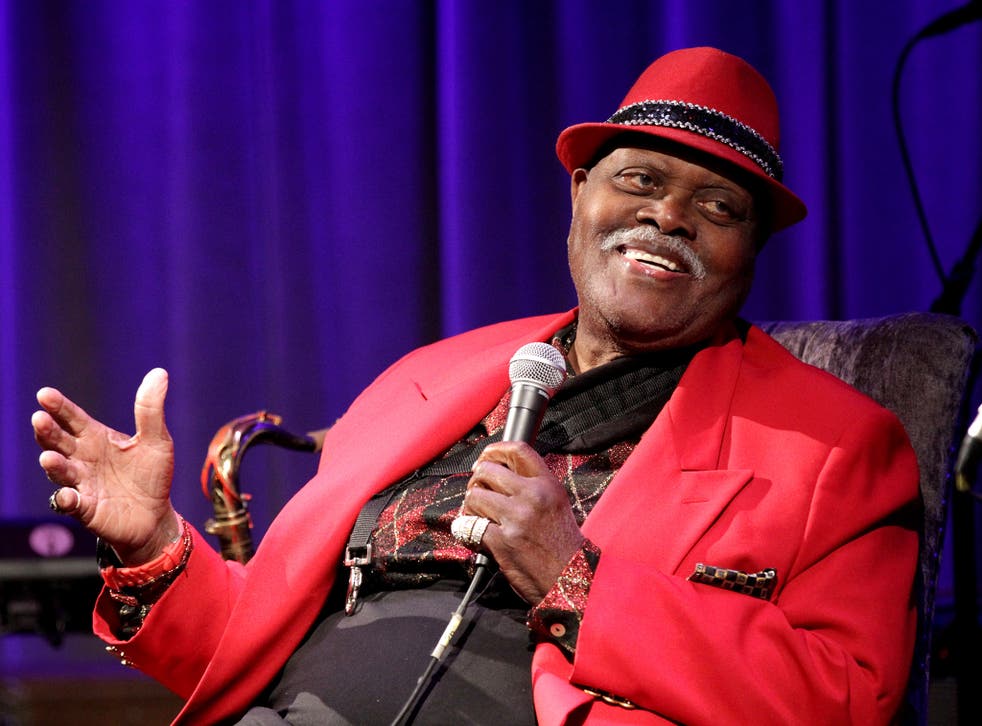 Seventy years ago, 20-year-old Cecil McNeely had borrowed his brother's saxophone and was playing in a club near his home. The audience wasn't responding so he thought he would add some showmanship by first falling to his knees and then even playing the horn while lying on his back, kicking his feet in the air.
McNeely had brought exhibitionism to jazz, and it could be seen as a formative moment for the forthcoming rock 'n' roll. Little Richard gave the saxophonist the highest praise, saying: "You're the only one who can warm them up for me." Of course as Big Jay McNeely, Cecil McNeely was a headline name in his own right.
He was born in the Watts neighbourhood of Los Angeles in the late 1920s. His father Dillard worked as a porter on floating casino the SS Tango, moored off the coast of Santa Monica. His mother Armonia was a Native American who made quilts sold on the ship. Both played piano, but Cecil was impressed when his brother Bob brought home a tenor saxophone. When Bob was conscripted during the war, he gave the instrument to Cecil, who took lessons. More than anything, Cecil wanted to copy Illinois Jacquet's solo on the 1942 hit "Flying Home", by Lionel Hampton and his Orchestra.
Bandleader Johnny Otis ran a club, the Barrelhouse, near Cecil's home and that is where the saxophonist first played. Otis introduced him to Savoy Records and its owner, Herman Lubinsky, thought the name Big Jay McNeely was an improvement. McNeely wasn't big – at five ft nine – or rotund, but he had a big sound. He wrote a few sax-led instrumentals and in 1949 topped the US rhythm and blues chart with "The Deacon's Hop", which sounds like a rock 'n' roll record.
The press called him the King of the Honkers, and he recorded instrumentals for noted labels including Aladdin, Federal and Vee-Jay, but often he was competing against saxophonists emulating him. His brothers Dillard Jr and Bob were impressed and joined his band, the Blue Jays, playing baritone saxophone and bass, respectively. McNeely's records included "The Wild Wig" for Savoy, "The Goof" for Federal and "Blow, Blow, Blow" for Imperial and he showed versatility on "Beachcomber", where he sounds like Charlie Parker.
In September 1952, with McNeely playing to a capacity audience at the Ebony Hall in San Diego, he went into the crowd and then out the door, honking at passing motorists. A policeman arrested him for disturbing the peace and when fans protested they were arrested too. The musician was fined but it didn't matter – he had a new gimmick.
During a visit to a strip club where the dancer turned off the lights to expose fluorescent panties, McNeely was struck by inspiration and, to the end of his life, played a saxophone covered in ultraviolet paint.
In 1958 he gained further publicity by performing a rock 'n' roll marathon in Portland, Oregon, playing non-stop – apart from for regulation breaks – for 85 hours.
The saxophonist's personality can be heard on the album Live at Birdland (1957) but his biggest single – and only pop hit – was "There Is Something On Your Mind" (1959). He wrote the song and the single is credited to Big Jay McNeely and his Band, but the vocalist was Little Sonny Warner, who was unable to promote the single as he was serving time for possessing drugs. McNeely sometimes sang himself, and provided accompaniment for singers, notably Jesse Belvin.
McNeely married the singer, Jackie Day – real name Jacqueline Baldain – in 1960 and they raised a family. But amid changing musical trends it was financially difficult to run a touring band. In 1971, McNeely gave up the late nights of the music business for the early mornings of being a postman. He had been a Jehovah's Witness since his teens, and he now he committed himself to its ministry. His musicianship was not forgotten as Clarence Clemons cited him as a major influence and, during the 1960s, Jimi Hendrix had copied his flamboyant presentation after seeing him in Seattle.
In 1983, McNeely returned to music and enjoying the demand for vintage R&B performers in Europe, becoming especially popular in the Netherlands. By happenstance he was playing in Berlin as the wall came down and naturally, he attributed it to his powerhouse solos. A biography by Jim Dawson was published in 1994 and named after one of his successes, Nervous Man Nervous.
In 1997 McNeely recorded an album, Cherry Pie, with British blues singer Dana Gillespie, who recalled: "We did a lot of gigs together in Vienna and he suggested that we should do an album. He wanted to call it Black and White but I wasn't sure about that. He was still playing phenomenally well and he still had the ultraviolet sax, which he would play with white gloves."
McNeely's final album, Blowin' Down the House, was released in 2016, shortly before his 90th birthday.
Cecil James McNeely – Big Jay McNeely – saxophonist, born 29 April 1927, Los Angeles; married Jacqueline Baldain (divorced); 1 son, 1 daughter; died 16 September 2018 Moreno Valley, California.
Register for free to continue reading
Registration is a free and easy way to support our truly independent journalism
By registering, you will also enjoy limited access to Premium articles, exclusive newsletters, commenting, and virtual events with our leading journalists
Already have an account? sign in
Register for free to continue reading
Registration is a free and easy way to support our truly independent journalism
By registering, you will also enjoy limited access to Premium articles, exclusive newsletters, commenting, and virtual events with our leading journalists
Already have an account? sign in
Join our new commenting forum
Join thought-provoking conversations, follow other Independent readers and see their replies