Bill Johnson: First male skier from outside the Alpine nations to win Olympic downhill gold who later crashed disastrously
Johnson became an inspiration for new generations of American skiers, including downhill daredevil Bode Miller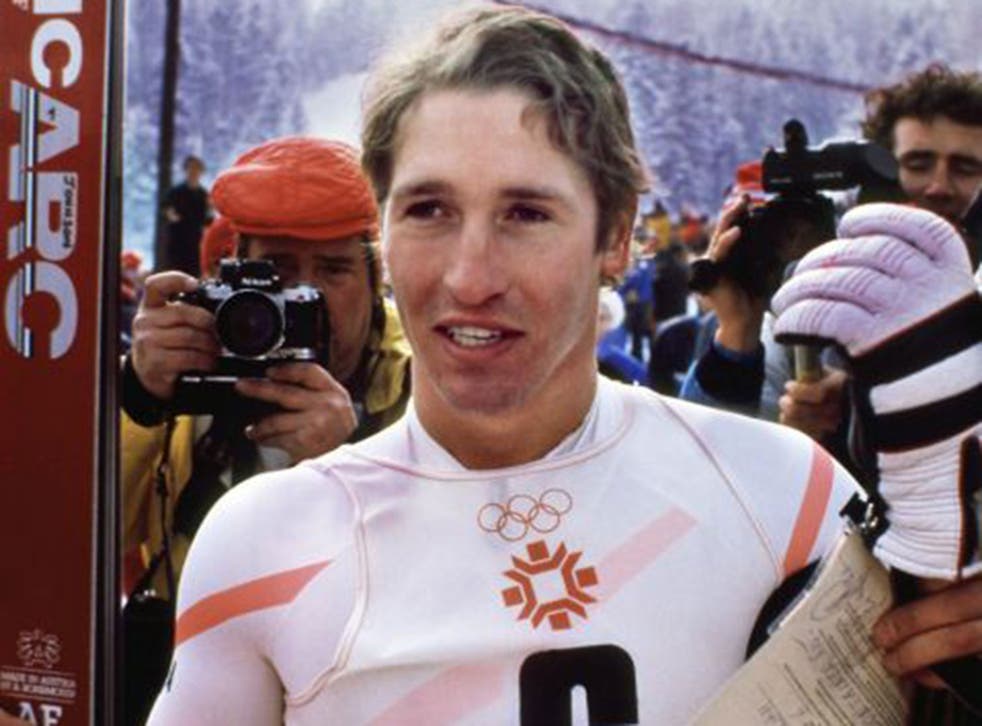 Bill Johnson was the first American man to win a World Cup Alpine downhill ski race, beating the predominant European Alpine nations at their own game on the Lauberhorn course in Wengen, Switzerland, in January 1984. A month later he became the first American, indeed the first male skier from a non-Alpine nation, to win an Olympic gold medal in downhill racing, one of the world's most dangerous sports.
That was at the Sarajevo Winter Olympics – before the city, at the time in communist Yugoslavia but now the capital of Bosnia and Herzegovina, was besieged by Serbian forces. Johnson became an inspiration for new generations of American skiers, including downhill daredevil Bode Miller, who won six Olympic medals and took the overall World Cup Championship twice before recently retiring.
Johnson was 23 when he shocked the Europeans on Mount Bjelasnica, outside Sarajevo, on 16 February 1984 to become a national hero in the US, feted in the White House by President Reagan and featured on the cover of Sports Illustrated. He even beat the Austrian Franz Klammer, star of the 1976 Winter Olympics and arguably the best downhill racer of all time, into 10th place. Klammer argued that the 1984 Olympic course was "one for eight-year-olds" and had mocked the brash young upstart from the US before the race.
Johnson might have expected a glittering career with millions in prize money and endorsements. But after the 1984 season, in which he was a serious contender in all the downhill events, he never won another race and tragedy was to dog him for the rest of his life. He missed the 1988 Calgary Winter Olympics after knee and back surgery and retired, disillusioned, in 1990. His year-old son Ryan drowned after tumbling into a hot tub in 1992.
Johnson's motto was "Ski to Die", tattooed on his right arm; he died, however, not on the slopes but as an invalid in a care home at the age of 55. He had made the mistake of attempting a comeback in 2001 at the age of 40 when he was bankrupt, divorced and living in a camper van. In his typical Muhammad Ali-like fashion, he predicted it would be "the comeback of the millennium". But in a US national championship event on Big Mountain, Montana, he crashed headfirst at more than 50mph, tumbling through two protective nets and suffering serious brain damage which affected the rest of his life. He was in a coma for three weeks. A series of strokes hastened his decline, leaving him barely able to eat or speak.
Notable deaths in 2016

Show all 42
William Dean Johnson was born in Los Angeles, California, but brought up in Boise, Idaho, close to the border with Oregon and the foothills of the Rocky Mountains. He was seven when he learned to ski at the Bogus Basin resort outside Boise, where he could also ski at night under floodlights. Something of a troubled youth, he began competitive skiing on the volcanic Mount Hood in northern Oregon.
After stealing a car when he was 17 he was given the choice of six months' jail or, because of his skiing prowess, attending the Mission Ridge Ski Academy in Washington State. There, his downhill speed caught the eye of scouts from the US team and he took part in his first World Cup downhill at St Anton, Austria, in 1983, finishing way off the podium. A year later, in Sarajevo, he was on top of the world.
Johnson's favourite film was Downhill Racer (1969), starring Robert Redford, something of a Johnson lookalike. And, like the Redford character, he revelled in his bad-boy image, once attacking his coach with a ski pole. (In the film, Redford clashes with his coach, played by Gene Hackman, but confounds everyone by winning Olympic gold, 15 years before Johnson.)
Johnson's team-mates called him Billy the Kid. "Basically, any downhill skier is a daredevil, and I'm no exception," he said before the Sarajevo Games. "I like to drive cars faster than 100mph. I like to go over bumps in my car and get airborne. I like to drink. I chase girls full-time, but I only drink part-time."
In 1985 his story appeared in a made-for-TV film, Going for the Gold: The Bill Johnson Story, starring Anthony Edwards (best-known as "Goose", Tom Cruise's wingman in Top Gun). Between his first retirement and his ill-fated comeback and crash, Johnson tried to get onto the professional golf circuit, ran a ski school, lost his meagre savings on the stock market, lived in his camper van, rode a Harley-Davidson faster than he used to ski, hunted, went moonlight skinny-dipping and surfing and often drank himself into oblivion.
The New York Times wrote: "If [Franz] Klammer was the Gene Kelly of downhill skiing, powerfully athletic on steep, icy courses, Johnson was Fred Astaire, graceful and fluid and landing lightly off a jump. [He] launched his [Olympic] gold-medal-winning descent by first pointing his ski pole down at the course unfolding below him, a gesture reminiscent of Babe Ruth's with a bat in baseball lore."
William Dean Johnson, skier: born Los Angeles 30 March 1960; married Gina Ricci (two sons, and one son deceased); died Gresham, Oregon 21 January 2016.
Register for free to continue reading
Registration is a free and easy way to support our truly independent journalism
By registering, you will also enjoy limited access to Premium articles, exclusive newsletters, commenting, and virtual events with our leading journalists
Already have an account? sign in
Register for free to continue reading
Registration is a free and easy way to support our truly independent journalism
By registering, you will also enjoy limited access to Premium articles, exclusive newsletters, commenting, and virtual events with our leading journalists
Already have an account? sign in
Join our new commenting forum
Join thought-provoking conversations, follow other Independent readers and see their replies