Bill Slater: Footballer who won three league titles and one FA Cup with Wolves and earned 12 England caps
The Lancashire-born player also earned a further 20 England caps as an amateur, and played cricket to a high standard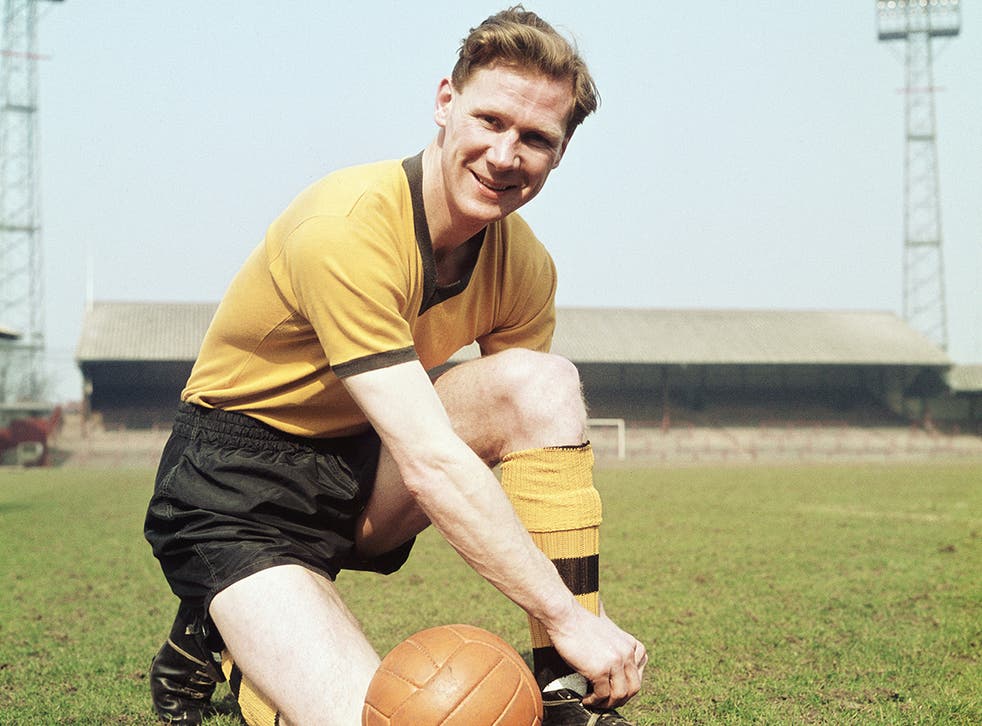 In an era when certain high-end footballers are paid upwards of £300,000 per week, it seems barely conceivable that a player could appear in the FA Cup final as an amateur and be voted Footballer of the Year while a part-time professional. During a hugely eventful career, which also included appearances in both the Olympic Games and the World Cup, Bill Slater did both.
Slater, who has died aged 91 after suffering from Alzheimer's, never became a full-timer in the sport, initially because of his academic pursuits and later due to his work in education. Yet he was good enough to win three Football League championship medals with Wolverhampton Wanderers and 12 England caps.
Born in Clitheroe, Lancashire, Slater left the town's grammar school at 16 to work in a bank. He was a useful cricketer, later playing for Warwickshire second XI, but his poise and versatility in the winter game attracted Blackpool's interest. He made four appearances in 1944-45, in wartime competition, operating at inside-right between Stanley Matthews and Stan Mortensen.
National Service in the Physical Training Corps led Slater to teacher training college in Leeds, whereupon he signed amateur forms for Blackpool in 1948. The following year he made his First Division debut – on the left wing – and in December 1949 scored what remains the joint-fastest goal in the Lancashire club's history, finding Stoke's net in 11 seconds.
In 1951 he was drafted into the Cup final side to face Newcastle after injury to Alan Brown, becoming the last unpaid player to appear in the Wembley showpiece. Slater, who played inside-left in a 2-0 defeat, was granted a day's leave from college provided he returned that night.
On completing his studies he moved to London to be nearer girlfriend Marion; they would be married for more than 50 years and have four children. He joined Brentford until the end of 1951-52, playing as a half-back (defensive midfielder) alongside Jimmy Hill and future England manager Ron Greenwood.
In the summer of 1952 he was part of the Great Britain XI that surprisingly lost to Luxembourg to depart the Helsinki Olympics after just one game. After staying to watch other matches he was invited by the England manager, Walter Winterbottom, to pen an overview for FA News. Slater warned that Hungary, among others, were playing a far more fluid game than the British. "I wrote that it was the shape of football to come," he later said. "Nobody seemed to take any notice."
After being appointed a lecturing post in Physical Education at Birmingham University, Slater wrote to the Wolves manager Stan Cullis seeking the chance to play in any of the club's teams. Cullis admonished his lack of ambition, saying he wanted people to aspire to the senior ranks, but signed him on amateur forms in 1952.
Slater made the first team within two months, helping Wolves crush champions Manchester United 6-2 on his debut. After the 1953-54 campaign, during which he played in all but three of the 42 fixtures as the League title came to Molineux for the first time, he became a part-time professional with a signing-on fee of £10 and wage of £14 a week.
Even though he often missed training because of teaching commitments, Slater's reputation as an unflustered, firm-tackling defender burgeoned. In 1954, after sterling performances in Wolves' epic floodlit matches against Hungarian and Russian teams, the 20-time England amateur international won his first full caps, again at left-half. His opportunities were then curtailed by the emergence of Duncan Edwards, of Manchester United Busby Babes fame, but Edwards's death from injuries sustained in the Munich disaster of 1958 prompted his recall by Winterbottom for that summer's World Cup finals.
As part of an all-Wolves half-back line with Billy Wright and Eddie Clamp, Slater played in all four matches in Sweden. In a 0-0 draw with eventual winners Brazil he marked the dangerous Didi out of the game. There were further championship medals in 1957-58 and 1958-59, after which he replaced the retiring Wright as Cullis' centre-half and captain. In 1959-60 Wolves came within a point of a third consecutive title, and Slater, who had just been named Footballer of the Year by the Football Writers' Association, lifted the FA Cup after Blackburn were routed. There was even an England recall, although Scotland's Ian St John gave him a torrid time and it proved his final cap.
On leaving Wolves in 1963 after 11 years, 339 appearances, 25 goals and not a single booking, Slater briefly rejoined Brentford before retiring in 1964. He later served as President of the British Amateur Gymnastics Association for 10 years (his daughter Barbara emulated him by competing in the 1976 Montreal Olympics as a gymnast, going on to become BBC director of sport) and as deputy director of the Crystal Palace National Sports Centre.
Slater also headed the PE departments at Liverpool and Birmingham universities and received an OBE for services to sport in 1982 and CBE in 1998.
William John Slater, footballer, teacher and sports administrator, born 27 April 1927, died 18 December 2018
Join our new commenting forum
Join thought-provoking conversations, follow other Independent readers and see their replies