Blanche Blackwell, mistress and muse of James Bond's creator
Descended from a wealthy Jamaican family, she also enchanted Errol Flynn and inspired Noel Coward
Matt Schudel
Tuesday 15 August 2017 11:27 Comments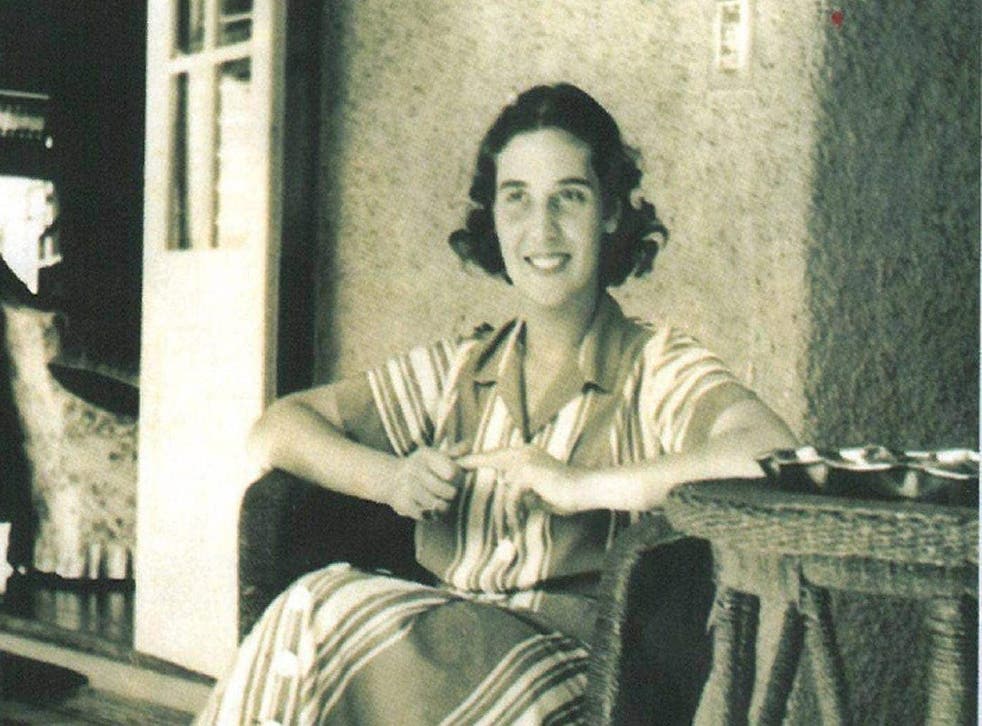 Blanche Blackwell, who died in London on 8 August, inspired one of Noel Coward's plays about an upper-crust love triangle. The swashbuckling Hollywood star Errol Flynn wanted to marry her. She was a member of one of Jamaica's richest families, but she was best known as the mistress and muse of Ian Fleming, the rakish author who was the creator of James Bond.
Vivacious and outdoorsy, Blackwell was known for her bright smile and casual allure. She first met Flynn – "a gorgeous god," in her words – in the 1940s, during one of his Jamaican vacations. He described her laugh as "like the sounds of water tinkling over a waterfall" and was so enchanted that he wanted to propose, even though both were married to other people.
One of her closest friends was Coward, the gay playwright and entertainer who based a character on Blackwell in his play 1957 Volcano, which was so sexually charged that it wasn't performed in public until 2012. (Blackwell attended the opening.) She lived long enough to give business advice to U2's Bono, whose career was launched by her son Chris Blackwell, the founder of Island Records. "She always says, 'I love men – they make such good pets,'" he told Tatler magazine earlier this year.
Blackwell had a home on Jamaica's northern coast, midway between Coward's island retreat and Fleming's estate, Goldeneye, where he wrote his novels and stories about 007. She was divorced and in her forties by the time she met Fleming in the mid-1950s. She had recently returned to Jamaica after several years in England, where her son was attending school.
"I remember I sat next to him at dinner and he said: 'Why haven't I seen you before?' she recalled to the Sunday Express in 2012. "I told him I was just over from England and he said, 'Oh good God, you're not a lesbian, are you?'" In Jamaica, what began as "a tropical dalliance" between the writer and Blackwell "developed into a deep love affair," Lycett wrote in his 1995 biography of Fleming.
Beginning in 1952, Fleming returned to Goldeneye every winter to write a new book about Bond's adventures as a British intelligence officer and serial seducer of women, both of which he could describe from his personal experience. His wife Ann usually stayed in England. Blackwell left Fleming alone to work in the mornings, then stopped by at midday for snorkelling and lunch. She came back for the cocktail hour, after his afternoon writing session. He called her "Birdie."
"She was really somebody who offered him friendship," Lycett said in an interview. "She made him content and happy at a difficult time in his life. She was a woman of great charm and intelligence and was extraordinarily good company."
In 1956, Blackwell helped coordinate Prime Minister Anthony Eden's visit to Goldeneye, planting tropical flowers and bushes in the gardens. (Fleming's wife, who was having an affair of her own with the politician Hugh Gaitskell, later tore out what she called the "ugly shrubs.") It is widely believed that she was the inspiration for one of Fleming's most memorable female characters, Pussy Galore, the bisexual leader of a female criminal gang in Goldfinger. Another character, the Jamaican-born Honeychile Rider in Dr No, was also thought to be modelled after Blackwell.
"She was a sort of macho female," Chris Blackwell told Vanity Fair magazine in 2012. "The relationship they had, how she and Ian bonded, was that they were both into doing things: climbing these falls, going into those caves, swimming here, snorkelling there." One of the gifts Blackwell gave Fleming was a small fishing boat, which he named Octopussy. The title of the 14th and final of Fleming's Bond stories was Octopussy and the Living Daylights, published in 1966, two years after his death at the age of 56.
Blackwell did not attend Fleming's funeral. Afterward, Ann Fleming reportedly told the manager of Goldeneye that he could rent the estate to anyone "except Blanche Blackwell." Said Blackwell in 2012: "She disliked me. But I can't blame her."
Blanche Blackwell (née Lindo) was descended from a Sephardic Jewish family that fled persecution in Portugal and eventually settled in Jamaica. The Lindos were one of about 20 prominent families who controlled much of the island's commerce through the 19th century. After business reversals, several members of the family moved to Costa Rica, where Blanche was born 9 December, 1912. After replenishing their fortune, they returned to Jamaica, where her father owned property and a rum distillery. Blanche had private tutors and attended a finishing school in Britain.
In the 1930s, she married Middleton Joseph Blackwell, a military officer and heir to a British food fortune. They were later divorced. In 1976, Goldeneye was bought by the reggae star Bob Marley, whose recordings were produced by Blackwell's son. A year later, Marley sold the estate to Chris Blackwell, who later transformed Goldeneye into a luxury resort, where his mother had a cottage.
She lived in London in recent years and was interviewed in 2008 by writer Ian Thomson for a book about the history of Jamaica, The Dead Yard. She spoke of her earlier admirers by their first names. "Ian was an angel," she recalled. "Errol was another angel. Both lovely men – both exceptionally manly and definitely not for domesticating!"
At 95 and nearly blind, Blackwell had lost none of her charm.
"Not that I should complain," she said, reaching for a rose. "I've had a marvellous life. Do smell my pink rose."
© Washington Post
Register for free to continue reading
Registration is a free and easy way to support our truly independent journalism
By registering, you will also enjoy limited access to Premium articles, exclusive newsletters, commenting, and virtual events with our leading journalists
Already have an account? sign in
Register for free to continue reading
Registration is a free and easy way to support our truly independent journalism
By registering, you will also enjoy limited access to Premium articles, exclusive newsletters, commenting, and virtual events with our leading journalists
Already have an account? sign in
Join our new commenting forum
Join thought-provoking conversations, follow other Independent readers and see their replies