Bob Anderson: Fencer and fight arranger for Bond and 'Star Wars'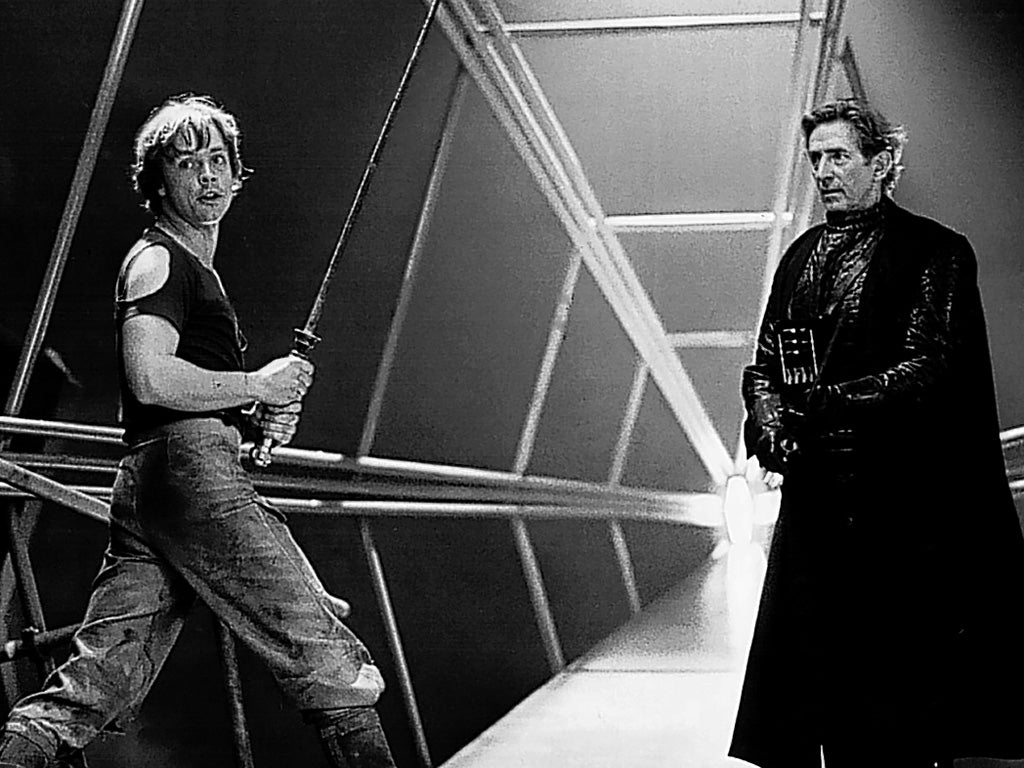 Bob Anderson was a Royal Marine and British Olympian who went on to become one of the most sought-after fencing choreographers and film fight directors. Over nearly 60 years he worked with the likes of Errol Flynn, Sean Connery, Anthony Hopkins and Antonio Banderas and staged some of film's most famous duelling scenes. But few were aware of the influence he had on some of Hollywood's favourite films.
An expert in medieval weaponry, Anderson worked on many blockbusters, including the choreographed fights in the Bond adventures From Russia with Love and Die Another Day, the Zorro films, Highlander and Pirates of the Caribbean. For the Lord of the Rings trilogy, he developed sword techniques for the different races according to Tolkien's descriptions.
His defining moment and most famous performance came when he played Darth Vader, donning the iconic black helmet and cloak during the light-sabre fight scenes against Luke Skywalker in two of the three original Star Wars films, The Empire Strikes Back and Return of the Jedi. In Empire, it is Anderson who severs the right hand of Skywalker, played by Mark Hamill, in the climactic scene where Vader reveals to Luke, "I am your father."
In the non-fight scenes, the villainous character was famously played by David Prowse and voiced by James Earl Jones. Anderson stepped in during the fight scenes because, according to his assistant Leon Hill, "David Prowse wasn't very good with a sword and Bob couldn't get him to do the moves." Although he was nearly 60, and shorter than the 6ft 6in Prowse, the scenes were faultless, despite the fact that Anderson had to wear lifts for extra height.
Initially, at George Lucas's request, Anderson's role was not publicised. However, having told Lucas that it was unfair to keep his contribution secret, in a 1983 interview Hamill revealed: "Bob Anderson was the man who actually did Vader's fighting. Bob worked so bloody hard that he deserves some recognition. It's ridiculous to preserve the myth that it's all done by one man."
Born in Alverstoke, Hampshire in 1922, Robert James Gilbert Anderson served in the War with the Royal Marines, where he learnt to fence. He went on to win a number of combined-services titles in all three of the sport's categories, foil, épée and sabre. Following five podium finishes at the 1950 British Empire Games, Anderson represent Britain in two World Championships and the 1952 Helsinki Olympics, where the team finished joint fifth in the sabre. After the marines he became British national coach and led it to six consecutive Olympic Games, including silver-medal-winning appearances in Rome in 1960 and Tokyo in 1964.
During the 1960s and '70s, Anderson became president of the British Academy of Fencing, which oversees the training of fencing coaches in the UK. The Academy said: "It is true to say that nearly 100 per cent of fencing in Britain today is directly or indirectly attributable to the work of this man." He later served as technical director of the Canadian Fencing Association.
Anderson's first foray into film was as a fight choreographer and stunt double in the 1953 swashbuckler The Master of Ballantrae, an adaptation of Robert Louis Stevenson's tale of an 18th-century lord (Errol Flynn) who takes to piracy. While rehearsing one duel on location in Sicily, Anderson accidentally nicked Flynn on the thigh. Although Flynn claimed responsibility for the mistake, for a short time around Hollywood film sets Anderson was referred to as "the man who stabbed Errol Flynn".
"The sword is the ultimate weapon," he once said. "It's not so threatening shooting at someone 20 or 30 paces away or while hiding behind things. When you get into a sword fight, you're standing toe-to-toe with someone who's trying to kill you and you're looking him in the eye – now that's thrilling."
Soon Anderson was in demand. He did stunts in The Guns of Navarone (1961), Casino Royale (1967) and Superman II (1980) and coached some of Hollywood's finest, including Charlie Sheen and Kiefer Sutherland for the 1993 remake of The Three Musketeers and Johnny Depp and Orlando Bloom in Pirates of the Caribbean (2003). He also taught swordsmanship to Banderas, Hopkins and Catherine Zeta-Jones for the Zorro franchise. Director Martin Campbell said, "We used to call him Grumpy Bob on the set, he was such a perfectionist... He also refused to treat any of the actors as stars. They would complain about the intensity of the training, but having worked with him there's nobody I'd rather use."
The Fencing Academy president Philip Bruce said Anderson was "truly one of our greatest fencing masters and a world-class film fight director and choreographer."
Robert Anderson, fencer, fencing coach and fight choreographer: born Gosport, Hampshire 15 September 1922; married Pearl (three children); died West Sussex 1 January 2012.
Join our commenting forum
Join thought-provoking conversations, follow other Independent readers and see their replies