Bob Casale: Founder member of DEVO, whose futuristic art-rock appealed to film-makers, animators and music fans alike
In 1981 they wore wigs to mimic the hairstyle  of John F Kennedy
Pierre Perrone
Saturday 22 February 2014 00:07 Comments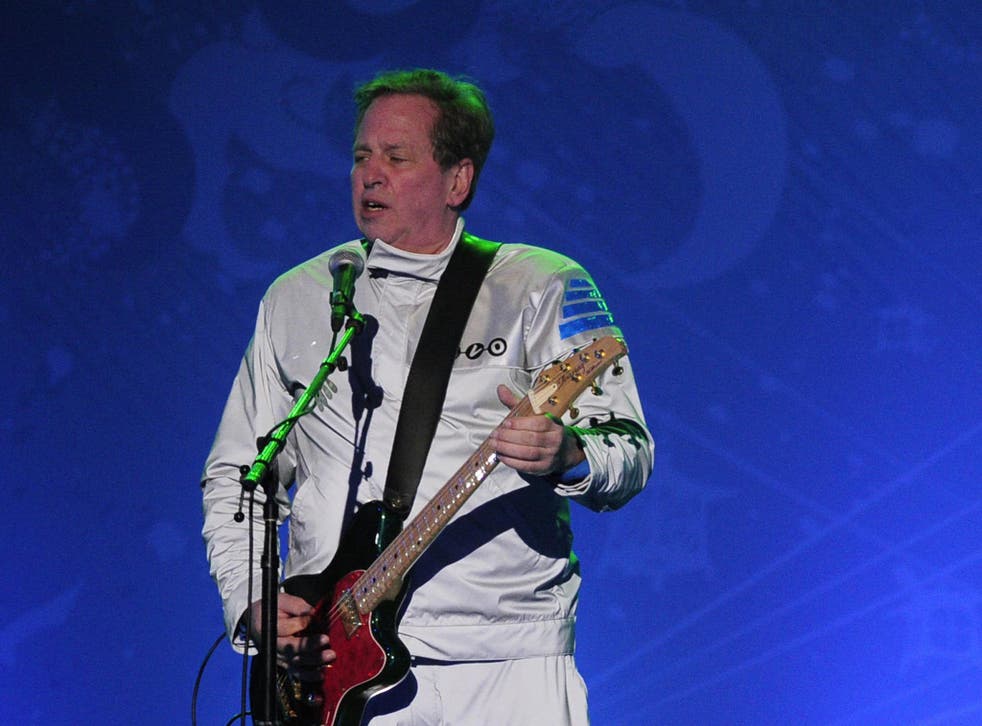 The guitarist, keyboard-player and sound engineer Bob Casale was a founder member of DEVO, the quasi-futuristic art-rock group whose critique of American values and pioneering use of multi-media anticipated the arrival of MTV and fed into animated television series such as Rugrats and Futurama. Indeed, Matt Groening, the creator of The Simpsons, was an early admirer of DEVO, and in September 2010 featured them in the 100th episode of Futurama, entitled "The Mutants Are Revolting".
Born in Kent, Ohio, in 1952, Bob Casale was the younger brother of Gerald Casale, DEVO's chief strategist and bassist, who had a keen interest in de-evolution, particularly the notion that American society was regressing. The concept took on darker overtones after the Ohio National Guard fired at students demonstrating against the invasion of Cambodia in May 1970, killing four and wounding nine. The event became the catalyst for the emergence of DEVO, whose line-up coalesced around geeky vocalist Mark Mothersbaugh, his brother Bob, known as Bob 1, on lead guitar, Gerald Casale and his brother Bob, known as Bob 2, and drummer Alan Myers, who died last year.
"We came of age in the middle of a huge cultural war," said Bob Casale. "The lines were drawn very clearly. There was the preppy college kid who was going to be for the war and the counterculture who embraced Bob Dylan, Jimi Hendrix and The Doors, were doing pot and hash and psychedelic drugs, and were against the Vietnam war. The two sides hated each other, and were ready to kill each other."
Out of this turmoil, DEVO fashioned a repertoire of oddball, satirical songs, delivered over Bob Casale's staccato guitar riffs and jerky rhythms, that owed a debt to Captain Beefheart and His Magic Band and the motorik beat of Neu! and Kraftwerk, as well as horror films such as Tod Browning's Freaks and Erle C Kenton's Island 0f Lost Souls, referenced in "Jocko Homo" the group's mission statement. Released in 1977 as the flip side to "Mongoloid", the first single on their Booji Boy label, the "Jocko Homo" mantra became the title of their Brian Eno-produced, landmark debut Q: Are We Not Men? A: We are DEVO! the following year.
By then, the quintet, clad in yellow boiler-suits, had graced the covers of the British music weeklies in thrall to the discordant sounds coming from Akron, Ohio, DEVO's home town. Stiff Records licensed "Mongoloid"/"Jocko Homo" and DEVO's deconstructed version of "(I Can't Get No) Satisfaction", their masterful reinvention of the Rolling Stones classic for the punk generation, and also issued "Be Stiff". All three Stiff singles made the UK charts but, with David Bowie, Eno and Neil Young proclaiming their admiration for the band, they signed to Virgin in Europe and Warner Brothers for the rest of the world.
In 1978, DEVO might have looked like another quirky new wave group, but their subversion had real intent. "We took people out of their daily lives. We tried to lift them up out of the grime and the grunge of their daily existence and give them an alternative – to turn them on in a number of ways, to remove them from the menial, petty things they had to deal with every day," explained Bob Casale.
Nevertheless, Virgin boss Richard Branson splendidly missed the point when he suggested they could become John Lydon's backing band in the interim period between the Sex Pistols and Public Image Ltd. DEVO's DIY approach remained inventive as well as humorous, whether they pulled tights over their faces in the promo for "Jocko Homo", or wore a succession of energy domes – nothing more than flowerpots – in different colours, including yellow for Duty Now for the Future (1979) and red for Freedom of Choice (1980). Kicking off with the irresistible ''Girl U Want'' and featuring the double-entendre synth-pop hit ''Whip It'', that album finally saw DEVO infiltrate the US mainstream as they had planned. For the follow-up New Traditionalists (1981), they donned plastic wigs approximating the hairstyle of the late John F Kennedy and recorded an adaptation of Allen Toussaint's "Working in a Coalmine" used on the soundtrack of the cult movie Heavy Metal along with "Through Being Cool".
For a while, DEVO became the default option for would be edgy films such as the comedy Doctor Detroit, Fright Night, or the erotic drama 9½ Weeks, but the albums Oh, No! It's DEVO (1982), Shout (1984), Total DEVO (1988) and Smooth Noodle Maps (1990) proved less successful, and they broke up in 1991. They returned in the mid-nineties, made a new album, Something For Everybody, in 2010, contributed to more movie soundtracks and toured with Blondie, Simple Minds and in their own right.
DEVO excelled at directing pop videos and commercials and providing soundtracks for games, Rugrats and Wes Anderson films such as Rushmore (1999), The Royal Tenenbaums (2001) and The Life Aquatic With Steve Zissou (2004) via the production company co-founded by Mark Mothersbaugh, Mutato Musika, of which the good-natured Bob Casale was a mainstay as sound engineer and problem-solver.
"He was my level-headed brother," said Gerard Casale, "a solid performer and talented audio engineer, always giving more than he got."
Robert Casale, musician: born Kent, Ohio, 14 July 1952; married Lisa (one son, one daughter); died Marina del Rey, California 17 February 2014.
Register for free to continue reading
Registration is a free and easy way to support our truly independent journalism
By registering, you will also enjoy limited access to Premium articles, exclusive newsletters, commenting, and virtual events with our leading journalists
Already have an account? sign in
Join our new commenting forum
Join thought-provoking conversations, follow other Independent readers and see their replies