Bob Willis: Former England cricket captain and one of the great fast bowlers
A fearsome opponent for the world's best batsmen, Willis was for a time England's leading wicket-taker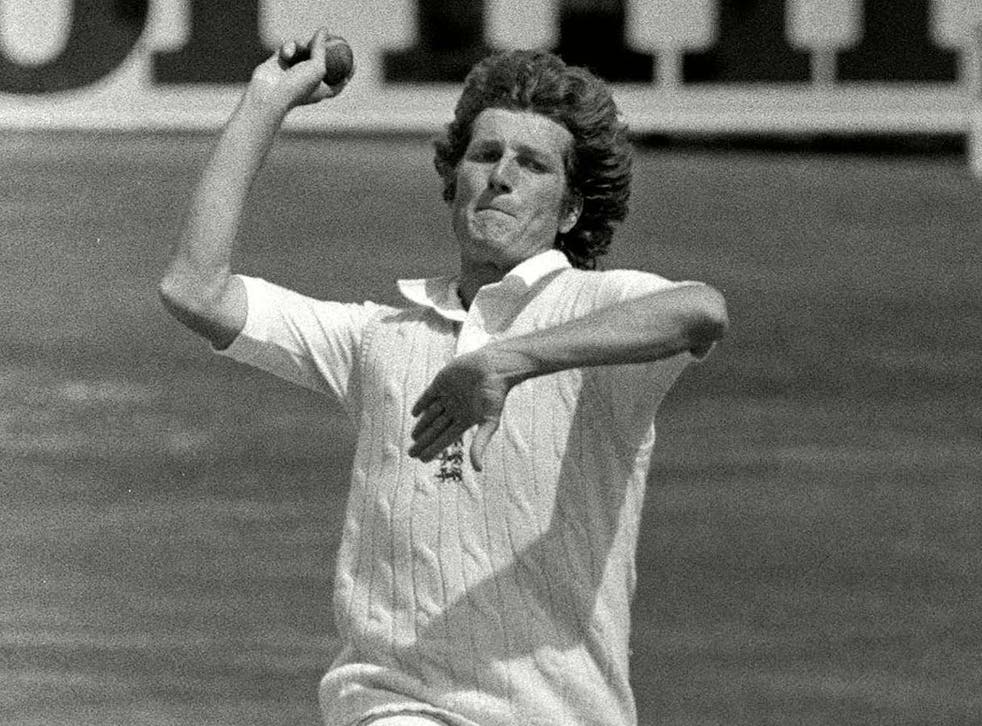 Bob Willis, who has died aged 70, was one of the heroes of England's legendary Headingley Ashes triumph over Australia in 1981, when he took 8-43 to herald a famous victory.
A fearsome strike bowler, he intimidated even the world's finest batsmen. Hurtling in off 22 paces with a whirling, somewhat ungainly full-on action, Willis would deliver anything from an in-swinging yorker to a scorching bouncer. He won 90 Test caps, appeared in 64 one-day internationals and, for a time, became England's leading wicket-taker. Not least of his many services to the game was his acceptance of the captaincy of both country and county, neither of which he actively sought nor ever really wanted.
Born in Sunderland, the youngest of three children of a BBC journalist, Robert George Willis settled in Surrey, being educated at the Royal Grammar School, Guildford. In homage to his great musical hero, he would later add Dylan as a third forename.
Having appeared for both Surrey Schools and the County Colts, he made his first-class debut for Surrey against Scotland at the Oval in 1969. Two years later, when the surprise call came to replace an injured Alan Ward on England's 1970-71 tour of Australia, he was spending the winter as a petrol-pump attendant. Appearing in four Test matches he took 12 wickets, his time as a goalkeeper with Guildford City in the Southern League helped him impress as a close catcher.
Frustrated at not being able to command a regular place in the Surrey side, Willis sought his release, signing for Warwickshire in 1972. However, this controversial move saw him banned for the first half of the season. His 8-44 against Derbyshire in the final game of the campaign, including a hat-trick, helped his new team to claim the Championship title.
He served as Warwickshire captain between 1980 and 1984, but because of international commitments he played only 53 out of a possible 114 Championship matches. Despite winning the John Player league title in his first year, success proved increasingly elusive, losing two major one-day finals at Lord's in 1982 and 1984.
Amid infrequent appearances for England, Willis toured Australia in 1974. Tapes supplied by a local hypnotherapist helped to cure his insomnia and he bowled with a new intensity.
Forced to return home injured, he played little in 1975 but returned to the England team a year later for the last two Tests against the all-conquering West Indians. That year in India, so often a fast bowler's graveyard, he took a creditable 20 wickets, including 5-27 at Kolkata and 6-53 at Bangalore. In the 1977 Jubilee Test at Lord's he floored the Australians with 7-78: at Trent Bridge he took 5-88; and at the Oval, 5-102, to end the series with 27 wickets. Injury again saw him drop out of the 1980-81 tour of the West Indies.
Not initially picked for that 1981 Headingley Test against Australia, Willis replaced Mike Hendrick. It is often forgotten that with England following on in their second innings, he helped Ian Botham to add 37 runs for the last wicket. Then haring in from the Kirkstall Lane End, he destroyed the Australian batsmen to bring England a most improbable victory by 18 runs.
Touring India and Sri Lanka the following winter, thereafter, from 1982 until 1984, he found himself appointed England captain. Facing India and Pakistan, he took 25 wickets, winning both series. Suffering defeat in Australia, in all he captained England on 18 occasions, winning seven, losing five and drawing six. His final Test match, against the West Indies, came fittingly at Headingley in June 1984.
A somewhat unorthodox right-handed tailender, Willis, in that last appearance in Leeds, went on to record yet another historic career landmark: two more "not outs" to take his tally to 52, a record in Test cricket. At Lord's against India two years earlier, he had also shared a record 10th wicket partnership for England of 70 with Paul Allott. However, it is his incomparable artistry as a bowler that ensures his place among the game's elite. While claiming 80 wickets in one-day internationals and 325 throughout his test career, in all first-class cricket his final tally stands at 899.
He retired in 1984, then served as assistant manager on the 1986 tour of the West Indies. He made a niche for himself as an analyst with Sky Sports, and with his older brother David he ran a successful sports hospitality business. In 2003, together with Michael Atherton, Michael Parkinson and Nigel Wray, they formed the Cricket Reform Group, lobbying long and hard for extensive and radical changes to be made to the game.
Divorced from his first wife, Juliet, he is survived by his second wife, Lauren, and a daughter of his first marriage.
Bob Willis, cricketer, born 30 May 1949, died 4 December 2019
Register for free to continue reading
Registration is a free and easy way to support our truly independent journalism
By registering, you will also enjoy limited access to Premium articles, exclusive newsletters, commenting, and virtual events with our leading journalists
Already have an account? sign in
Register for free to continue reading
Registration is a free and easy way to support our truly independent journalism
By registering, you will also enjoy limited access to Premium articles, exclusive newsletters, commenting, and virtual events with our leading journalists
Already have an account? sign in
Join our new commenting forum
Join thought-provoking conversations, follow other Independent readers and see their replies