Bobby Ball: Slapstick comedian and one half of popular Eighties double act
At their peak, Cannon and Ball would regularly draw millions of viewers to their comedy variety show – enjoying the highlife along the way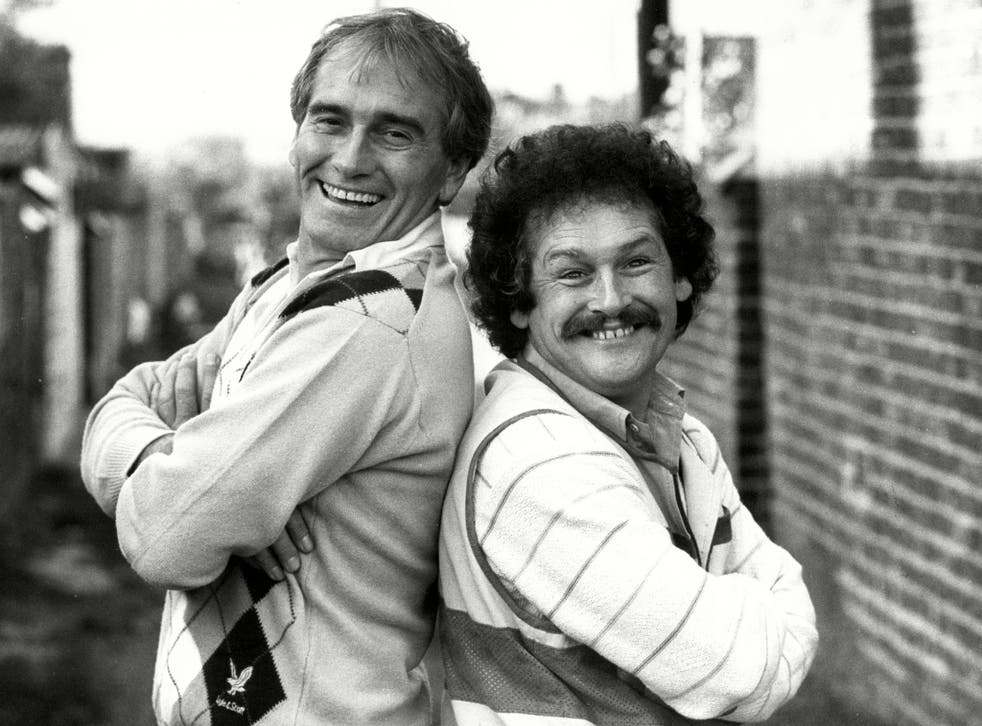 Bobby Ball, who has died aged 76, was one half of the popular comedy double act Cannon and Ball, who during the late Seventies and Eighties could regularly draw 20 million television viewers to their Saturday night variety programme.
With Tommy Cannon in the role of the straight man and Bobby Ball as the wild slapstick artiste, complete with pinging braces and his catchphrase "Rock On, Tommy...", the pair would delight theatre and television audiences with their unique brand of humour.
Ball was born Robert Harper in 1944, in Oldham, Lancashire and had dabbled with music since childhood. He was working as a welder when he met his future show business partner, Thomas Derbyshire (Tommy Cannon) who had just joined the factory. In an interview with The Independent in 2006 Cannon recalled: "He was the first person who spoke to me out of 500 men – he came in late for work and said, 'Hiya, mate.' Maybe he felt sorry for me. Bob used to sing at the weekends, and one night he said, 'I'm singing at a working men's club, would you like to come along?' "
Starting as a duo, The Harper Brothers, they soon evolved into a jazz trio, with a keyboardist, playing at working men's clubs and weddings around Manchester. "I used to sing", remembered Ball, "and Tommy would accompany me on the drums, then we would swap over and Tommy would sing to my accompaniment – all for £3 a night."
Their first TV break came in 1968 with an appearance on Hughie Green's Opportunity Knocks, "We were terrible," remembered Ball. "We were the proverbial 'Opportunity flops'."
Despite the shaky debut, Cannon and Ball were subsequently given a slot on Bruce Forsyth's Big Night, which ran for 12 episodes in late 1978. However, after already making the full series with Forsyth, most of their sketches were cut by the producer for the final broadcasts, who believed that more Bruce and less Cannon and Ball would solve the programme's falling ratings.
Although Forsyth's programme did not find favour with the TV critics or with audiences, Michael Grade, the then director of programmes at London Weekend Television (LWT), saw the clips that had been dropped and decided to give Cannon and Ball their own show. The Cannon and Ball Show was first broadcast in 1979 and ran for 11 series until 1988, pulling in 20 million viewers at its peak.
Now earning around £10,000 per week, the pair splashed out on matching gold Rolls-Royces and holiday homes in the Canaries. Cannon bought fourth division Rochdale Football Club while Ball owned a nightclub in Rochdale, dubbing it Braces after his trademark apparel.
But the high-flying success would later come crashing down. The famous on-stage catchphrase "You really hate me, don't you" reflected an off-stage reality that would lead to three years of acrimony. Having reconciled with Cannon in 1986, they both went on to discover their faith. Ball then spent four months a year touring his Bobby Ball Christian Gospel Show.
When a new wave of comedians came to the small screen in the late Eighties, Cannon and Ball's brand of gentle slapstick fell out of favour. Beyond their two-man show, Cannon and Ball starred in the comedy film The Boys in Blue (1982), directed by Val Guest. Ball went on to play Lenny in Last of the Summer Wine between 2005 and 2008. He even appeared on I'm a Celebrity Get Me Out of Here (2005).
Ball had lived in Lytham St Annes, near Blackpool. Just three weeks before his death Cannon and Ball had performed at a gig alongside his two sons, Darren and Rob, as The Harper Brothers, a nod to their father's earlier group. He was diagnosed with Covid-19 and died at Blackpool Victoria Hospital.
Cannon said in tribute "I'm absolutely devastated, I've lost my partner, my best friend and the funniest man I know."
He is survived by his wife Yvonne, whom he married in 1971, their daughter, Joanne, and two sons from his first marriage, Robert and Darren.
Bobby Ball, comedian, born 28 January 1944, died 28 October 2020.
Register for free to continue reading
Registration is a free and easy way to support our truly independent journalism
By registering, you will also enjoy limited access to Premium articles, exclusive newsletters, commenting, and virtual events with our leading journalists
Already have an account? sign in