Bobby Farrell: Dancer and frontman of the Euro-disco group Boney M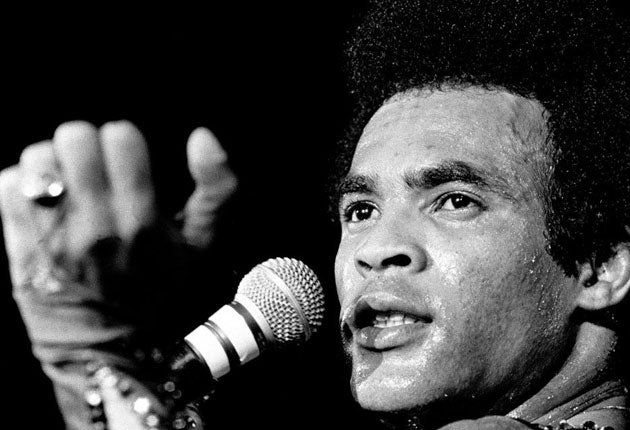 Manufactured pop groups have been a curse, a guilty pleasure and an occasional delight ever since The Monkees started aping The Beatles in the mid-Sixties.
Assembled by the German producer, songwriter and singer Frank Farian, a veritable one-man pop industry whose machinations unravelled when his fabricated duo Milli Vanilli won the Grammy Award for Best New Artist in 1990, Boney M fell squarely into the curse category. Yet this ersatz, exotic-looking, Euro-disco group sold over 100 million records and topped the British charts with "Rivers of Babylon"/"Brown Girl in the Ring", 1978's biggest-selling single, and "Mary's Boy Child" – the Christmas No 1 in 1978.
Bobby Farrell was the wild-haired, often bare-chested, in-your-face, gyrating, flamboyant frontman and showman of the group but, when they appeared on television to promote Top Ten hits such as "Daddy Cool", "Ma Baker" and "Rasputin", he actually lip-synched to Farian's heavily treated deep vocals or the speaking voice of Bill Swisher, an American friend of the producer. Bizarrely, when the quartet played live concerts, Farrell seemed perfectly capable of delivering the required parts, alongside the female lead vocalist, Liz Mitchell, and occasional lead and background singer Marcia Barrett – who both really did sing on the records – and Maizie Williams, who also only sang live.
"It was understandable because Frank Farian is a white German and the music of Boney M was West Indian, American, African rhythms," said Mitchell in 2002.
Farrell participated in this charade from 1975 until the end of 1981, when he was fired by Farian and replaced by Reggie Tsiboe. The sum total of his documented contributions to the six Boney M albums whose covers he adorned were a rap on the Caribbean-flavoured "That's Boonoonoonoos (Train to Skaville)" medley and a spoken introduction to the ghastly proto-Michael Jackson message song "We Kill the World (Don't Kill the World)", the group's last UK Top 40 entry in 1981.
He was born Roberto Alfonso Farrell in 1949, on the island of Aruba, one of the Lesser Antilles, off the coast of Venezuela, and part of the Netherlands. "When I was a kid, they always called me the joker of the town," he later reflected. "I left Aruba as a 15-year-old boy. I wanted to be a seaman. I scrubbed floors, I cleaned toilets, I was a waiter. I've been up and down. People don't realise that, before you can be a hero, you have to start by the zero," he stated when asked to reflect on his life.
He lived in Norway and then Germany, where he worked as a club DJ in the early Seventies. It was there he caught the eye of the Katja Wolfe model agency, who were helping Farian put together a line-up of Boney M to front and promote the producer's record of "Baby, Do You Wanna Bump" in discothèques and on television. Farian, a fan of the Australian TV detective series Boney, had done the few vocal parts – from the male bass to the girl's falsetto – on "Bump", basically a disco instrumental remake of the Prince Buster ska hit "Al Capone", which became a hit in the Netherlands in 1975. The producer's fascination for Caribbean rhythms, and his propensity for unexpected cover versions would remain trademarks throughout Boney M's career.
Farrell, who had sung his beloved "No Woman, No Cry" at his audition, had to stand by as Mitchell recorded the Bob Marley composition, one of the few saving graces on Take the Heat Off Me, the group's 1976 debut. The album also included "Daddy Cool", their first British hit, and the follow-up, a string-laden version of Bobby Hebb's "Sunny". In 1977, Farrell made his recording debut with Gilla, another Farian act, on "Gentlemen Callers Not Allowed", and wore a suit and bowler hat when promoting the single with her on Dutch television. This proved a refreshing change of gear for the performer, who wore a loin cloth and towered over the three girls in chains on Love for Sale, Boney M's second album, a cover considered so raunchy it was changed for US release. Mostly, Farrell had his striking stage and television outfits made by the stylist and designer Tycho Boeker of the Amsterdam company Prince Charming.
1978 was Boney M's high-watermark year, as they dominated European charts with the album Nightflight to Venus, and followed the politically-charged "Belfast" with "Rasputin", a track they were not allowed to sing when they became the first Western music group invited by a Soviet leader, Leonid Brezhnev, to perform in Moscow's Red Square.
"Hooray! Hooray! It's a Holi-Holiday" was their last UK Top 3 single in 1979, though both the Oceans of Fantasy album and 1980's The Magic of Boney M compilation reached No 1. Their stomping adaptation of "Painter Man", written by Sixties mod band The Creation, had been an unlikely success, but bizarre covers of "My Friend Jack", by freakbeat group Smoke, and "In-A-Gadda-Da-Vida", by acid-rock pioneers Iron Butterfly, puzzled their mainstream audience. Farian played safe with the Christmas Album, originally intended as a Mitchell solo release.
Following his exit from Boney M, Farrell recorded the single "Polizei" in 1982. Two years later, he was back in a five-piece line-up of the group alongside Barrett, Mitchell, Williams and Tsiboe to promote "Happy Song", Farian's attempt to jump on the breakdancing bandwagon. In 1985, the producer recorded him solo on "King of Dancin", and allowed him to sing through a vocoder on "Young, Free and Single", again credited and promoted by the Boney M quintet. By now, they had truly outstayed their welcome and could barely make a dent on the charts even in their original stronghold, Germany, and broke up in 1986. Farrell tried his solo luck again with "Hoppa Hoppa" in 1987, but quickly realised there was more mileage in the Boney M franchise.
However, Farian, who owned the rights to the Boney M name, stopped the release of "Everybody Wants to Dance Like Josephine Baker", a single they recorded without him in France in 1989. With their former producer taking the lion's share of the Boney M royalties, the four recognisable members of the original quartet all had to keep performing to make a living and each went on to form their own versions of the group. The inevitable court cases followed and still continue to this day, though Farrell was allowed the rights to Boney M in the Netherlands, where he now lived. At first, he struggled to find enough work, lived on welfare in Rotterdam and spent a few weeks in prison after attempting to set fire to his wife who promptly divorced him.
The Noughties proved kinder to Farrell, who re-recorded several of the group's biggest hits in Italy. Billed as Bobby Farrell of Boney M, the frontman now wore a jet-black wig but was still able to reproduce the extravagant dance moves of his late Seventies heyday when guesting on nostalgia TV shows like Les Années Bonheur on France 2. Whenever the opportunity arose, he also gladly sent himself up. In 2005, he appeared in a Dutch TV commercial, dancing to "Daddy Cool" in a retirement home, and starred, complete with trusty boom box, red sparkly outfit and wig, in the video for "Turn on the Music" by the house DJ, remixer and producer Roger Sanchez. "I am a true performer at heart. Give me a good tune and I am ready! This is what I do and will do till the end of my days," Farrell is quoted as saying at the end of the clip.
He died after performing in Saint Petersburg. He had been due to appear on Italian TV in Rimini for New Year's Eve.
Roberto Alfonso Farrell, dancer, singer: born Aruba, 6 October 1949; married Yasmina Ayad-Saban (marriage dissolved, one daughter, one son); died St Petersburg, Russia 30 December 2010.
Join our commenting forum
Join thought-provoking conversations, follow other Independent readers and see their replies