Brian Hibbard: Singer and actor who formed the Flying Pickets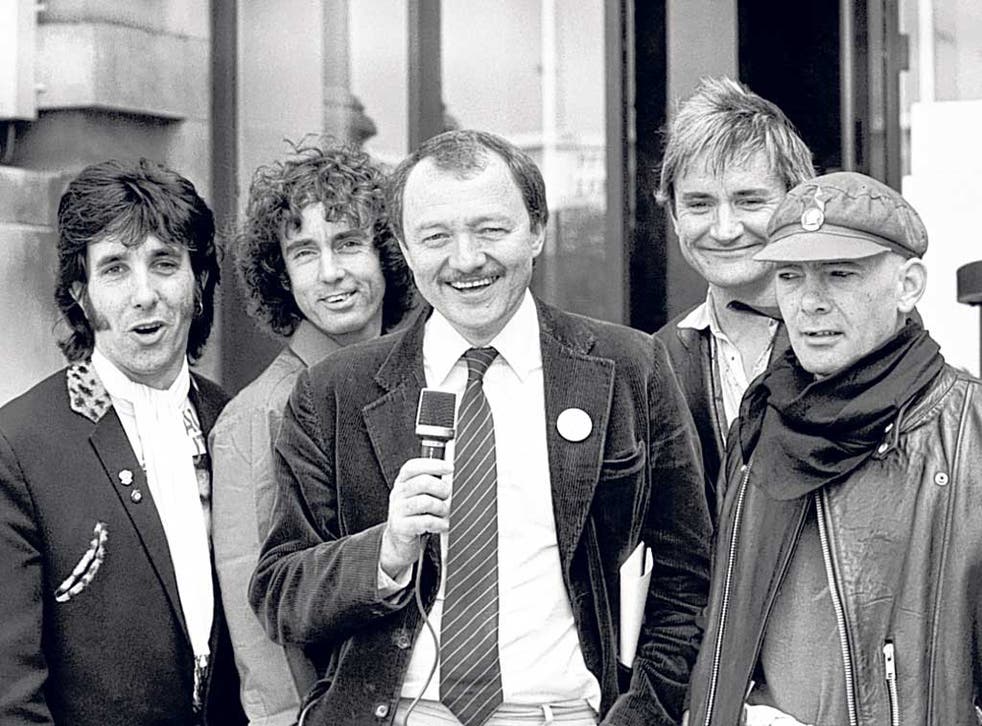 If the maverick theatre director Ken Campbell had been asked to form a boy band, he might well have come up with the Flying Pickets. In their thirties and resembling the line-up in The Usual Suspects, the Pickets were unlikely looking pop performers. Yet they topped the charts for five weeks around Christmas 1983 with their a cappella cover of Yazoo's "Only You".
The Pickets were regarded as a novelty act but, like Scaffold and the Bonzo Dog Band before them, they were more than that. The political agenda was evident in their name and they are one of the most contentious bands to have topped the charts. Although they alternated lead vocals, Brian Hibbard, dressed as a Teddy Boy with impressive sideburns, was the front man, prone to removing his front teeth on a whim.
Brian Hibbard was born into a working class family in Ebbw Vale in 1946 and his socialist upbringing determined his life. He avoided the colliery and the steelworks by training as a teacher in Birmingham but he got sucked into small theatre groups and sometimes lived in squats. Eventually, he joined 7:84, formed by the director John McGrath and so called because seven per cent of the country owned 84 per cent of the wealth.
Without scenery or musical instruments, the group toured with a grim musical, One Big Blow, written and arranged by Rick Lloyd. The songs were performed a cappella and to amuse themselves while travelling from one venue to another, they would rearrange their favourite songs. They gave a concert as the Flying Pickets at the Albany Empire in Deptford, which was released on LP, and then had a successful fortnight at the Edinburgh Fringe.
As well as Hibbard, there was the bald Red Stripe (real name David Gittins) in eyeliner and donkey jacket, the tousled-haired David Brett with long scarf and fedora, Rick Lloyd looking like Harvey Keitel, Ken Gregson, a "Mr Blonde" in shiny suits, and Gareth Williams, whose sinister look complemented his deep voice.
The Flying Pickets were signed by Virgin's 10 Records and released "Only You", even though Yazoo's original had reached No 2 only a year earlier. On the day it entered the charts, Hibbard and Stripe received notice from the Deptford Housing Association to quit their home. Following its success, the Pickets recorded versions in Spanish, German and Italian. They created controversy on the children's programme, Saturday Superstore, by offering Karl Marx tea-towels as prizes. That was the producer's blunder for having them on live: after all, even their "fan club" was called The Picket Line.
"Only You" was the first a cappella single at No 1, although "Amazing Grace" (Judy Collins, 1970), "Gaudete" (Steeleye Span, 1973) and "After The Goldrush" (Prelude, 1974) had been hits. Subsequent a cappella hits include "Caravan Of Love" (Housemartins, 1986), "Tom's Diner" (Suzanne Vega's original version, 1987) and "Don't Worry, Be Happy" (Bobby McFerrin, 1988).
The Pickets had a second hit with Ruby & The Romantics' "When You're Young And In Love" and their stage favourites included "Summertime", with its reference to Reach For The Sky, the John Otway-styled "Get Off Of My Cloud", and the gay duet of "I Got You Babe". Their album Lost Boys (1984) contains a demented version of Talking Head's "Psycho Killer", arguably their greatest moment.
"We had a deliberate policy not to go for the obvious harmony songs," Hibbard told me in 1990. "We wanted to do something different and perform songs that people wouldn't normally consider to be a cappella. And of course, we wanted to be preaching the class struggle, comrade." During the miners' strike of 1984 the Pickets strongly supported the miners but Virgin considered this negative publicity, especially when some shops refused to stock their product. They had problems with the miners, too, as Hibbard fell out with their leader, Arthur Scargill.
The original group disbanded, and in 1986 Hibbard and Red Stripe formed a duo but with little success. Hibbard became a regular in Coronation Street as the womanising garage mechanic, Doug Murray. He appeared in many popular TV dramas including Doctor Who and Emmerdale. Even though diagnosed with prostate cancer, he appeared as the manager of a children's home in EastEnders in 2011. He played a karaoke singer in the film Twin Town (1997), which starred Rhys Ifans and was set in Swansea. He appeared again with Ifans in Rancid Aluminium (2000). He won a Bafta Cymru for his role in the film Little White Lies (2006).
The Flying Pickets did regroup, without Rick Lloyd, for an album, The Original Flying Pickets, in 1994, but the reunion was shortlived. To this date, there is a touring band with no original members. "We brought the word a cappella into everyday language," said Hibbard, "A lot of people wouldn't have known what it was before we started doing it."
Brian Hibbard, actor and singer: born Ebbw Vale 26 November 1946; married (three children); died Cardiff 17 June 2012.
Join our new commenting forum
Join thought-provoking conversations, follow other Independent readers and see their replies