Brian Jacques: Writer best known for his 'Redwall' series of fantasy novels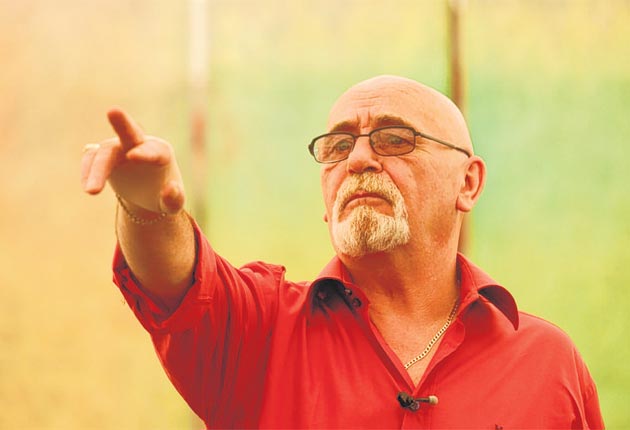 James Brian Jacques had the blue collar CV of a hard-boiled novelist: his jobs included merchant seaman, truck driver, dock worker, boxer and policeman.
But the fiction he chose to write was children's stories in which heroic mice fought off evil rats, weasels and stoats. His Redwall series of anthropomorphic novels is all about good versus evil with no grey areas, and they have been massively successful since they first came out in 1986. To date, they have sold over 20 million copies and have been translated into 28 languages.
A proud Liverpudlian, Jacques created this fantasy pastoral world out of his observations as a child of the behaviour of those around him in the inner city during wartime. His family hailed from County Cork, but Jacques was born in Liverpool in June1939, the second son of a truck driver, James Jacques, and his wife, Ellen. Jacques was known by his middle name, Brian, to avoid confusionwith his father and his younger brother, James. (His older brother was called Tony.)
His family lived near the Liverpool docks, which meant that for the first years of his life he had the almost daily experience of German bombs falling. The privations of wartime and post-war food rationing also had an impact on him – the feasts he so lovingly describes in his novels are an attempt to make up for the poor diet of his childhood.
His father was an avid reader of adventure stories and passed on to Jacques his love of Conan Doyle, Robert Louis Stevenson, Rider Haggard and Edgar Rice Burroughs. Malory and Kenneth Grahame were also part of the mix.
Jacques showed a precocious writing talent when, aged 10, he went to St John's in Kirkdale and wrote a story about a bird cleaning a crocodile's teeth. The story was so good that his teacher caned him, believing that Jacques must have plagiarised it.
Another teacher, Austin Thomas, a former army captain, had a major impact on him. He introduced Jacques, aged 14, to poetry andGreek literature. Because of him, Jacques saved seven shillings and sixpence to buy secondhand copies of The Iliad and The Odyssey. He liked poetry and read Wordsworth and Tennyson. Born a Catholic, he was an altar boy and his experience of the liturgy later informed the rich language in his novels.
Jacques left school in 1954, age 15, and saw the world as a merchant seaman. Eventually tiring of trips to Yokohama or Valparaiso, he settled back in Liverpool and took a succession of blue collar jobs. He even had a stint as a comic in the local clubs.
In the 1960s, when The Beatles put Liverpool on the map, he, his two brothers and four others formedThe Liverpool Fishermen, a folk group that toured the pubs and released an album, Swallow the Anchor, in 1971. In the 1970s he had humorous poems and short stories published: Get Yer Wack (1971), Yennoworrameanlike (1972), According to Jacques: a Mersey Bible (1975), Scouse with the Lid Off (1977) and Jakestown (1979). The last was also the name of his weekly radio show on BBC Radio Merseyside, which ran for more than 30 years. He also wrote three plays – Brown Bitter, Wet Nellies and Scouse – which were all performed at the Everyman in Liverpool.
He always said that the impetus for the Redwall series came from a stint delivering milk to the Royal School for the Blind in Liverpool, where hevolunteered to read to the pupils. The teenage books they had seemed to him to be "too full of angst", so he decided to write "a proper story". Because his listeners were blind,he wrote descriptively so that they could picture what he was writing about. He remained a patron of the school all his life.
He handwrote Redwall on hundreds of sheets of recycled paper he kept in a supermarket plastic bag. Jacques had kept in touch with an old schoolteacher, Alan Durband (who also taught George Harrison and Paul McCartney). He showed him Redwall and Durband, without Jacques' knowledge, passed it on to a publisher. Jacques was given a five-book deal.
Redwall was published in 1986 and became the first instalment of a massively successful series. The books are full of quests and riddles, betrayals and honourable acts, big battles and derring-do. You can see in them the blending of that early reading, from Malory to Kenneth Grahame.
However fantastical the novels, they mostly come out of real experiences. The RAF fighting off theLuftwaffe dropping bombs on Liverpool are the hares in the series; Liverpool dockworkers are the shrews. He said that Gonff, Prince of Mousethieves, is based on him when he was a tough kid hanging around on the Liverpool docks. His grandmother and his granddaughter also feature. The sea rats are based on those men he sailed with in his days in the merchant marine.
He stayed in Liverpool with his wife, Maureen, as did their two sons, one a carpenter, the other a muralist. One of his proud moments was to be recognised by Liverpool when he was made an honorary fellow of the city's John Moores University.
With the worldwide success of the Redwall series he branched out into related areas. There was merchandising – figurines and charts and maps. There was an opera version of Redwall, The Legend of Redwall Abbey, in 1998. He collaborated with the artist Christopher Denise on three Redwall picture books: The Great Redwall Feast (1996); A Redwall Winter's Tale (2001) and The Redwall Cookbook (2005). DC comics turned Redwall into a graphic novel in 2007.
Away from the Redwall series, between 2001 and 2006 he wrote three atmospheric Flying Dutchman novels. In 2006 and 2008 he produced two Urso Brunov picture books – about a tribe of tiny bears – with the illustrator Alexi Natchev. The Redwall novels usually have songs in them and 47 were collected in 2007 in Songs from Redwall, performed by Billy Maher. The 22nd Redwall novel, The Rogue Crew, will be out later this year.
His preferred place to write was in his garden under an apple tree. But his working-class ethic meant he never really regarded writing as "proper" work. He once said: "I get up in the morning and I still feel guilty about being a famous author."
James Brian Jacques, author and broadcaster: born Liverpool 15 June 1939; married Maureen (two sons); died Liverpool 5 February 2011.
Join our commenting forum
Join thought-provoking conversations, follow other Independent readers and see their replies