Bruce Mitchell: Anglo-Saxon scholar who wrote the definitive work on Old English syntax
Wednesday 31 March 2010 00:00 BST
Comments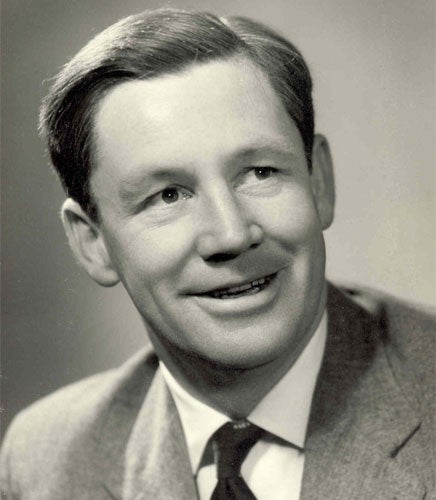 The eminent Anglo-Saxonist Bruce Mitchell delighted in appearing to be a slightly old-fashioned scholar resistant to new developments, and defended his position rigorously and without apology, though always with humour. When he completed his monumental Old English Syntax in 1982, towards the end of his long career as a scholar of Anglo-Saxon, he introduced it with the words, "I have to state categorically my opinion that ... the techniques of the various forms of linguistics fashionable today have little to offer students of Old English syntax."
That stance went along with a kind of genial combativeness, though it has to be admitted that not all spotted its good humour (or "breezy colonial manner" as an early supporter put it). He warned potential reviewers of his work that he was preparing a critical bibliography of work on Old English syntax (and he really meant the "critical") and a review of their reviews.
Both duly emerged, like everything else that Mitchell promised to deliver. He was a phenomenally organised scholar. His Australianness was perhaps part of that self-conscious atavism: despite spending his life from the age of 32 in Oxford, his accent remained as strong as ever, along with the treasured eucalyptus tree in his garden and the Australian flag he displayed outside his house.
Yet Mitchell could not stay out of the mainstream of scholarship. His magisterial book on syntax quickly became the essential reference work (as well as being a remarkably enjoyable read) and baffled his publishers with the need for reprints soon after publication. His chatty and informal Guide to Old English went through frequent new editions until eventually, enriched by collaboration with Fred Robinson at Yale, it conquered the centre ground and became a standard textbook – only to be outflanked in its user-friendliness by Mitchell's own new introduction, An Invitation to Old English.
Bruce Mitchell was the son of a Baptist (later Presbyterian) minister in New South Wales. The family was poor and he struggled to get a good education, having to help support the family from the age of 16. He completed his BA in Arts at Melbourne University in 1940, studying part-time and commuting long distances, then joined the Australian army for the duration of the war as an officer in the armoured division, never quite seeing overseas service.
After a year in a printing business he returned to the university to take an MA, again part-time while he supported himself by teaching. There he discovered Old English, and set off to Oxford in 1952 with a two-year scholarship, starting a doctoral thesis on the syntax of Old English poetry. College lecturerships at Merton and St Edmund Hall led to a permanent University lectureship in 1955, which he held until he retired in 1987.
He soon settled into a steady regime with his wife Mollie in North Oxford: rising at 4.44 in a continuation of a boyhood habit of study, completing preparation for teaching and devoting the rest of his time to producing the first comprehensive account of Old English syntax. Progress was charted for his colleagues by occasional enquiries about texts or issues on which they were supposed to be expert, the answers always receiving a prompt acknowledgement from Mitchell together with the concisely formulated sentence which had resulted from our answers.
The book was a phenomenal work of scholarship and organisation, nearly 2,000 pages of elegantly structured argument, analysis and illustration, drawing on the whole range of Old English prose and verse and refusing to be defeated by rare and obscure constructions. In the course of the nearly 30 years he worked on the book Mitchell resisted any number of changing notions about how to analyse syntax and persisted in the methodology of what seemed a past age, based, as he acknowledged, on the "old-fashioned formal Latin-based grammar". It was, even so, still valid and welcomed. His determination to analyse and articulate the way Anglo-Saxon writers actually wrote, and the implicit rules they followed, made it more useful than any number of theories of underlying syntactical order.
Mitchell grew up in a world where philologists could still pride themselves on a lack of interest in literature, in the fashion celebrated by Robert Graves' account of his undergraduate life in Goodbye to All That: "The Anglo-Saxon lecturer was candid about his subject; it was, he said, a language of purely linguistic interest, and hardly a line of Anglo-Saxon poetry extant possessed the slightest literary merit."
This was not for Mitchell, who was always ready to put his unique knowledge of syntax to the service of Old English poetry, producing a stream of articles about the way to read particular lines of verse. A particular hobby-horse was punctuation: he was convinced that modern punctuation could only distort the way that Anglo-Saxon verse worked, and produced with Susan Irvine an edition of Beowulf using a new form of punctuation devised by himself.
His more conventional edition of Beowulf in collaboration with Fred Robinson was successful, disguising its considerable learning with a light touch and frank acknowledgement that editors had opinions. He was a committed teacher and prided himself on being always fully prepared – something he did not always find in his pupils, as he remarked. He was nevertheless greatly liked by his students at St Edmund Hall, where he taught for several decades, and was due at a 90th birthday celebration at the college just before he died. But he rejected the persistent story that the Monty Python sketch on Australians called Bruce was due to him, despite the fact that Terry Jones was one of his students.
He had few disciples in his chosen field in the English-speaking world and left no real successor, but his work, support and personality were hugely appreciated by foreign scholars, especially in Japan and Finland, where there remains a stronger tradition of exacting work on early English language – and upon whose scholarship he specially remarked in his Critical Bibliography.
Mitchell had a rich personal life. He claimed to have got his first job at St Edmund Hall partly through his devotion to rowing in the college boat, he played a powerful game of tennis until late in life and he kept up his beagling as long as he could. He was devoted to his wife Mollie, who accompanied him from Australia and married him soon after, their having got the necessary permission from Bruce's acting supervisor J.R.R. Tolkien, and they entertained visitors over many decades, keeping a collection of different flags to greet those from far-flung parts. Mollie restrained as far as she could his fondness for mixing acerbic humour with his scholarly work and typed and retyped the drafts of Old English Syntax. The religious commitment of his family background (his mother was the daughter of Salvation Army officers) was shared by Mitchell but lightly worn; it is perhaps significant, though, that the final words of Old English Syntax are "a belief in a sustaining God".
Malcolm Godden
Raymond Bruce Mitchell, Anglo-Saxon scholar: born Lismore, New South Wales, Australia 8 January 1920; married; died Oxford 30 January 2010.
Join our commenting forum
Join thought-provoking conversations, follow other Independent readers and see their replies