Bunny Yeager: Pin-up who moved behind the camera to take influential, iconic shots of Bettie Page and Ursula Andress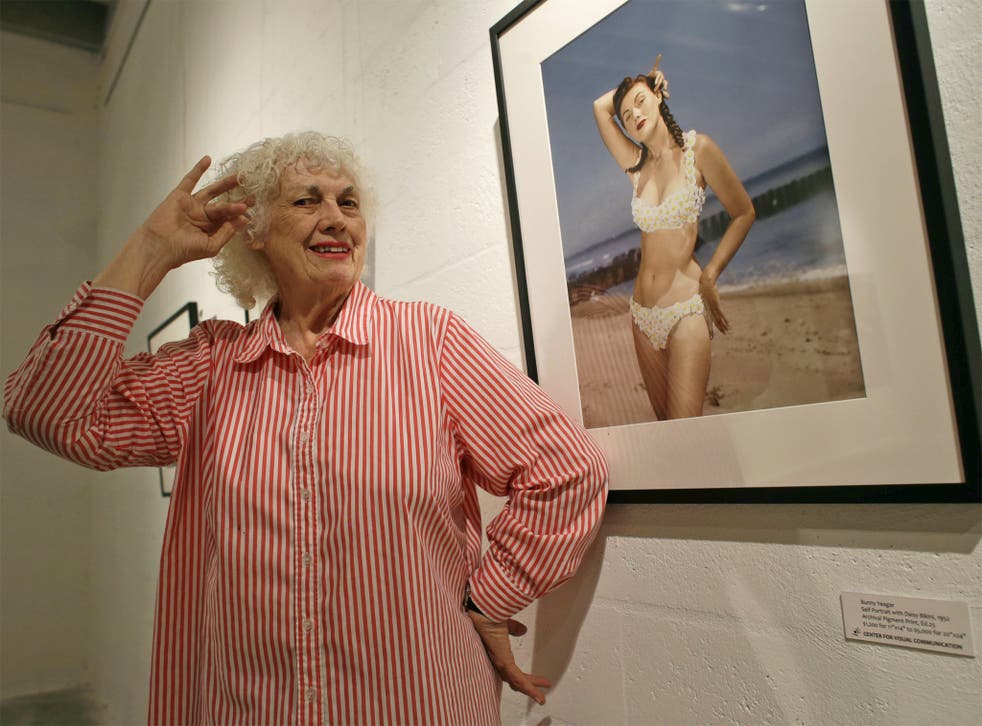 When the pin-up model Bettie Page travelled to Miami in 1954, she was already infamous in New York, particularly for the "Damsel in Distress" photos – and for the short 8mm films that Irving Klaw and his sister Paula shot of her and sold under the counter and via mail order from their Movie Star News store on East 14th Street. However, while in Miami, Page posed for Bunny Yeager, a model-turned-photographer with a keen eye and a sensibility a world away from the euphemistically named "camera clubs" of the Big Apple and New Jersey.
Over a few days, Yeager took around 800 pictures of Page in the studio, as well as on the beach, on a speedboat, in the surf and even with a pair of docile cheetahs at the newly opened wildlife park, Africa USA, half an hour away. Page and Yeager got on famously, the model responding enthusiastically to the photographer's instructions – "Alluring! Mysterious! Tempting! Vivacious!" – and throwing girl-next-door-gone-bad poses accordingly.
But it was yet another series of pictures, including a photo that Yeager took of Page kneeling naked in front of a Christmas tree, holding a bauble in each hand and with only a Santa Claus hat over her jet-black hair and fringe, that catapulted both to national and international cultdom.
Yeager thought the pictures might be perfect for a calendar, but instead sent them to Hugh Hefner, who had launched the men's magazine Playboy the previous year. Duly impressed, Hefner phoned Yeager, cut a deal for $100 and made Page, winking at the camera, the centrefold of the Christmas 1954 edition of Playboy – dated January 1955. Page became known as "the Queen of Pinups", "the Girl with the Perfect Figure", "Dark Marilyn" and "the Temptress from Tennessee", while Yeager went on to photograph several more Playmates for Hefner, including Lisa Winters, Marianne Gaba, Myrna Weber, Joyce Nizzari, Cindy Fuller and Sandra Settani.
"They all wanted to model for me because they knew I wouldn't take advantage of them. And I wouldn't push them to do nude if they didn't want to do nudes. It wasn't a day when nude photography was prevalent," she said of those more innocent times. Being a woman in a traditionally male profession didn't feel that groundbreaking to Yeager, but her previous modelling experience certainly helped her get work and come up with striking material.
She also served as stills photographer on several Doris Wishman "nudie cuties" shot in Florida and, in 1962, took the famous publicity pictures of Ursula Andress in that white bikini on a Jamaican beach during the making of the first James Bond film, Dr. No.
Yeager was befriended by Sammy Davis Jr., himself a keen amateur photographer, so her 1968 appearance as a Swedish masseuse – imaginatively named Bunny Fjord – in Lady in Cement, the second Gordon Douglas movie featuring fellow Rat Pack member Frank Sinatra as the Miami detective Tony Rome, didn't come as a surprise. She stopped photographing glamour models and considered the raunchier pictorial content that Playboy and Penthouse published in the Seventies and Eighties "kind of smutty."
Born Linna Eleanor Yeager in Wilkinsburg, Pennsylvania in 1929, she was named after her mother and nicknamed Bunny to avoid confusion. An only child, she shared her mother's interest in Hollywood movie stars and began dreaming of a modelling career, especially after the family moved to Miami in 1946. She had grown to 5ft 10in, with striking red hair, and was enjoying the attention. "I loved people looking at me. I could feel it all through my body," she recalled.
After finishing high school, she went on a modelling course that stood her in good stead as she was taught, "all of the walks and the turns, the pivots. I learned about photographers' shortcomings by posing for them." She won many beauty pageants – and in 1949 was crowned Miami Sports Queen by Joe DiMaggio, the baseball player who went on to marry Marilyn Monroe. Yeager stuck to posing for swimsuit magazines, sometimes creating her own two-piece, prototype-bikinis, and dyeing her hair blonde. But she steered clear of anything too racy. "My mommy told me never to pose nude, so I didn't. I never posed nude for anyone apart from myself," she said, referring to How I Photograph Myself, one of the dozen books she published in the 1960s revealing a pioneering technique that influenced practitioners like the conceptual self-portraitist Cindy Sherman.
Her interest in the photographic process grew out of necessity as she tried to cut down the cost of duplicating her portfolio. She enrolled at night-school and quickly moved from darkroom printing to using a Rolleiflex or a Speed Graphic. "I worked with the minimum equipment. It just seemed very natural for me to do it," explained Yeager, who sold a picture from her first course assignment – her friend Maria Stinger posing with cheetahs – to the men's magazine Eye – People and Pictures. Yeager didn't use an assistant and was patronisingly dubbed "the World's Prettiest Photographer" by US Camera magazine in 1954.
Her approach has certainly stood the test of time. "Most of the pictures I took of Bettie Page are not old-fashioned looking in any way. There's nothing dated about them. From the very start, I knew she was special. I could have gone on photographing her forever, but she left town. It's important to preserve these pictures, because to me they're beautiful."
The revival of interest in Yeager's pictures, rather tame by today's standards, and Page's emergence as an icon whose look has inspired performers like Dita Von Teese, Beyoncé and Katy Perry, surprised some cultural commentators. Yet their status, cemented by The Notorious Bettie Page – the 2005 biopic starring Gretchen Mol in the title role and Sarah Paulson portraying Yeager – is indicative of the role both played in the burgeoning sexual freedom of the 1960s. In recent years, as Yeager published more retrospective books and exhibited around the world, the emphasis she placed on the "natural look" seemed to resonate in an era of publications dominated by photoshop and "skinny" models. "What a boring place the world would be if every woman looked the same as the next," she wrote. "Make the most of what you have and enjoy being female; enjoy being YOU." P
Linna Eleanor 'Bunny' Yeager, model, photographer: born Wilkinsburg, Pennsylvania 13 March 1929; married first Arthur Irwin (died 1977, two daughters); second Harry Schaefer (died 2000); died North Miami, Florida 25 May 2014.
Join our new commenting forum
Join thought-provoking conversations, follow other Independent readers and see their replies