Captain Renaud Ecalle: Fighter pilot and world champion aerobatic flyer
Friday 08 October 2010 00:00 BST
Comments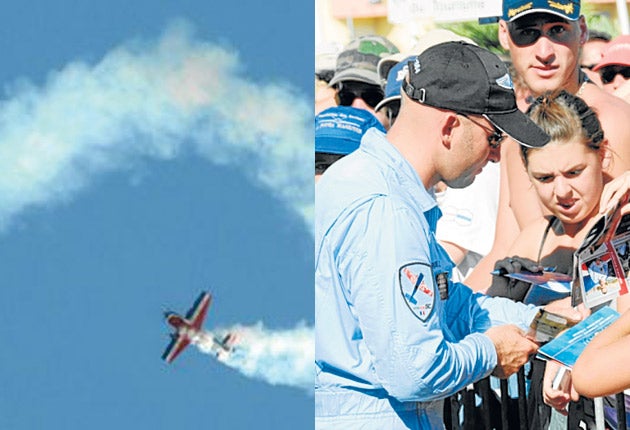 The French Air Force captain Renaud Écalle was the reigning world aerobatic champion, a title he won with a stunning display of sky ballet in his German-built Extra 330C aircraft in the skies over Silverstone racing circuit in August last year. His stunts won him the nickname "the Extra-Terrestrial" among fellow pilots in France's Équipe de Voltige, one of the world's oldest and most successful aerobatic teams. As fate would have it, the 29-year-old Écalle was not doing daredevil rolls or loops but simply heading home in his small plane on Sunday with his wife and two infant children when it crashed in torrential rain, fog and 50mph gusts of wind, killing all four.
The wreck of his Jodel DR-1050 Ambassadeur aircraft, which had lost contact with the Montpellier airport control tower on Sunday evening, was found on a wooded mountainside in the Cévennes National Park near Lauroux in the Hérault region of southern France by a search-and-rescue helicopter on Monday. He, his wife, Alice, their son, Adrien, three, and daughter, Louise, one, were pronounced dead at the scene. They had been returning from an aerobatic display at the Jonzac airfield in western France to the French Air Force base at Salon-de-Provence, home of his world-champion aerobatic team, of the French Air Force Academy and of the renowned Patrouille de France, France's equivalent of the RAF's Red Arrows.
When not performing aeorobatics in single-engined planes at between zero (stalled in mid-air) and 200mph, Écalle's full-time job was as a fighter pilot in the Armée de l'Air (the French Air Force), flying Mirage-F1 fighters at well over 1,000 miles per hour, often armed with 500kg bombs, 30mm cannon and Sidewinder air-to-air missiles. Flying since he was 15, he had 2,600 hours under his belt, almost half of them in fighters, but for the past two years the Air Force allowed him to concentrate on the aerobatics team, sparing him action in combat zones such as Afghanistan, where French Mirage pilots have provided "close air support" to British, American and other allied ground forces.
Écalle and the French aerobatics team almost swept the board at the 25th World Aerobatics Championships, organised by the World Air Sports Federation (FAI) at Silverstone in August 2009 (they are held every two years). The event was marred by the fatal crash of the American flyer Vicki Cruse, the 40-year-old president of the International Aerobatics Club and a former US national champion. Dominating both the Freestyle and "Unknown" segments (given to the pilots at the last minute without time to practice), Écalle won the individual gold medal with his seamless loops, sometimes rolling 420 degrees per second. His compatriot Captain François le Vot, also in an Extra 330C, took the bronze behind the Russian Alexander Krotov in a Sukhoi 26M3, and the French Équipe de Voltige won the team event ahead of Russia and the US, with Britain in fourth place.
Écalle's Extra 330C was designed by the German aerobatic pilot Walter Extra and built at his factory, Extra Flugzeugbau, in Dinslaken, North Rhine-Westphalia, to meet the requirements of the French aerobatics team for extreme – or in the flying jargon, "unlimited" – stunt flying. The Extra 330C replaced their ageing CAP 232 competition planes.
According to Écalle, the Extra's 320 horsepower American Lycoming AEIO-580 engine allowed it to roll more often and more quickly and to stop its rolls more abruptly – crucial to winning points for artistry in the air. It had lighter controls, allowed a steeper angle of climb and had a special, wide-cored propeller to give it more thrust at lower speeds. Videos of his Silverstone performance became de rigeur viewing among aerobatics buffs around the world, some set to Prokofiev's Romeo and Juliet score, although the most popular version featured the English rock band Muse's track "New Born", with its apposite lyrics: "You can't come down to Earth, you're swelling up, you're unstoppable".
Écalle's Extra 330C, with its distinctive red-and-white patterned wings and blue fuselage, had fans at Silverstone in awe as he hung in mid-air before looping, went into an inverted flat spin or tumbled towards the racing circuit and the judges, sometimes tail first, in what to the uninitiated appeared to be an out-of-control free fall and impending crash, before he pulled out and buzzed upwards like a satisfied wasp.
Like all the best aerobatic pilots, Écalle was not only daring and technically proficient but as fit as a decathlete. While flying in competition, G-forces meant that he often had the equivalent of half a ton weighing on his back, constantly aware that an over-roll of five degrees would cost him a point from the judges.
Renaud Écalle was born in the commune of Charenton-le-Pont, four miles from the centre of Paris, on 30 December 1980. Taught by his father, a private pilot, he started flying at the age of 11, began aerobatics aged 14 and entered his first championship when he was 15. He joined the Armée de l'Air in 1999, aged 18, as a trainee fighter pilot and in 2003 became a member of the Normandie-Niemen squadron, famed for its dogfights on behalf of the Free French Air Force over the Eastern front during the Second World War. That same year he found himself employed as a "warm-up" pilot for the French aerobatic team at the European Aerobatic Championships in Spain. He became French aerobatic champion in 2003, came third in the World Championships at Burgos, Spain, in 2005 and second at the 2007 World Championships in another Spanish city, Granada. When not flying, he enjoyed swimming and skiing.
Phil Davison
Captain Renaud Écalle, fighter pilot and aerobatics world champion: born Charenton-le-Pont, France 30 December 1980; married Alice (died 2010; one son deceased, one daughter deceased, one stepson); died near Lauroux, France 3 October 2010.
Join our commenting forum
Join thought-provoking conversations, follow other Independent readers and see their replies