Carole Hensher: Artist whose prints and three-dimensional works drew on the surrealist tradition to explore fetishistic power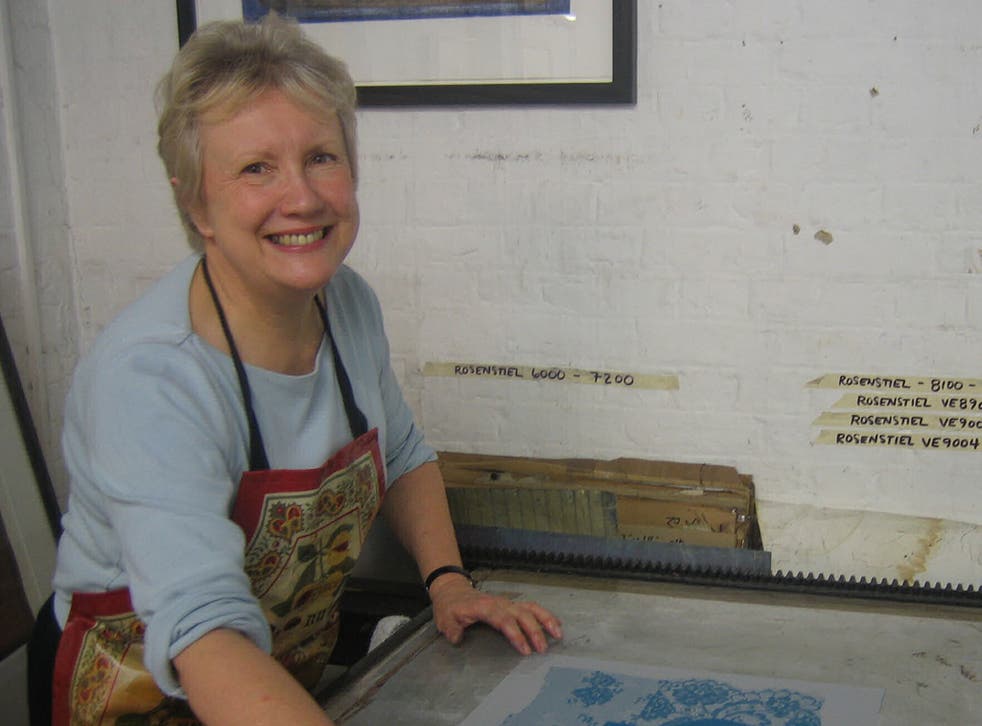 Carole Hensher's prints are, on first acquaintance, colourful, attractive and even amusing – frequently they represent gloves, shoes, boots, corsets and bodices.
However, through studying the work of early surrealists like André Breton and Man Ray during an MA Printing course Hensher had come to see the disturbing, fetishistic power such objects can possess. Drawing on the work of the Surrealists – she also named Louise Bourgeois and Paula Rego as inspirations – she found that she could adopt their ideas for her own ends.
The butterflies, flowers and leaves which frequently appear in her works become symbols of time's passing and effervescence. Even more disturbing than the colourful prints are her three-dimensional works – the tailor's dummies and soft sculptures.
"Anatomy Lesson" is a dummy on which not only images of the bones have been printed but also the body's vital organs. "Memory Head" is a brain sewn together from stuffed textiles. "Dark Angel' and "Glove Cushion" are cushions from which disembodied hands reach out to grasp in blindness. "All Those Mealtimes" is a tablecloth to which gloves have been attached: they are the guests who sit in preparation for a meal which will never be served. Hensher's work can be very dark indeed – imbued with a sense psychological dislocation and unease, profoundly aware of the skull beneath the skin.
Hensher was born in Ewell in Surrey in 1946. She moved as a child to Llangollen in North Wales, where she spent her early years. Her father was a factory production manager and she had one brother. After a few years the family returned south and settled in Selsdon, near Croydon, and Carole attended school at Wallington County Grammar School for Girls.
She was always interested in art, and following her O-levels she went as a student to Croydon College of Art, where her contemporaries included Malcolm McLaren and Sean Scully. However, she did not complete her course and when she was only 19 she left to marry her husband Chris and to start a family. Eventually she returned to Croydon College to take her A-levels; this led to primary school teaching and, among other posts, working at Whitgift School in Croydon and Laverock School for Girls in Oxted in Surrey. After taking a BA in Fine Art (Painting), she progressed to an MA at Camberwell College. Here she won the student prize awarded by Printmaking Today, which offered her a chance to write on her own work for the magazine; her piece was so impressive that it resulted in commissions to write about other artists.
In an essay she contributed to Anthony Dyson's book Printmakers' Secrets (2009) Hensher described her original source: "Rummaging through old boxes in the attic and looking through their contents for 'precious objects' stored long ago by myself or my mother; emptying the contents of drawers, which in my house have a kind of sedimentary-layered effect – these are activities which fascinate me and also provide a rich source of inspirational material for my printmaking activities. There seems to be a direct link in my imagination between these objects, stored for random reasons often many years ago, and my need to communicate in a visual, non-verbal way, ideas and obsessions that have intrigued me since early childhood."
Hensher's principal print media were lithography and photolithography (which uses chemical treatments to engrave the exposure on to a new material). More recently she had started to paint in watercolour. She exhibited widely, although a solo exhibition of 30 pieces of her work at the Space Gallery in Pimlico in 2003 and curated by Laura Parker Bowles gave Hensher the confidence to create whatever she wanted without feeling a pressing need to sell. Every year she showed at the Affordable Art Fair and she also exhibited regularly with the London Printmakers and with Royal Society of Painter-Printmakers, to which she was elected in 2005, at the home, Bankside Gallery, on the South Bank.
Her work was also exhibited several times at the National Theatre. Further afield she showed in Germany and in 2009 at the sixth Novosibirsk International Biennial of Contemporary Graphic Art in Siberia. Collections and corporate purchasers holding her work include the Ashmolean Museum, Oxford, Citibank, JD Wetherspoon, and the Whitgift Foundation.
Carole Hensher was short, slim and blonde, and she had a warm smile. In her manner she was gentle, kind and friendly, and always generous with her advice to other artists, even though she had come late to art as a profession.
Together with her husband and family she had lived for some years in a house in Sanderstead in Surrey; here she had her own studio and a dark room converted from a bathroom. On her bookshelves were volumes of poetry by writers she loved – Sylvia Plath, Dylan Thomas, John Betjeman and Gabriel Garcia Lorca.
Carole Elizabeth Dilley, artist and teacher: born Ewell, Surrey 3 January 1946; married 1965 Chris Hensher (one daughter, two sons); died Sanderstead, Surrey 20 October 2014.
Join our new commenting forum
Join thought-provoking conversations, follow other Independent readers and see their replies