Caroll Spinney: Puppeteer who gave life to Sesame Street's Big Bird
He was the voice and motion of Oscar the Grouch and other immortal characters beloved by millions of children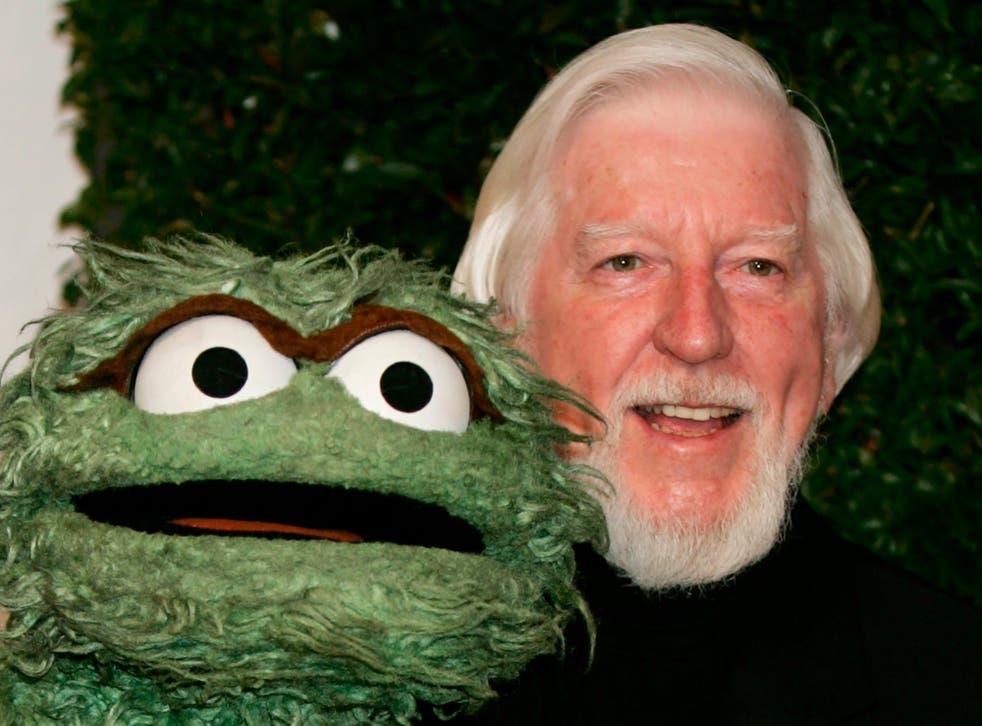 Caroll Spinney was the puppeteer who gave life to Big Bird, the towering yellow avian of TV's Sesame Street who accompanied generations of youngsters in the arduous, yet wondrous, work of growing up.
Spinney, who has died aged 85, brought his puppetry to a television show that aspired to be an educational influence on kids preschool-age and younger. It would become the longest-running children's programme on US television.
Sesame Street debuted on public television in 1969, its curriculum undergirded by the research of the Children's Television Workshop co-created by television producer Joan Ganz Cooney. The show featured a racially diverse cast of live actors, as well as animation and Jim Henson's Muppets. It used advertising techniques including jingles and rhymes to teach children the alphabet and numbers, how to tie their shoes and brush their teeth, how to love a new sibling and confront a bully, and how to live in a community.
Spinney met Henson at a puppetry convention and first donned Big Bird's 4,000 canary-yellow feathers for the show's opening season. In thousands of episodes over nearly half a century, he gave voice and motion to Big Bird and to Oscar the Grouch, the shaggy green trash dustbin-dweller who showed children that they needed not always be happy and that it was OK to like things others didn't – trash, for instance.
Big Bird, who interacted most frequently with the human actors, was the centrepiece of Sesame Street, a creature often bewildered by a world that was too small for him, much as children are confused by one that is too big.
Henson originally conceived Big Bird as a "funny, dumb country yokel", Spinney said, recalling that he persuaded the show's makers to recast the character as a curious six-year-old. In creating Big Bird, Spinney said he drew from memories of his boyhood.
Often Big Bird made mistakes so that children on the other side of the screen could learn from them, or jubilantly correct them. Other times, he posed questions that were unnatural for other characters to ask, the ones for which children most ardently sought answers.
For much of his career, even as he was summoned in character to the White House or to China with comedian Bob Hope or to conduct the Boston Pops, the bearded Spinney could go nearly anywhere without being recognised. Big Bird, meanwhile, was a celebrity everywhere. And that was how Spinney wished to keep it.
Later in life Spinney revealed more of himself to the public, appearing in the 2014 documentary film I Am Big Bird: The Caroll Spinney Story, directed by Dave LaMattina and Chad N Walker. By the account of his Sesame Street colleagues, Spinney was almost indistinguishable from Big Bird: he was childlike in his innocence, perhaps a bit fragile and unyielding in his loyalty to the show.
As for Oscar, Spinney said he modelled the character on a cabbie from the Bronx who drove Spinney to a meeting with Henson and spent their ride grousing about then-New York City mayor John Lindsay. "Who could be more of a Grouch than a cabdriver from the Bronx?" Spinney quipped.
He observed that, for the actor who played Big Bird, it was "therapeutic to switch to Oscar, to live awhile with the exact opposite attitude about life". But it was Big Bird, he said, whom he loved best.
Carol Edwin Spinney was born in Waltham, Massachusetts, in 1933. Growing up in Acton, northwest of Boston, he was entranced by puppetry from an early age. His mother, who had designed clothing before raising two sons, made many of his first puppets. He recalled his father, who worked in a watch factory, as volatile and abusive.
He made money working birthday parties and putting on shows, pocketing the proceeds for college. After attending art school in Boston, he served in the air force, then worked in Boston on a television show featuring Bozo the Clown before joining Sesame Street.
Such was the appeal of Big Bird that Nasa asked Spinney to fly into orbit in costume, to interest young people in space exploration. Spinney agreed to go, but it was ultimately determined that the space shuttle was too small to accommodate the Big Bird suit. A New Hampshire teacher, Christa McAuliffe, went in his stead and was killed along with the rest of the crew when the Challenger shuttle exploded in 1986.
Spinney, who retired from the show in 2018, said many children believed in Big Bird as intensely as they believed in Santa Claus. He regarded it as his sacred duty to preserve the illusion, for as long as possible.
"If they come to the set, I get 'deBirded' eventually and some take it very hard," he once said. "I've seen a lot of disappointment. I know it's going to happen sooner or later, but I hate it. Childhood fantasy is a precious, short-lived time; don't take it away. The reality of the world is going to be apparent all too soon."
He is survived by his second wife Debra Gilroy and three children from his first marriage.
Caroll Spinney, puppeteer, born 26 December 1933, died 8 December 2019
© Washington Post
Register for free to continue reading
Registration is a free and easy way to support our truly independent journalism
By registering, you will also enjoy limited access to Premium articles, exclusive newsletters, commenting, and virtual events with our leading journalists
Already have an account? sign in
Register for free to continue reading
Registration is a free and easy way to support our truly independent journalism
By registering, you will also enjoy limited access to Premium articles, exclusive newsletters, commenting, and virtual events with our leading journalists
Already have an account? sign in
Join our new commenting forum
Join thought-provoking conversations, follow other Independent readers and see their replies