Cecile Rol-Tanguy: Undercover agent with the French resistance
The communist militant would transport journals, weapons and explosives – often hidden in her baby's pram – risking deportation and execution each time
Camille Mijola
Thursday 11 June 2020 14:33 Comments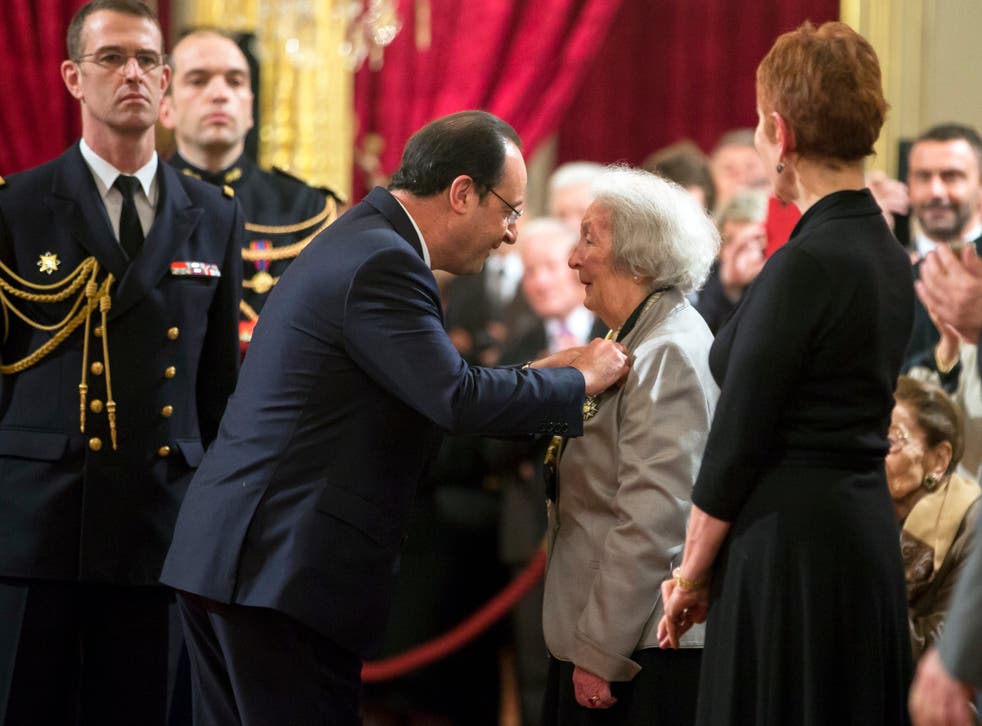 Cecile Rol-Tanguy was hailed a hero for her crucial role as an undercover agent in the French resistance. The communist militant and her husband, Henri Rol-Tanguy, helped to liberate Paris and risked their lives for years throughout the German occupation – with Cecile transporting communications and weapons hidden in her baby's pram.
Rol-Tanguy's family announced the news of her death on 8 May, which marked the 75th anniversary of the end of the Second World War in Europe. She was 101. In the post-war years, she raised a family of four children and continued giving talks about the French resistance, often highlighting the historically underplayed role of women during the war.
The secretary of the French Communist Party, Fabien Roussel, described her as a "great woman who remained committed throughout her lifetime". "She was the memory of those who refused to collaborate and fought against the Nazi occupation," he said.
Cecile Le Bihan was born on 10 April 1919 in Royan, a town in the southwest of France. She was the only child to Germaine Jaganet and Francois Le Bihan, an electrical engineer and trade unionist.
Her parents soon moved the family to Le Vesinet, a small commune north of Paris, and her father joined the Communist Party in 1920. She grew up in a politically charged household – where political exiles from all over Europe would occasionally find shelter – and began attending party meetings from an early age.
At the time, women were still discouraged from participating in politics, or in the same political groups as their male peers, but Cecile joined the Union for Young Women of France when she was just 16. That same year, in 1936, she trained and got a job as a stenographer at one of the country's major trade unions, the General Confederation of Labour (CTG).
There she met Henri Tanguy. Eleven years her senior, he was an official for the CTG, a man with a record of instigating strikes at the car factories where he worked and who was volunteering in the International Brigades in Spain. The communist international military units were sent in to support the fight against General Franco during the Spanish Civil War.
As part of her militancy work within the communist youth ranks, she was asked to become Henri's war godmother, a role of emotional support for soldiers on the front line. He was wounded in 1938 and returned to France.
The young couple soon married in 1939 and she became pregnant with their first baby, Françoise. They would take the surname of Rol-Tanguy, in memory of Theo Rol, a close friend of Henri who had died in combat.
But 1940 would prove to be a turbulent year for her family. While working for the CTG, Henri was enlisted for militancy work in the north of France, but Cecile rarely knew where he was stationed. And as the French government cracked down on communist and trade union activities, her father was arrested.
In August, her daughter became critically dehydrated and died. "Françoise was buried on 15 June, the day after the Germans entered the city," Rol-Tanguy later recalled. "I had nothing left," she said in another 2012 interview. "My father had been arrested, I didn't know where my husband was, and I had lost my little girl. What could hold me back?"
It was then she began working for the Communist Party as a stenographer, distributing political pamphlets and communications between officials who had often gone underground – and slowly making her way into the French resistance.
After Henri returned to Paris, he would become an official and move up the ranks of the Franc-Tireurs et Partisans – an armed resistance organisation created by leaders of the French Communist Party.
Cecile became Henri's liaison agent and secretary, despite his protests about the danger he was putting both of them through. "If I am arrested, I'll be shot and killed," he explained. The couple, who would have two more children – Helene and Jean – during the occupation, lived a secretive life, barely known to others outside of the resistance. She went under the aliases of Jeanne, Yvette and Lucie, occasionally changing her hairstyle or wearing a turban.
In 1941, her father, who had been working for a Soviet official, was again arrested and sent to Auschwitz where he died. In the years that followed, and while the Second World War raged on, her husband organised sabotage units and armed groups while she transported journals, weapons and explosives – often hidden in her baby's pram – each time risking deportation and execution.
In June 1944, her husband became the head of the French Forces of the Interior and on 18 August he dictated to Cecile the famous call for the Parisian insurrection, which she typed.
After Charles De Gaulle marched through the liberated capital a few days after, he invited 20 leaders of the internal resistance to a reunion, and Cecile Rol-Tanguy was the only woman. She was awarded the Resistance Medal from the French Committee of National Liberation and joined the Union des Femmes Francaises, which commemorated the French resistance and anti-fascist fighters.
"We will never say enough about the women who acted as liaison agents. They ensured the contacts that allowed [the resistance], the coordination between its directives, maintaining the links between the higher and lower echelons," recalled Henri when asked about the role of women. "Without them, no organisation could have endured. We often forgot them after the liberation."
The couple continued to live in Paris where Henri was given a military desk job. Throughout their lives, both received many recognitions for their role in the resistance. They had two more children, Claire and Francis, before moving to Loir-et-Cher, a region south of Paris.
Her husband died in September 2002, not witnessing the greater recognition given to her in her later years. She was made a Grand Officier de la Legion d'Honneur in 2014 and given the Grande Grand Croix de l'Ordre National du Merite in 2017.
She is survived by her four children, Helene, Jean, Claire and Francis.
Cecile Rol-Tanguy, French resistance agent, born 10 April 1919, died 8 May 2020
Register for free to continue reading
Registration is a free and easy way to support our truly independent journalism
By registering, you will also enjoy limited access to Premium articles, exclusive newsletters, commenting, and virtual events with our leading journalists
Already have an account? sign in
Join our new commenting forum
Join thought-provoking conversations, follow other Independent readers and see their replies