Ceija Stojka: Holocaust survivor who championed Roma rights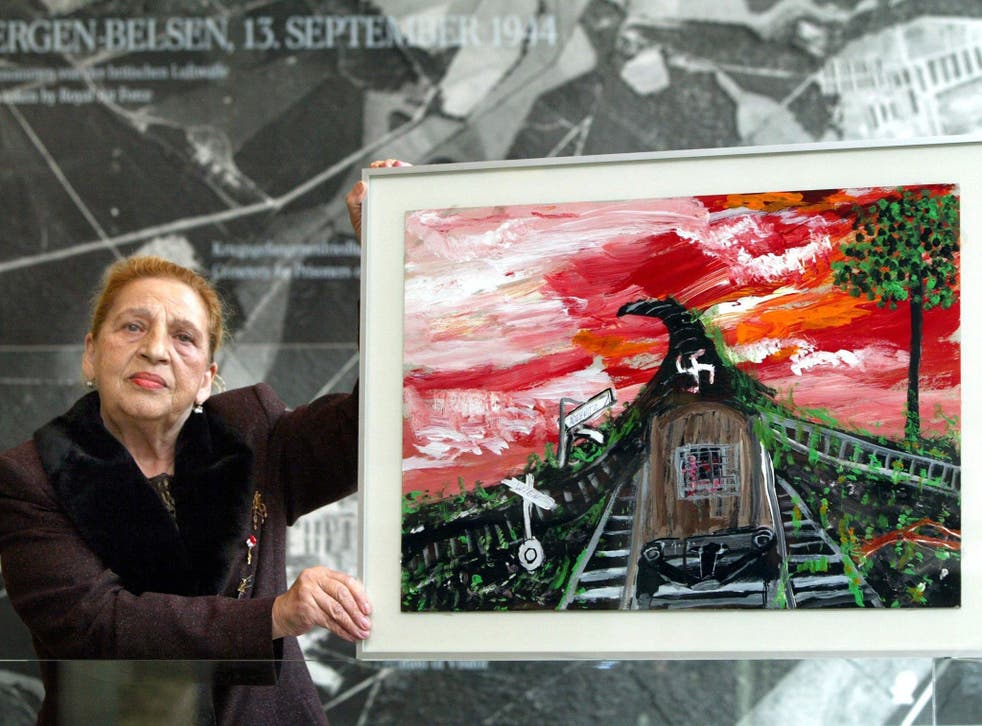 Ceija Stojka, who died on 28 January at the age of 79, survived three Nazi death camps and then found her life's work: raising awareness of the Nazis' persecution of the Roma people in her art and her writings. Stojka carried the horrors of the camps with her until she was in her fifties, speaking out only decades after she was liberated from the Bergen-Belsen camp at the age of 12.
Stojka was the fifth of six children born into a Catholic Roma family. Her family's persecution under the Nazis began in 1941 and ended four years later with Stojka's liberation from the Bergen-Belsen camp in Germany.
"We lived in the shadows of a smoking crematorium, and we called the path in front of our barracks the 'highway to hell' because it led to the gas chambers," she said of her time in Auschwitz. While her mother and four siblings also survived, Stojka's father and brother were killed, two of the more than a million Roma estimated to have died under Hitler. In all, nearly 200 members of her extended family perished.
Stojka kept those experiences to herself for decades at a time when most Austrians embraced the popular notion that they and their nation were victims of Hitler instead of his willing accomplices. "If I could write down all my thoughts, they would surely be an endless book of suffering," she said before writing her 1988 autobiography We Live in Seclusion. "But my thoughts race more quickly than my hands are able to put everything to paper."
Born in Austria to a nomadic family of horse traders, Stojka returned after the end of the Nazi era and made a living selling carpets. She started speaking out in the 1980s as Austrian awareness of the country's complicity in Nazi crimes grew. And she started painting – dark, sombre pictures depicting the death camps, alternated with joyful images of pre-war life on the road in her family's horse-drawn wagon. Despite those happier images, she never forgot the horrors of the Nazi era, and implored audiences not to let history repeat itself.
"How is it possible at the beginning of the new century that the Roma population ... is still humiliated and maltreated – and sometimes killed, as it happened in Hungary – for the only reason of being Roma?" she asked a gathering of Hungarian students three years ago after a spate of Roma hate killings there. "Let my grandchildren live," she declared.
"I reached for the pen because I had to open myself, to scream," the activist said at an exhibition in Vienna's Jewish Museum in 2004. The Budapest-based European Roma Cultural Foundation described Stokja's concentration-camp themed paintings as reflecting "entrenched sorrow in the bodies and spirit of the victims." The Austrian Education and Culture Minister Claudia Schmied lauded Stojka's work in exposing Roma suffering under the Nazis, saying her advocacy gave rise to "hope that the oath 'Never Again!' is and will remain more than a historic promise."
Stojka will feature prominently in a forthcoming documentary, Forget Us Not, which follows the stories of some of the five million non-Jewish victims of the Holocaust.
Register for free to continue reading
Registration is a free and easy way to support our truly independent journalism
By registering, you will also enjoy limited access to Premium articles, exclusive newsletters, commenting, and virtual events with our leading journalists
Already have an account? sign in
Register for free to continue reading
Registration is a free and easy way to support our truly independent journalism
By registering, you will also enjoy limited access to Premium articles, exclusive newsletters, commenting, and virtual events with our leading journalists
Already have an account? sign in
Join our new commenting forum
Join thought-provoking conversations, follow other Independent readers and see their replies