Celeste Holm: Oscar-winning actress best known for 'All About Eve' and 'High Society'
Tom Vallance
Monday 16 July 2012 19:30 Comments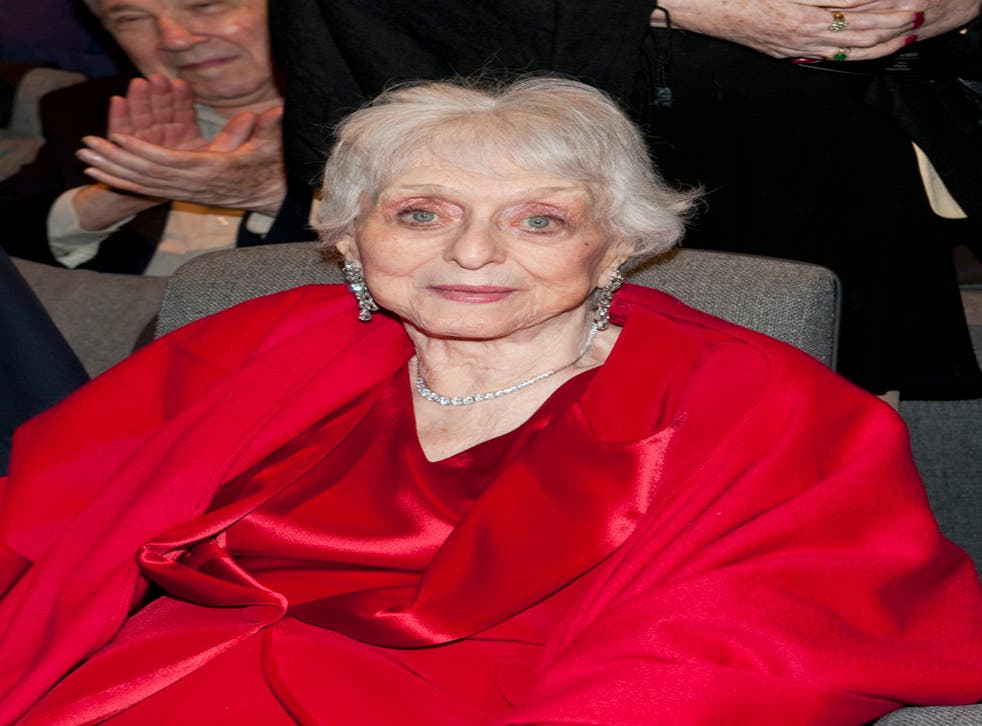 The original "girl who cain't say no" in Oklahoma! (1943) on stage, a supporting Oscar winner for her incisive portrait of a witty but lovelorn secretary in Gentleman's Agreement (1947), the best friend of tempestuous Margo Channing (Bette Davis) in the film All About Eve (1950) and a brittle newspaper photographer feigning indifference to riches in High Society (1956), Celeste Holm was a versatile actress with a flair for droll humour.
She created one of the classic musical comedy characters, Ado Annie, in Rodgers and Hammerstein's Oklahoma!, in which her rendition of "I Cain't Say No" regularly stopped the show. She was nominated for two further Oscars, for her game tennis pro turned nun in Come to the Stable (1949), and her warm but gullible playwright's wife who introduces the deceitful Eve Harrington to Margo Channing in All About Eve (1950).
Noted for her untiring work for charities, she saw her final days troubled by litigation by her two estranged sons, who refused to acknowledge her fifth husband and caused her to pay such huge legal fees that she finally had to depend on Social Security.
Born in 1919 in New York City, she was the daughter of Norwegians. Her father worked for the American branch of Lloyds of London; her mother was a portrait painter. After studying ballet for 10 years, and singing for three, she joined a repertory company in Pennsylvania in 1936. She made her Broadway debut in a short-lived comedy Gloriana (1938). In 1942 she was supporting Flora Robson in John Van Druten's The Damask Cheek when she auditioned for the role of Ado Annie.
"When I finished my audition piece, 'Who Is Sylvia?', Richard Rodgers said disappointedly, "But you have a trained voice. Can you sing as if you've never had a lesson in your life?" "You mean I've studied for three years for that?" "Oh, you have to know how to in order to know how not to."
Holm would never forget the first performance. "I'd never been in a musical before, so I didn't know what to do when the audience didn't stop applauding after I'd finished 'I Cain't Say No'. I kept trying to continue with the dialogue but they wouldn't let me. It was embarrassing, but it was glorious." She went on to her own star vehicle, Bloomer Girl (1944), in which she played a follower of Dolly Bloomer, champion of women's rights and a leader of the clandestine railroad that helped runaway slaves during the Civil War. The Arlen-Harburg score included several appealing songs for Holm, including "What's Good Enough for Grandma" and two romantic duets, "Right as the Rain" and "Evalina".
The show ran for over 600 performances, after which Holm made her screen debut in Three Little Girls in Blue (1946). An enjoyable version of one of the studio's favourite plots –three girls pool their funds to masquerade as an heiress, her secretary and maid in order to snare a millionaire – the film starts to sag before Holm steals the show with her sassy rendition of "Always a Lady". She won the Oscar for her third film, Hollywood's first major movie to tackle anti-semitism, Gentleman's Agreement.
In Joseph Mankiewicz's sparkling romantic comedy A Letter to Three Wives (1949), she was heard but not seen as the catty Addie Ross, who leaves a letter for the wives stating that she has run off with one of their husbands. She was a would-be opera singer in the mildly amusing Everybody Does It (1949), then had one of her best remembered roles as playwright's wife Karen in Mankiewicz's brilliant portrait of theatre life, All About Eve.
Holm told the story of her relationship with Bette Davis. "On the first day of shooting, I walked on the set and said 'Good morning' to Davis. She said, 'Oh shit, good manners,' and I never spoke to her again." Daryl F Zanuck had not wanted to give Holm the role of Karen ("I was told he only signed me to stop Louis B Mayer from doing so") and when she asked for the raise called for in her contract, he fired her. "Then he called the head of every other studio and said he had fired me because I was too difficult to work with."
Holm returned to Broadway to play Kate Hardcastle in She Stoops to Conquer (1949), then the French playwright Louis Verneuil wrote a comedy, Affairs of State (1950) specially for her, and it was a huge hit, running for over 600 performances and giving Holm a role that fully exploited her droll comic touch and flawless timing. The critic John Chapman described her as "One of the few intelligent beauties on the stage." She was impressive the same year when she replaced Gertrude Lawrence in The King and I in 1952.
She made only a few more films, including The Tender Trap (1955), in which she was one of playboy Frank Sinatra's sweethearts, losing him to virginal Debbie Reynolds. The patchy comedy's funniest scene was Holm's wicked parody of Reynolds. The following year she and her friend Sinatra were teamed again as reporters covering a society wedding in a remake of The Philadelphia Story titled High Society. One of the film's highlights is the couple's rendition of Cole Porter's "Who Wants to Be a Millionaire?"
Holm's charitable deeds included raising $20,000 for Unicef over the years by charging 50 cents for autographs. In the UK, she starred in Nottingham in the musical Lady in the Dark (1981), and more recently she appeared at Pizza in the Park in London in 2003, reminiscing and singing songs that had been part of her life. She was accompanied (and occasionally prompted) by her fifth husband, the former opera singer Frank Basile.
It was her marriage to Basile, over 45 years her junior, in 2004, that prompted the litigation that marred her final years, but friends state that Basile was very good to her. She was latterly plagued with illness, and was taken to hospital two weeks ago with dehydration after a fire in Robert De Niro's apartment in the Central Park building where the Basiles lived. Last Friday she asked Basile to take her home, where she died.
Celeste Holm, actress and singer: born 29 April 1919 New York City; married 1938 Ralph Nelson (divorced 1939; one son), 1940 Francis Davies (divorced 1945), 1946 A Schuyler Dunning (divorced 1952; one son), 1966 Robert Wesley Addy (died 1996), 2004 Frank Basile; died New York 15 July 2012.
Register for free to continue reading
Registration is a free and easy way to support our truly independent journalism
By registering, you will also enjoy limited access to Premium articles, exclusive newsletters, commenting, and virtual events with our leading journalists
Already have an account? sign in
Join our new commenting forum
Join thought-provoking conversations, follow other Independent readers and see their replies