Cesar Pelli: Celebrated architect of sweep and harmony
He was hugely influential in his field, creating stunning landmarks such as the Petronas Towers in Malaysia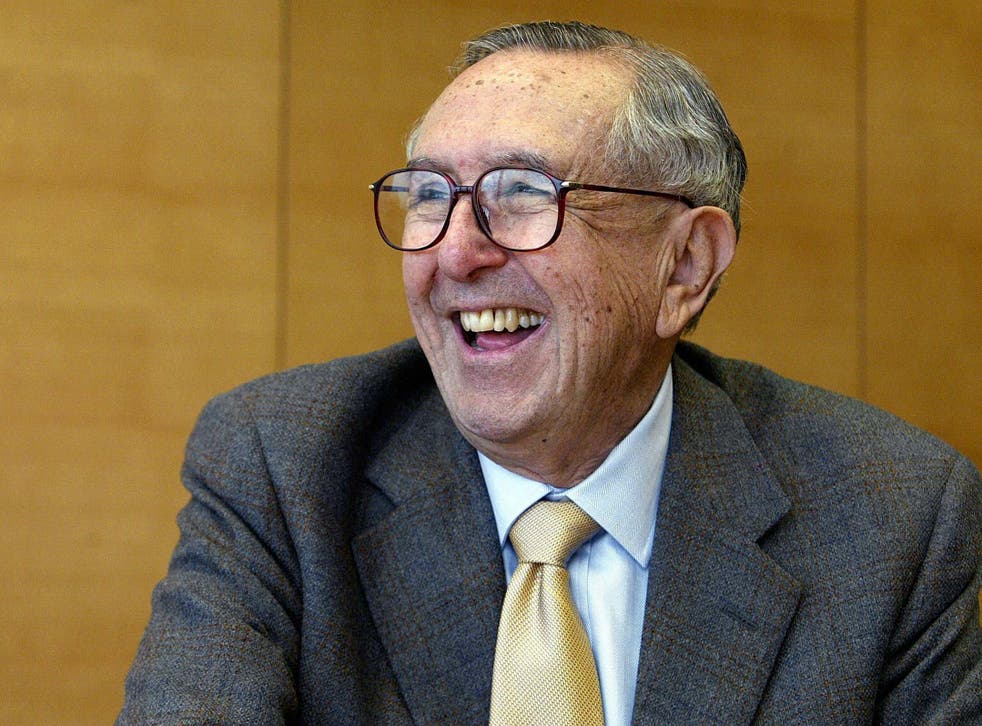 Cesar Pelli was a force in modernist architecture who crafted bold landmarks such as the crayon-bright Pacific Design Centre in Hollywood, California, and the Petronas Towers, a twin-spire skyscraper in Malaysia that was briefly the world's tallest structure.
The Argentine-born Pelli, who has died aged 92, received some of his profession's highest awards, served as dean of the Yale School of Architecture, and maintained a creative pace that often placed him on lists of the most influential architects into the 21st century.
His projects spanned a broad sweep of form and function: stately commercial headquarters, angular arts centres, a terraced-glass addition to New York's Museum of Modern Art, and the sun-drenched north terminal at Washington's Reagan national airport. But a unifying chord – and perhaps his greatest contribution to the architectural canon – was what he called his attempts to keep a building's "soul" and "skin" in harmony with its surroundings by using selected materials, styles and details.
Pelli's Art Deco-inspired Wells Fargo Tower blends with the granite-and-brick cityscape of downtown Minneapolis. And his Adrienne Arsht Centre for the Performing Arts is a ziggurat of aqua-tinged light and jagged angles intended to capture the Miami sun and symbolise the unpredictable flourish of creativity.
In New York, one of the showcases of Pelli's shifting styles, the slim, 60-storey Carnegie Hall Tower features mixed brick tones to echo the weather-worn tones of older buildings south of Central Park. "This slender, elegant slab is like a dancer among thugs," Time magazine architecture and design critic Kurt Andersen wrote in 2001. Farther downtown, the solid World Financial Centre (now Brookfield Place) complex and palm-filled Winter Garden evoked the greed-is-good swagger and opulence of 1980s Wall Street. (It underwent significant reconstruction work from damage in the 9/11 attacks.)
"We should not judge a building by how beautiful it is in isolation, but instead by how much better or worse that particular place ... has become by its addition," Pelli said in 1988.
There are those who believe Pelli sometimes fell short of that credo. When Pelli's firm cut the ribbon on the 50-story One Canada Square tower in Canary Wharf, London, in 1991, some critics cringed at the stainless steel skyscraper, then London's tallest at nearly 800ft, as grossly out of place. Prince Charles bluntly told Pelli: "I personally would go mad if I had to work in a place like that."
Cesar Pelli was born in 1926, in the city of San Miguel de Tucumán in northwestern Argentina. His parents – his father was a civil servant and his mother was a teacher – amassed a sizeable library that included illustrated volumes on art, which Pelli pored over in his youth.
After graduating in 1949 with an architecture degree from the University of Tucumán, he helped design low-cost housing projects for a state-run development company. On a whim, he applied for a scholarship in 1952 for advanced study in architecture at the University of Illinois, Urbana-Champaign. He obtained his master's degree in 1954 and almost immediately began work on a Masonic temple project with the Finnish-born Eero Saarinen. That began a fruitful professional relationship between Saarinen and Pelli, who also assisted Saarinen with the iconic TWA terminal at New York's John F Kennedy international airport (then known as Idlewild). The terminal's flowing, space-age lines awed the world in 1962 as a symbol of American progress and forward-looking invention.
Upon becoming a US citizen in 1964, he moved to Los Angeles at a moment of explosive growth and experimentation for builders in California. As a partner one of the city's expanding design-engineering firms, Daniel, Mann, Johnson and Mendenhall (DMJM), he become a trailblazer in new methods of glass cladding in the mid-1960s.
Buildings such as a Federal Aviation Administration office in Lawndale, California, were encased in mirrored glass that captured the kaleidoscope of sky and scenes around it – and served as a real-time panorama of the area's rapid changes. In another leap, Pelli used dark grey glass sheaths to enclose the Century City Medical Plaza in Los Angeles.
In 1977 he formed his own company in New Haven, Cesar Pelli & Associates, was selected as Yale School of Architecture dean – a post he held for seven years – and won the commission for the gallery extension and 52-story residential tower at Moma.
The project ushered in a reach for taller projects and bigger commissions for Pelli. He increasingly put his mark on skylines around the world: the 60-story Bank of America corporate headquarters in Charlotte, North Carolina (1992); the 68-story Cheung Kong Centre in Hong Kong (1999); and Abu Dhabi's 72-story the Landmark in the United Arab Emirates, completed in 2013.
The literal pinnacle of Pelli's push skyward was perhaps his most innovative. The dual 1,483ft Petronas Towers in Kuala Lumpur, Malaysia, held the title of world's tallest from 1998 to 2004. It was the first No 1 skyscraper in the 20th century outside the United States – a powerful sign of Asia's emerging economic clout. But for Pelli, a principal accomplishment came with his use of Islamic- and Asian-inspired geometric patterns as homage to Malaysia and its Muslim heritage.
Pelli insisted his overall goal was how people interacted with his buildings, rather than how they were admired from a distance. "There is nothing quite so pleasurable for me as to visit my buildings when they are finished and occupied," he wrote in 1988. "It is like being part of a miracle taking place. Months and even years of caring and dreaming become a reality."
His wife, the architect and scholar Diana Balmori, died in 2016. He is survived by two sons.
Cesar Pelli, architect, born 12 October 1926, died 19 July 2019
© Washington Post
Join our new commenting forum
Join thought-provoking conversations, follow other Independent readers and see their replies