Cesaria Evora: Cape Verde's soulful 'barefoot diva'
Friday 23 December 2011 01:00 Comments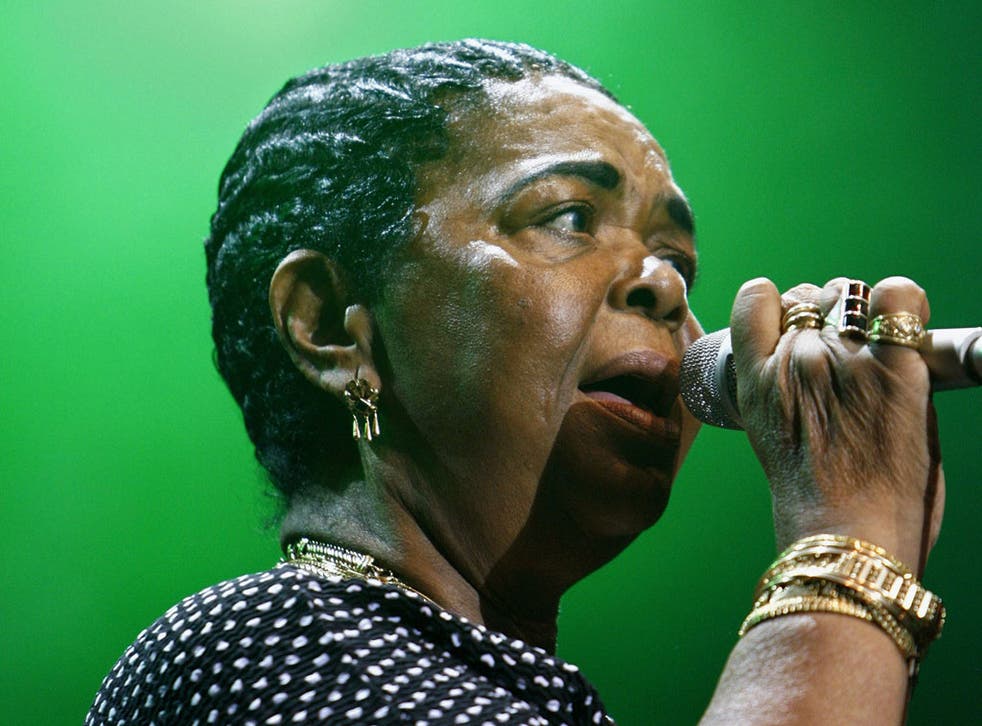 Cesaria Evora, the "barefoot diva", became the ambassadress par excellence of her country, the small West African island group of Cape Verde, and one of the most famous African singers in the world. Her origins were humble and she represented that dying breed typified by the last of the old rural blues singers – an artist who genuinely lived the hard times her songs spoke of.
I first heard of Cesaria Evora in 1989 from the Independent's Madrid correspondent, who covered a Portuguese prime ministerial visit to the country's former colony, and wrote afterwards of an eccentric bar-room singer, "shaped like a manioc root", performing songs of "sad oceanic beauty". At this time Evora had accumulated neither money nor prestige from 30 years' singing. At home in the run-down little port of Mindelo, on the island of Sao Vicente, she was paid with drinks or small change for a few songs in one of the bars she trailed around at night, or at a party for officers on a visiting ship. Although her soulful voice was appreciated, she was not considered an equal of the handful of Cape Verdean artistes who recorded, guested occasionally on Portuguese TV and toured Cape Verdean communities in the Netherlands and the US.
Evora was born in 1941 to a part-time musician father and sang sporadically in bars until her late forties, when she tried her luck on a trip to Lisbon. There she was spotted by a Cape Verdean ex-musician named José da Silva, then working on the railways in Paris and moonlighting as a record producer. Da Silva made two CDs of her work and played them to Francois Post, a French music publicist and associate of the influential world music festival of Angoulême. In 1990, Post, knocked out by Evora's atmospheric vocal presence, instigated the recording of a new acoustic album, Mar Azul, and set up some concerts at the New Morning jazz club in Paris. The concerts sold out, and a cult began. Two years later, a follow-up album, Miss Perfumado, hit the jackpot, with major international sales and a mini-season at the Olympia, the pinnacle of French pop venues. In the rest of Europe, Japan and the US, the pattern was soon repeated.
At the peak of Miss Perfumado's success, I attended an Evora concert on Sao Vicente at Mindelo's smartest hotel for an audience of the local bourgeoisie. During the evening the diva was to be seen table-hopping, sipping brandies. The band struck up – piano, acoustic guitars, clarinet, the little ukulele-like cavaquinho – and various warm-up singers came and went. Then, a very long pause, and finally, an announcement that Evora wouldn't be performing. She'd ambled off across the square barefoot a few minutes earlier.
The following afternoon, sitting on her bed, Evora explained. "I brought my family and friends and there was no table for them, so I left. There was a Portuguese TV crew there to film me, and they were pretty mad, but what have they ever done for me?"
The reasons for her fame seem, in retrospect, clear. " I never studied and I just sing naturally, from the heart," she said. The genre she specialised in, the sad, poetic morna, is distinctive and atmospheric and Evora's voice, mellow and simple, was perhaps its loveliest vehicle.
Sodade is the morna's key emotional basis, Cape Verdean Creole for the Portuguese saudade, or nostalgia and longing – for home, often, because Cape Verdeans are great departers. One of Evora's most celebrated songs, called simply "Sodade", encapsulates this world with its hauntingly matter-of-fact lyric, "You write to me, I'll write to you/ You forget me, I'll forget you" and its reference to the "boat to Sao Tomé". This is the old steamer which sailed between Mindelo and Sao Tomé, transporting tattered wage-slave emigrants, propelled by the terrible famines of the 1940s and 50s. Evora's brother took the boat to Sao Tomé and she remembered singing at the eve-of-departure street parties for the newly indentured coffee pickers.
By the end of the 1990s, Evora's life was transformed: a new Ford, a young relation as driver and a grandiose new house, albeit in the street she grew up in. She toured internationally, made a dozen more records, collaborated with world artists such as Salif Keita and Caetano Veloso and received the decoration of Chevalier des Arts et Lettres from the French state. I met her again at a concert in New England, about to play a private engagement for a fashionable architect. So you're in demand from society now? I asked. "I always was," she replied. "They just never paid me before."
Her health became unreliable, however, undermined by her long fondness for whisky and brandy, which she gave up, and cigarettes, which she never did. When she announced her retirement due to heart and respiratory problems a few months ago, she confided in her biographer, Véronique Mortaigne, that the last straw had been a potato crisp dependency she'd acquired, sending her blood pressure and cholesterol levels soaring. She went back to Mindelo to rest, surrounded by her daughters, grandchildren and numerous admirers. Among them was Cape Verde's Minister of Culture, who said: "Cesaria Evora became the universally recognised translation of the words 'Cape Verde'."
Philip Sweeney
Cesaria Evora, singer: born Mindelo, Cape Verde 27 August 1941; three children; died Mindelo 17 December 2011.
Register for free to continue reading
Registration is a free and easy way to support our truly independent journalism
By registering, you will also enjoy limited access to Premium articles, exclusive newsletters, commenting, and virtual events with our leading journalists
Already have an account? sign in
Join our new commenting forum
Join thought-provoking conversations, follow other Independent readers and see their replies