Charles 'Skip' Pitts: Guitarist who played the famous 'Shaft' wah-wah riff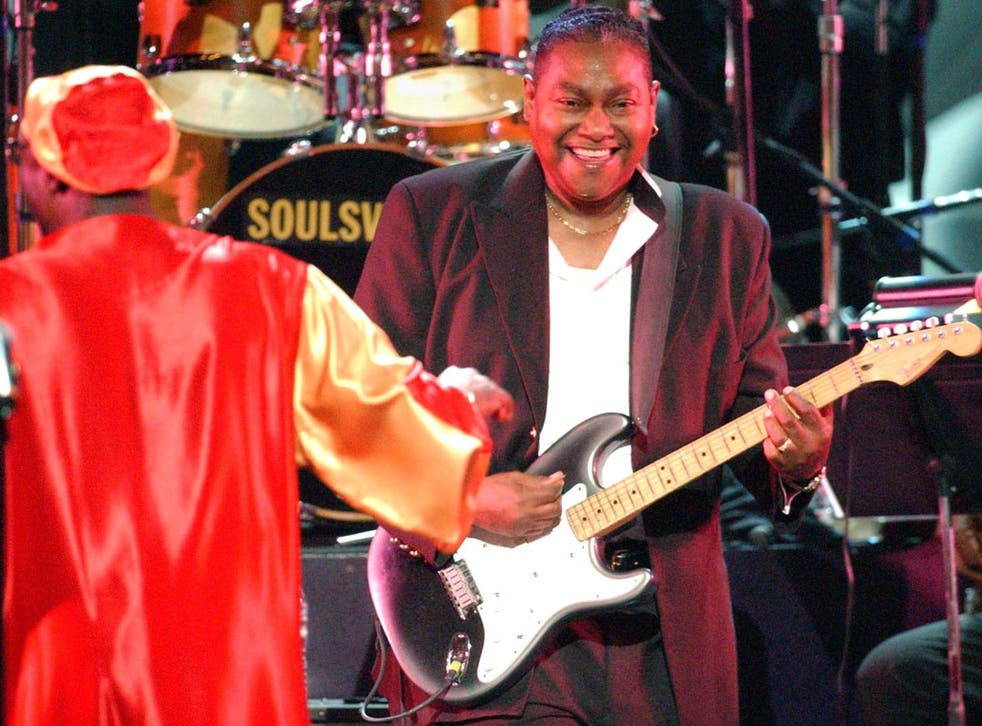 Many of the world's best-known guitarists have used the wah-wah pedal to great effect but none played as distinctive, exciting and memorable a riff as Charles "Skip" Pitts did on Isaac Hayes' Oscar-winning "Theme From Shaft" in 1971. The ominous, menacing sound Pitts created as he fed his driving rhythm chords through the Maestro Boomerang wah pedal matched the gritty visuals and the edgy mood of the Blaxploitation movie's opening sequence and turned the track into one of the most recognisable and enduring records of all time.
Pitts remained at Hayes' side for the rest of the soul star's career, becoming a mainstay of his touring band and featuring on such classic, much-sampled albums as 1972's Black Moses and 1973's Joy as well as the 1976 UK Top Ten hit "Disco Connection" and the 1998 chart-topper "Chocolate Salty Balls" – recorded by Hayes in his Chef guise for the South Park TV series – and the soundtracks to the 1974 Blaxploitation films revived by Quentin Tarantino, Three Tough Guys and Truck Turner.
A precocious and prolific player, Pitts, who has died of lung cancer, also worked with the Coasters, Wilson Pickett,Sam & Dave, the Isley Brothers, theTemprees, the Soul Children, Albert King, Al Green and Cyndi Lauper. In the late 1990s, with the producer and bassist Scott Bomar, he founded The Bo-Keys, a Memphis group combining alumni from the city's legendary soul labels Stax and Hi, and younger musicians; they recorded two albums and appeared in Soul Men, the last film completed by Bernie Mac and Hayes before their deaths on consecutive days inAugust 2008.
Born in 1947, Charles Pitts grew up in Washington DC and began playing guitar in his early teens. Mostlyself-taught, he was befriended by the rock'n'roll pioneer Bo Diddley, who had moved there from Chicago and gave him a few pointers. "He was my idol with all the rhythms that he did," Pitts said. "I utilised them when I started playing funk."
Pitts also met James Brown, Marvin Gaye and other rhythm and blues stars appearing at the city's Howard Theatre since they stayed at a nearby hotel owned by his uncle. By the mid-'60s he had left his first group, the Spiritual Kings, and was backing Gene Chandler, of "Duke Of Earl" fame, on tour and on a live album recorded at the Regal in Chicago, from which came the "Rainbow '65" showstopper single. He was soon poached by Pickett and became the leader of the Midnight Movers, the singer's dynamic road band.
In January 1969 he went to a New York studio to record the blistering lead guitar on "It's Your Thing", the Grammy-winning single which reenergised the Isley Brothers after their departure from Motown. It also brought him to the attention of Hayes.
"He called me to come to Memphis in 1970. Isaac wanted to get his own band," recalled Pitts, stressing that the composer had already used a wah-wah on "Walk On By", one of the epic tracks on his 1969 album Hot Buttered Soul. "It was played by Michael Toles. They would need someone to get down on their hands and knees to move the wah while Michael was playing because he was just a young boy and couldn't get it going."
Pitts was much more experienced and confident since he had been using a Maestro Boomerang on the road, and soon joined drummer Willie Hall's hi-hat and Hayes' piano as they began sketching out "Theme from Shaft". "I was checking my pedals. I tested my overdrive, my reverb, the Maestro box, and then I started in with the wah," he told Guitar Player magazine last year. "Isaac stopped everything and said, 'Skip, what is that you are playing?' I said, 'I am just tuning up.' He said, 'Keep playing that G octave.' When he went from the F to the E, I switched to E. He said, 'No, go back to your G.' It was getting repetitious to me. So when he went to the next part I tried to do the rhythm with him. He said, 'No. Stay with what you are playing. I don't give a damn what I play.' He told me how to play it and put it in perspective, but it was my creation."
Pitts had found his niche and appeared with Hayes everywhere, from the epochal WattStax concert – the "black Woodstock" – at the Los Angeles Coliseum in August 1972 – to Glastonbury Festival in 2002, and recorded 20 albums with the soul giant. But he also found time to put his distinctive rhythmic stamp on "The Breakdown", a funky 1971 single by Rufus Thomas which featured another of his trademark tricks as he ran his left hand up and down the strings along the neck to approximate the whistling sound of a ricochet. "I created that to make up for missing a note," Pitts admitted. "I didn't get it from anybody else. I started doing that when I was 12 years old. Later I started incorporating it with the drums on purpose."
An innovative and imaginative sideman with a beaming smile and a gravelly voice, Pitts was arguably as influential as Dennis Coffey, the Detroit-born guitarist whose wah-wah helped Norman Whitfield realise the psychedelic soul of the Temptations on "Cloud 9", "Psychedelic Shack" and "Ball Of Confusion". Last year, both were featured in the documentary Cry Baby: The Pedal That Rocks The World alongside Buddy Guy, Eddie Van Halen and Kirk Hammett of Metallica.
Pierre Perrone
Charles Pitts, guitarist, singer and songwriter: born Washington DC 7 April 1947; married; died Memphis 1 May 2012.
Join our new commenting forum
Join thought-provoking conversations, follow other Independent readers and see their replies