Chester Bennington: Lead singer of Linkin Park remembered
Bennington, whose lyrics gave a voice to millions of fans, never managed to escape the struggles of his own childhood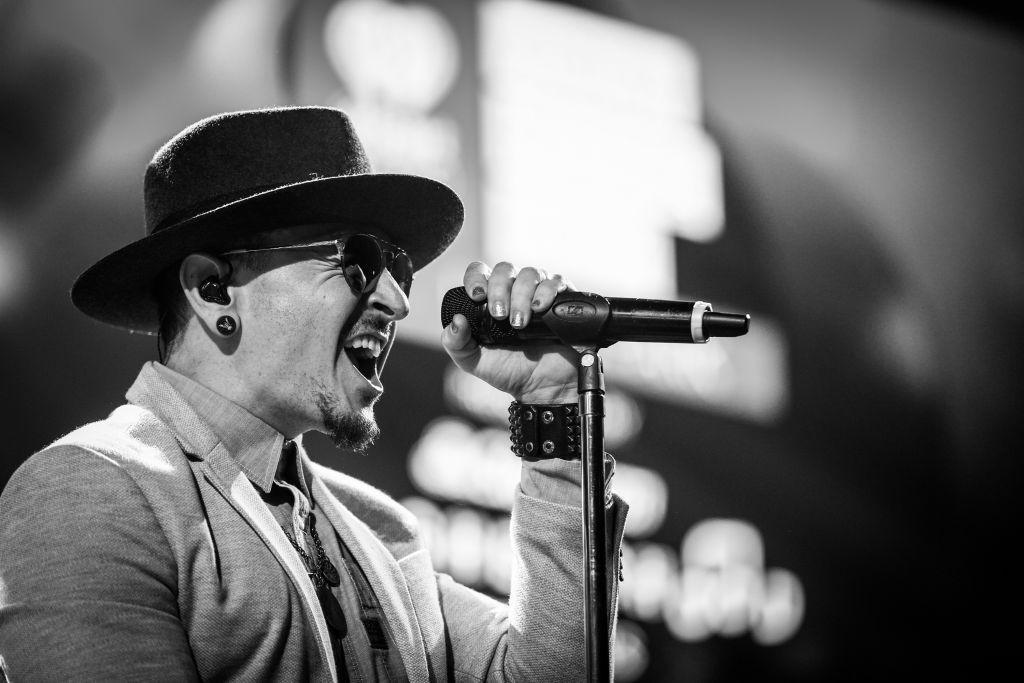 A lyricist to the last, Chester Bennington conjured a neat line to encapsulate the maelstrom of depression and addiction which swirled around him for much of his life and career as lead singer with American nu-metal band Linkin Park. Pointing to his head, he told an interviewer: "I like to say, 'This is like a bad neighbourhood and I should not go walking alone.'"
Bennington, whose death at the age of 41 has been confirmed as "suicide by hanging" by the Los Angeles Coroner's office, was seen by disaffected young people around the world as someone who could articulate their problems in song. In Linkin Park, he sang about mental illness and substance abuse; his powerful, urgent, soaring vocals dovetailing with Mike Shinoda's rapping.
One reason Bennington empathised so strongly with his audience was that he had endured much of what many of them were going through. Born in Phoenix, Arizona, to parents who divorced when he was 11, he was barely into his teens before he slipped into alcohol and drug abuse. He later listed LSD, methamphetamine, crack and opium among the drugs he used to cope with feelings of self-loathing created by being sexually violated by an older "friend" from the age of seven to 13.
Music gave him a fresh sense of purpose and escape. Bennington recorded three albums with the post-grunge band Grey Daze, formed in his hometown, but left in 1998. He nearly quit his musical career before he was finally offered an audition in California with the band that would become Linkin Park, then called Xero, to which he was recruited in 1999.
The six-piece's fusion of hard rock and hip-hop, characterised by Bennington and Shinoda's respective styles, prompted the name-change from Xero to Hybrid Theory. The band was well received online, circulating the new sound through chat rooms and forums, giving way to another name change to Linkin Park. There were still numerous rejections before they were finally signed to Warner Bros. Records in 1999, releasing their debut album Hybrid Theory in 2000. To date they have sold 70 million albums worldwide, as well as 30 million singles, and in 2014 Kerrang! magazine branded them "The Biggest Rock Band in the World Right Now".
Hybrid Theory remains the best-selling debut album of the 21st century. It was followed by the remix album Reanimation (2002), and six more studio albums: Meteora (2003), Minutes To Midnight (2007), A Thousand Suns (2010), Living Things (2012), The Hunting Party (2014) and this year's One More Light, which topped the US chart.
Bennington also undertook side projects. In 2005 he co-founded Dead By Sunrise, whose album Out Of Ashes (2009) he considered "darker" than Linkin Park's material, while in 2013 he began a two-year stint fronting Stone Temple Pilots, the grunge band which he said – along with Depeche Mode – had sparked his adolescent interest in music, and which he had once dreamed of singing with. Linkin Park collaborated with numerous artists, including Jay-Z and British grime artist Stormzy.
His first marriage, to Samantha Olit, was dissolved after nine years in 2005, after which he lapsed back into drink and drug abuse. A year later, when he married teacher and former model Talinda Bentley, he declared himself clean again. He was father to six children with three partners.
Bennington said this year that he had shrugged off his demons. But the May suicide by hanging of his close friend Chris Cornell, the Soundgarden singer, hit him hard; he gave an emotional rendition of Leonard Cohen's Hallelujah at the funeral and could not finish One More Light when performed with Linkin Park in tribute to Cornell. He took own life at the family home in LA on what would have been Cornell's 53rd birthday.
Chester Charles Bennington: singer, songwriter, musician, actor; born 20 March 1976, died 20 July 2017
Join our commenting forum
Join thought-provoking conversations, follow other Independent readers and see their replies