Chikage Awashima: Versatile, adored Japanese actress of stage and screen
Wednesday 04 April 2012 21:12 Comments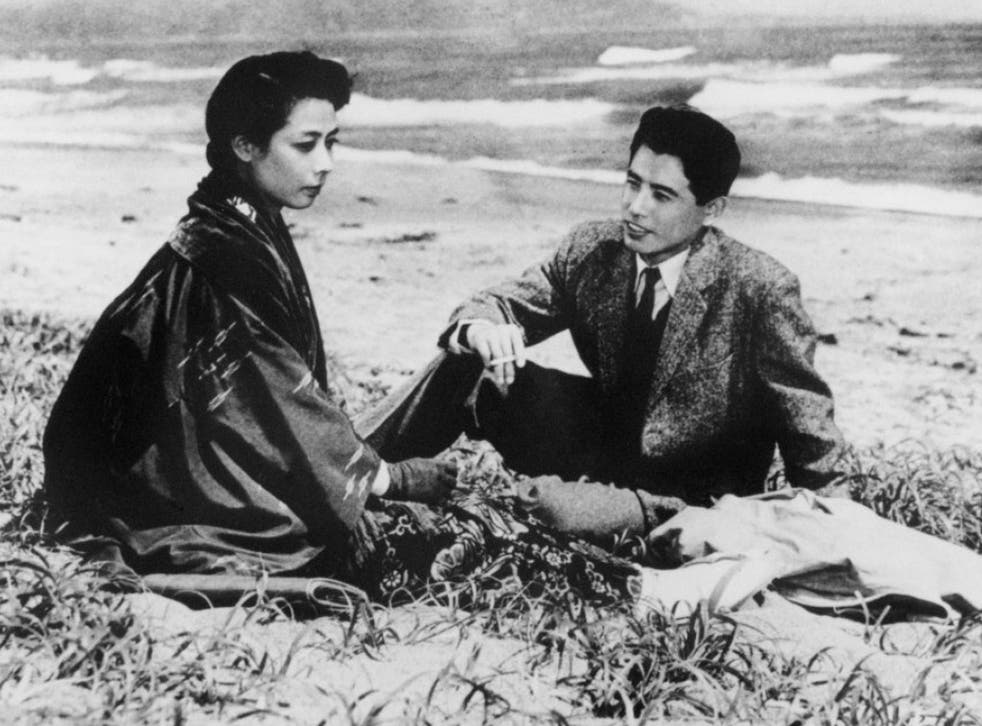 Chikage Awashima was a consummate performer of screen and stage in the post-war era, continuing up to the present. She had a strong, affectionate relationship with her public in Japan, particularly with regard her comedy performances, but she was remembered in the West for a few serious roles. The writer Donald Richie found "all of her characterisations, even the most superficially written, both believable and moving."
Awashima first made her mark on the stage of the Takarazuka Revue. This all-female music and dance venue, near Osaka, has been continuously famous since the 1920s for distinctive and highly polished shows to romantic themes. Awashima signed up with the dance and music school in 1939 and achieved recognition from 1941 in star female roles, particularly that of the Sapphire Princess, who has to cloak herself as male amongst "male" performers. The role is considered to be the model for Princess Knight, the widely published manga by Osamu Tezuka.
The Takarazuka Revue had flourished in the occupation era, but in 1950 Awashima signed a contract with the theatre and film production company Shochiku, just as the Japanese film industry was entering its greatest era. Her first film, for the director Minoru Shibuya, was Crazy Uproar (1950); it earned her the critics' prize for the best actress of the year, the first of many awards. She had a busy schedule for a range of Shochiku directors, often in ensemble roles – but she was more than capable of taking over a film when the material invited it. A key supporting role was in the 1953 film What Is Your Name?, the biggest success in Japan's post-war film history, directed by Hideo Oba. Thirty million tickets were sold for the film and its two sequels.
In 1955, Shiro Toyoda cast her as the lead in the romantic comedy Marital Relations. Her performance as an Osaku geisha, who falls in love with the scion of a merchant's family, has been widely praised. It was the start of a long and productive relationship with Toyoda.
It is worth reflecting, however, that within a few months of this peak in her comedy career, Awashima took the lead role in Yasujiro Ozu's Early Spring. Ozu's late films have a revered reputation for their spartan formality, but surely no film is as austere as Early Spring. According to the film-maker Kiju Yoshida, Ozu had been so appalled at viewers finding melodramatic resolution in his Tokyo Story that he forged a bleaker, anti-cinema for Early Spring, where there was to be no hint of comfort.
Awashima had appeared in two previous Ozu films. In the much brighter Early Summer, she had put her considerable skill into drawing the eternally sensible actress Setsuko Hara into some comedy routines – with limited success. But in Early Spring, Ozu cast Awashima, and the equally glamorous star Ikebe Ryo, as a couple weighed down by the death of their child. Awashima's character resents the way her husband seems to put down this burden, and when he suggests they go on a Sunday hike with his colleagues, she refuses, "because of the expense". As bad a decision as this cannot remain unpunished.
An example of a leading dramatic role in a period film for another master, Heinosuke Gosho, is Firefly Light (1958), in which she plays the historical figure of Tose, an innkeeper involved in the Teradaya Incident of 1862 in which pro-imperialist loyalists met to plot a revolt.
A more mainstream performance was in Shibuya's The Shrikes (1961). The advances in colour photography encouraged directors to show Awashima's complexion in radiant light, but it is the mother-daughter relationship that is everything in this film. Awashima, as the mother, is superb as an apparently care-free coaster with an inner fragility.
And it was such a persona, carried over to her comedy roles, that her fans in Japan still love. She had a memorable role in Yuzo Kawashima's 1959 film Room for Let. The film scholar Aaron Gerow has remarked that her way of making a play for Frankie Sakai "would get to most anyone", quipping that, unlike Sekai, he wouldn't have run away. That puts her persona into a nutshell. Richie summarised Awashima's roles in such films succinctly: "the male lead misunderstands [her] and the audience understands and sympathises completely."
In the Sixties, she was a standing feature in the long-running Station Front comedy series, after which her appearances on the big screen were infrequent, but never ceased. She had much television work and was appearing on stage as late as last year.
Roger Macy
Chikage Awashima, actress: born Tokyo 24 February 1924; died Tokyo 16 February 2012.
Register for free to continue reading
Registration is a free and easy way to support our truly independent journalism
By registering, you will also enjoy limited access to Premium articles, exclusive newsletters, commenting, and virtual events with our leading journalists
Already have an account? sign in
Join our new commenting forum
Join thought-provoking conversations, follow other Independent readers and see their replies