Choje Akong Tulku Rinpoche: Lama who founded western Europe's first Tibetan monastery
Thursday 24 October 2013 12:41 Comments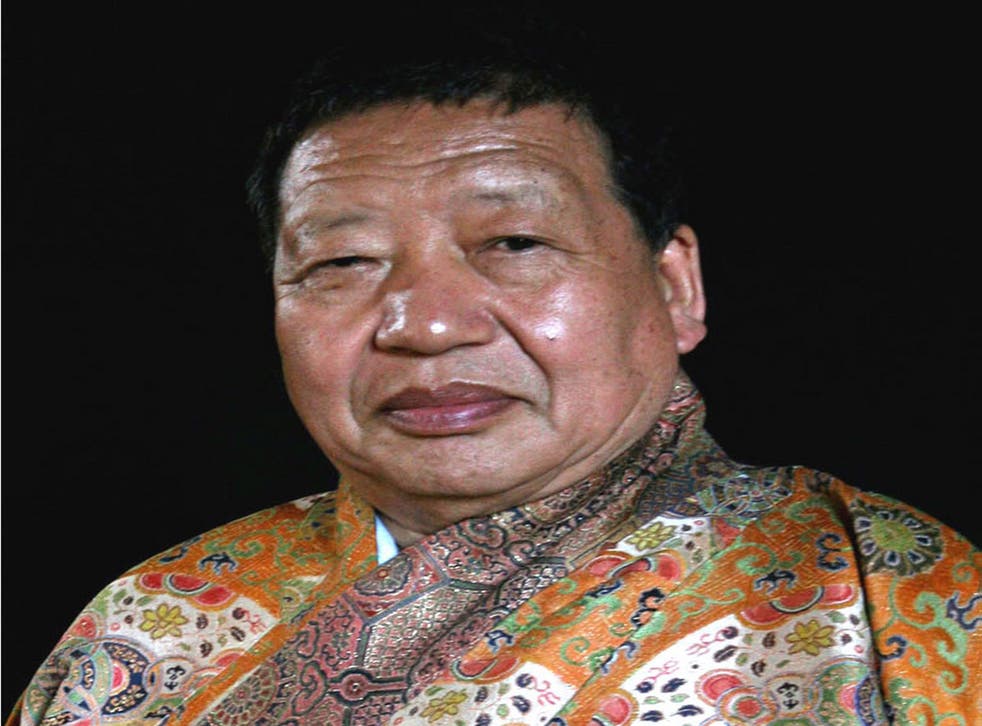 The Tibetan Buddhist lama Choje Akong Tulku Rinpoche survived a desperate march on foot from his homeland when he was 20 in 1959, to establish, in Scotland, Western Europe's first Tibetan monastery and found an educational charity that has raised millions of pounds, only to be stabbed to death at the age of 73 during a humanitarian visit to his compatriots in China.
That violent end jars with every act in the peaceful career played out in Britain of the man whom fellow Buddhists consider to have been reincarnated – tulku, and to be the precious one – rinpoche. And it brings full circle the grimness behind a half-century's exile from a land annexed by its mighty neighbour.
Akong Rinpoche spent more than 40 years as a naturalised Briton living in the very hills that Scotland's national poet Robert Burns may have trod, at Eskdalemuir in Dumfries and Galloway, mildly introducing the needy, the fashionable and the curious to the tenets of his faith. His monastery, Kagyu Samye Ling, which he co-founded with fellow lama Chogyam Trungpa Rinpoche and master artist Sherab Palden Beru, attracted from its beginning in 1967 celebrities including David Bowie, John and Yoko Lennon, and Leonard Cohen.
After the famous and the hippies had moved on, it became, with its peacocks and tea-shop, a favourite destination for family outings, as well as a centre of scholarship and contemplation.
In 1988, a temple, museum and library were added, all built by volunteers and lavishly adorned, to be consecrated that year by the Dalai Lama, in person during a visit to Britain. In 1993, the foundation acquired Holy Isle off Scotland's west coast, where it runs a spiritual project.
For Scotland, whose sons include George Bogle, the first Briton to reach the borders of Tibet in the 18th century, the Buddhist presence in Dumfries and Galloway has echoed an association of mutual curiosity going back 200 years. The British built a Buddhist temple in Bengal as long ago as the 1780s, at the request of the Tibetan Panchen lama, whom Bogle had met in 1774 at Tashilunpo, the present-day Shigatse, 100 miles or so from Dolma Lhakang, where in more recent times Akong Rinpoche spent his childhood, 20 miles south-west of the Tibetan capital, Lhasa.
Even two centuries ago, the influence of China, then known as the Celestial Empire and ruled by the Emperor Qianlong, was a factor all neighbouring powers sought to gauge. Bogle reported back to his patron, the British Governor General Warren Hastings, that Tibetan concerns about China's view of any links Tibet made with Britain was one reason he had not been allowed to travel on to Lhasa. Today, China has absorbed Tibet as an "autonomous region" and built a railway, the world's highest, into its heart. The heads of all four traditions of Tibetan Buddhism, including the Dalai Lama, are exiled in India.
Akong Rinpoche was one of the few important lamas still allowed by the Chinese authorities to come and go, carrying on educational and medical work with funds collected by his charity, Rokpa Trust. He was murdered as he began his annual tour distributing money to projects among Tibetans, according to his brother, Lama Yeshe Losal Rinpoche, abbot of Kagyu Samye Ling.
In the early 1990s, Akong Rinpoche was one of the key Tibetan religious figures who returned to their homeland to search for the child who would be the reincarnation of the 16th Karmapa lama, head of the Karma Kagyu or "black hat" tradition. He recognised the 17th Karmapa in a boy, Apo Gaga, born in 1983, who, renamed Orgyen Drodul Trinley Dorje, was to leave Tibet for India in 2000.
Akong Rinpoche himself had been found by a search party of lamas and recognised from the age of three in 1942 as the second Akong Tulku of the Tara Temple at Dolma Lhakang. But trouble followed China's invasion in 1950, and the Dalai Lama's attempt at a resolution in 1951. During the aftermath of the Tibetan uprising against the Chinese in 1959, Akong Rinpoche, like the Dalai Lama in the same year, joined the exodus.
The 300 refugees with whom Akong Rinpoche travelled grew so hungry on the journey that they boiled up their leather bags and boots to make soup. His elder brother, Jamyang Chogyal, died on the march, and Akong Rinpoche was one of only 13 who survived.
Arriving in India through Assam, Akong Rinpoche went on to teach Tibetans at the Young Lamas Home School in the former British imperial hill station of Dalhousie in Himachal Pradesh. Here, he decided to go to Britain and make it his home, and with funding from friends he arrived in Oxford in 1963 with his fellow lama, Chogyam Trungpa, to study English. He augmented their slender means by working as a hospital porter.
The lamas acquired followers and, seeking a place that might be used as a Buddhist centre, they set off with a friend who had a car to visit Johnstone House in Eskdalemuir. On arrival, the car broke down beyond repair, so there they stayed.
Kagyu Samye Ling, home to about 60 religious and lay residents, has more than 30 affiliated centres, including Lothlorien, a mental health concern in Cornwall, and a Tibetan medical institution in Edinburgh.
In 2011 Akong Rinpoche was honoured for his charity work by the United Nations High Commission on Refugees during the 60th anniversary of the 1951 Geneva Refugee Convention. He also served as a consultant for the National Museum of Scotland, which has a Tibetan collection including a prayer wheel house, and wrote three books, including Taming the Tiger: Tibetan Teachings for Improving Daily Life (1994).
According to reports, Akong Rinpoche was with his nephew and a driver in a residential area of Chengdu when they were involved in a dispute over money. All three were stabbed to death; the killers were also said to be Tibetan. He leaves a wife and three children living at Kagyu Samye Ling.
Anne Keleny
Choje Akong Tulku Rinpoche, Buddhist lama and charity worker: born Kham, Tibet 4 April 1939; married (three children); died Chengdu, China 8 October 2013.  
Register for free to continue reading
Registration is a free and easy way to support our truly independent journalism
By registering, you will also enjoy limited access to Premium articles, exclusive newsletters, commenting, and virtual events with our leading journalists
Already have an account? sign in
Join our new commenting forum
Join thought-provoking conversations, follow other Independent readers and see their replies