Christa Wolf: Writer whose hard-won reputation suffered when her Stasi links surfaced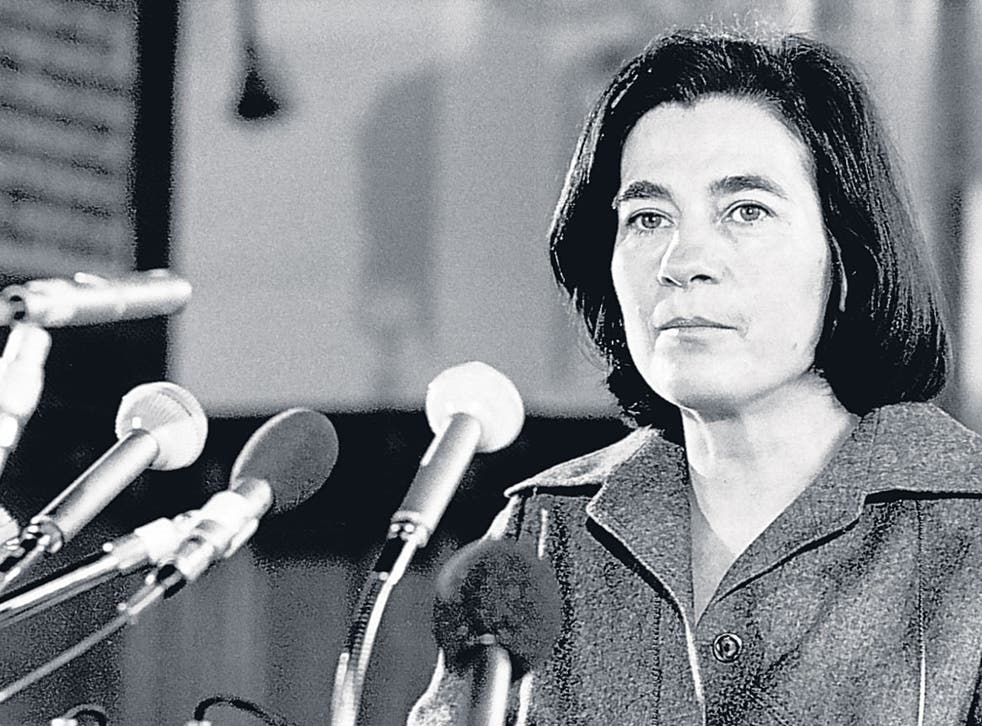 Christa Wolf was one of the most important contemporary German authors: an East German writer whose popularity spanned both German states; a constant critic of the socialist regime, who chose not abandon the larger socialist project. "I loved this country," she said of the German Democratic Republic, to her contemporary and friend Günter Grass, after it ceased to exist. She was a member of what she called a "broken generation": one that grew up under the shadow of Nazism and experienced the foundation of the GDR as the promise of a truly humane society, but then also lived to see it fail.
Christa Ihlenfeld was born in Landsberg an der Warthe in Brandenburg (now Gorzów Wielkopolski, Poland) in 1929. Her father was a grocer and he and her mother were Protestant, middle-class and pro-Nazi. Christa attended school in Landberg until 1945 when the family, fleeing the advancing Red Army, moved to rural Mecklenburg, in what would become the GDR. In 1949, as the GDR came into being, Wolf joined the governing Socialist Unity Party.
She studied German literature in Leipzig and Jena and planned to become a teacher. In 1951 she married the writer and publisher Gerhard Wolf. Her creative breakthrough came in 1963 in Berlin, with Divided Heaven, a Cold War Romeo and Juliet, set against the building of the Berlin Wall. Despite her criticism of state paranoia, the book brought immediate recognition.
Nevertheless, the increasing gulf between the reality of everyday life and the retouched image that was demanded for public consumption led inevitably to conflict with authority. Wolf's classic 1968 novel The Quest for Christa T set out to reassess the "failed" life of one of Wolf's many outsider heroines, explicitly addressing the "difficulty of saying 'I'". The autobiographical 1976 novel Patterns of Childhood was the first to deal self-critically with the taboo topic of the fascist past and became a watershed in both German states.
A turning point came that same year when the maverick songwriter Wolf Biermann was expatriated and Wolf signed an open letter in his support. Subject to reprisals and intrusive covert surveillance, she suffered a personal crisis. Although she still saw no alternative outside the GDR, she began to feel existentially and politically unhoused within it, as echoed in her 1979 No Place on Earth.
Her most ambitious work, Cassandra (1983), tells the story of the fallof Troy as a prescient allegory of the GDR but, in the figure of the beleaguered seer Cassandra, also examines theorigins of a patriarchal society that would pursue instrumental reason even to the point of its own destruction.This engagement with global themes – feminism, ecological degradation and nuclear catastrophe – notably in her treatment of Chernobyl, in Accident (1987), brought Wolf a major international following.
For a short while the fall of the Berlin Wall in 1989 seemed to represent the opportunity Wolf had so long worked for; and she was one of those who called for the preservation of an East German state as the better, socialist Germany. But she was fatally out of step with public opinion. Published just before unification in 1990 her next volume, What Remains, ignited a virulent public debate. Newspapers denounced the story of an author driven by the secret police to breakdown, as the unseemly attempt of a "state writer" to recast herself as "victim". Wolf became the scapegoat of a nation. This intensified when it came to light that Wolf herself had been an "IM", or unofficial Stasi collaborator, in the early 1960s. Although she immediately published her files, the effects on the credibility of a writer whose stock in trade had always been authenticity could never fully be repaired. The ensuing attacks on her integrity, along with serious illness, led her to a virtual withdrawal from public life.
Long before the fall of the Berlin Wall, Christa Wolf had become the first true German-German writer: winning prestigious national literature prizes in East and West and for many years tipped as a Nobel candidate. Her works since then have received mixed reviews. The most resonant – Medea (1996) a reworking of classical themes, Leibhaftig ("In the Flesh", 2002), a meditation on illness, and the 2010 novel Stadt der Engel oder The Overcoat of Dr Freud ("City of Angels or the Overcoat of Dr Freud") – represent a bleak and self-consciously "late" or old-age work. Wolf continues her ruthless interrogation of self and history (including the Stasi revelations); but she seems uncomfortable critiquing the market economy and the centre of gravity remains the lost GDR.
Wolf has been called a "loyal dissident", whose work reveals and enacts the fraught negotiations between power and creativity in a dictatorship – and the inability to move on. But more than that, hers is a scrupulous and humane work that explores what it is to be an individual in a uniquely turbulent century. Moreover, it rests on the unfashionable, but potent, belief that literature is important; and that writing is the best means to know oneself and to be "more intensively in the world".
Christa Ihlenfeld, writer: born Landsberg an der Warthe 18 March 1929; married 1951 Gerhard Wolf (two daughters); died Berlin 1 December 2011.
Register for free to continue reading
Registration is a free and easy way to support our truly independent journalism
By registering, you will also enjoy limited access to Premium articles, exclusive newsletters, commenting, and virtual events with our leading journalists
Already have an account? sign in
Register for free to continue reading
Registration is a free and easy way to support our truly independent journalism
By registering, you will also enjoy limited access to Premium articles, exclusive newsletters, commenting, and virtual events with our leading journalists
Already have an account? sign in
Join our new commenting forum
Join thought-provoking conversations, follow other Independent readers and see their replies