Christine Fox: Acclaimed sculptor whose work explored time and myth
David Buckman
Tuesday 31 July 2012 19:45 Comments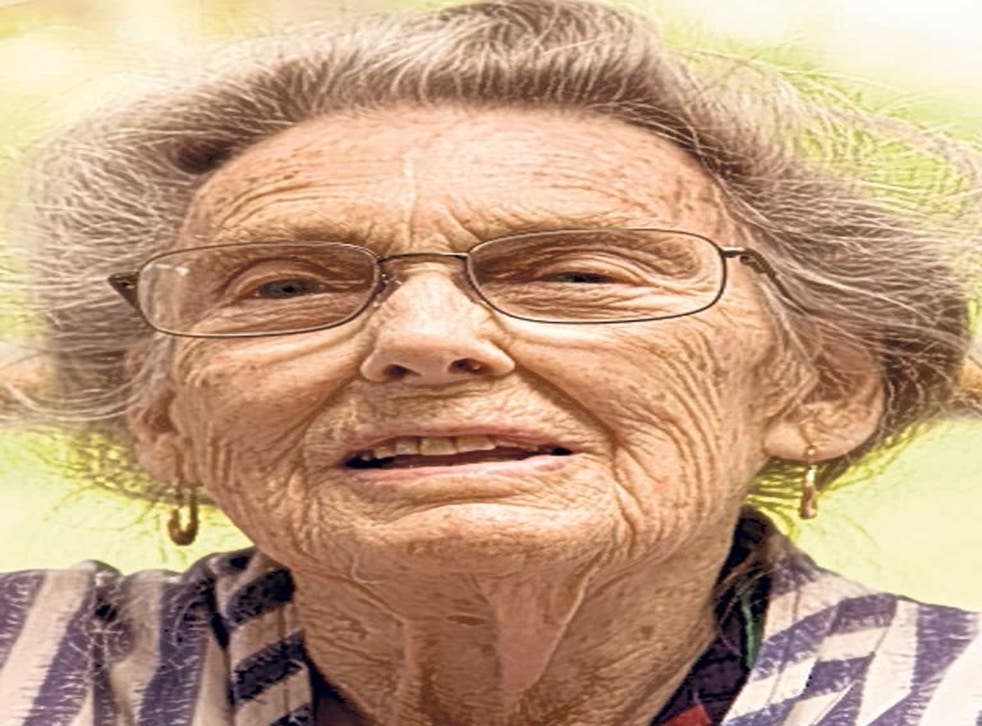 Christine Fox was a sculptor whose output, over some 50 years, reveals her work to have been of national stature, versatile in subject, exploring a huge range of materials and styles. Walk the sculpture trails of Cambridge, where she lived, and her work is not overshadowed by that of such luminaries as Lynn Chadwick, Eric Gill, Barbara Hepworth, Denis Mitchell and Peter Randall-Page.
Time and myth were key features of her work, and in later years ancient artefacts, natural forms and landscape. Her own works sit in the landscape as if always there, charged with energy but with an impressive, hieratic composure. "The land is the anvil," she wrote in a sketchbook, "the wind and the rain which enter one's body create the forms."
Christine Fox was born in Bridlington in 1922, the youngest of seven children of Frederick Fox and his wife Ethel Vause. Frederick worked in grain storage but lost his job in the 1930s. Until her sister Phyllis married, Christine was taught by her at home, then spent a year at school in Leamington Spa until the family moved to Oxford. After secretarial school there she became a secretary at Charles Elton's Bureau of Animal Population.
After her three-year marriage to Alan Mitchell ended in 1948, Christine was a single mother to her daughter Alison and from 1951-56 ran the Cherry Tree nursery school in Cambridge. While there she met the painter and educationalist Nan Youngman, who recognised Fox's need for creative expression and recommended she try the Bath Academy of Art course at Corsham Court, Wiltshire, that educated artists to teach at all levels.
In 1956, when Fox began her three-year course, Corsham Court was one of the most exciting schools of its type in the country. She was briefly taught by Kenneth Armitage and by Bernard Meadows, sculptors who left a strong impression. On her return to Cambridge, Fox joined the Cambridge Society of Painters and Sculptors, which Youngman had launched in 1955, and she showed with it continually until its close in the mid-1990s.
To support herself, Fox taught part-time at Cambridgeshire College of Arts and Technology from 1961-64. She left for three years to instruct trainee teachers at Homerton College, then returned to CCAT, retiring in 1988.
Her daughter Alison, who did her foundation course there, becoming a weaver of three-dimensional wire artworks, said her mother loved teaching: "She inspired many young sculptors and is often mentioned as the reason why they became sculptors." Her students were introduced to leading sculptors such as Michael Ayrton and Henry Moore and were taken to see Jim Ede's collection at Kettle's Yard. Fox was proud to have some of her sculptures cast by the foundry used by the demanding Moore. When Ede lent Fox Constantin Brancusi's precious sculpture Prometheus, she wrapped it in newspaper and took it home in the basket on her bicycle.
Not even broken bones deterred the indomitable Fox from delivering work for exhibition, recalls her friend Leon Stone. "I remember one eventful drive when she had a broken left arm. She drove and depressed the clutch while I changed gear for her, the car packed to the roof with precious bronze sculptures."
While working in CCAT's science department, Michael Crawley bought his first piece of Fox's work, one of the Axe Head series. During a friendship that lasted for many years, he added further pieces to his collection. The Axe Head is typical of themes that would recur over the years in Fox's work. As she explored new subjects the astonishing range of materials used grew, from slate, aluminium and clay to wood, rubber, sea sand and pebbles.
In 1976 she extended this to Asante bronze casting in Ghana, where she apprenticed to Amadu Kramo, which she funded by teaching sculpture two days a week at Kumasi's university. The book that arose from this period, Asante Brass Casting, appeared in 1988. Examining for the Cambridge University Local Examinations Certificate enabled her to travel not only to Africa but India and Malaysia and, after retirement, Mexico, Galapagos and Peru. Fox died in bed in her studio where, when she was able, her habit had been to begin work at 10am each day. "She worked through till she was tired, usually forgetting to eat at lunch-time," says Alison.
Fox was a prolific exhibitor. Her many sculptures bought for public places include Axe Carrier, Clare Hall Garden Court, Cambridge University, 1975; Batrachian Cascade, Stony Stratford, Milton Keynes, 1981; and Gathering of Owls, Darwin's Aviary, New Hall, Cambridge University, 1992.
Christine Hutton Fox, artist and teacher: born Bridlington, East Riding of Yorkshire 22 December 1922; married 1945 Alan Mitchell, (divorced 1948, died 1981, one daughter), 1967 Arthur Hibbert, (divorced 1970); died Coton, Cambridge 28 May 2012.
Register for free to continue reading
Registration is a free and easy way to support our truly independent journalism
By registering, you will also enjoy limited access to Premium articles, exclusive newsletters, commenting, and virtual events with our leading journalists
Already have an account? sign in
Join our new commenting forum
Join thought-provoking conversations, follow other Independent readers and see their replies