Chuck Yeager: Fearless pilot who shattered the myth of an impenetrable sound barrier
The West Virginian's record-breaking flight marked the beginning of a new era in aviation history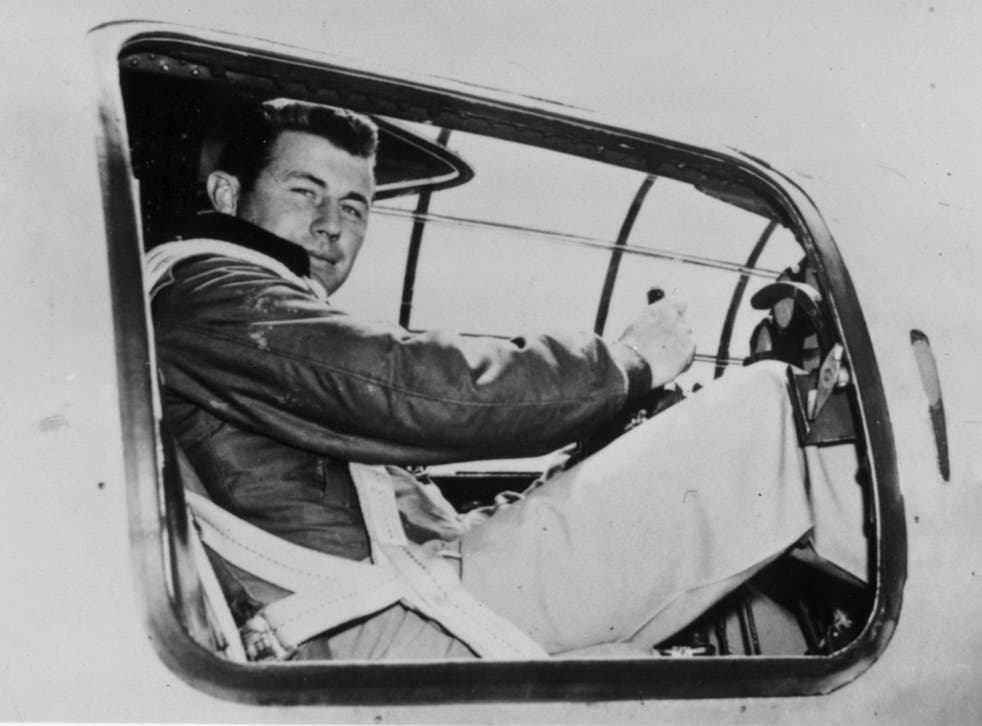 If anyone was born to fly, it was Chuck Yeager, a man who thrived in the world of high-performance aircraft where the slightest slip or mechanical malfunction could result in a premature death.
Yeager was the ultimate personification of the military pilot, the fearless flier with the "right stuff" who everyone wanted to emulate.
Although he will always be remembered as the first man to break Mach 1 – the so-called sound barrier – the rural West Virginian who became the fastest man alive had to overcome many other barriers during a military career that spanned more than 30 years. Starting as a non-commissioned officer, he survived being shot down before going on to become a fighter ace in the Second World War and the most celebrated test pilot of all time.
Yeager's special ability to thrive in a hostile, unforgiving environment shone through on 14 October 1947, when, in a remarkable demonstration of courage, skill and fortitude, he pushed the revolutionary X-1 rocket plane to new limits.
Despite having just suffered several cracked ribs during a fall from his horse, Yeager's determination to continue as planned paid off when, on his ninth powered flight in the X-1, he ignored the terrifying turbulence and shattered forever the myth of an impenetrable sound barrier.
The first sonic boom to resound across the Californian desert marked the beginning of a new era in aviation history, not only clearing the way for the introduction of today's advanced military strike aircraft, but eventually enabling civilians to experience the exhilaration of supersonic travel on board Concorde.
Although his pioneering achievement was immediately smothered beneath a blanket of security, officials from the Pentagon and the government soon realised the propaganda potential of Yeager's achievement. Immortality was subsequently assured when his exploits became the subject of Tom Wolfe's book The Right Stuff, subsequently translated to the silver screen in a 1983 Hollywood blockbuster movie.
Charles Elwood Yeager was born in Myra, West Virginia, on 13 February 1923. At the age of five, when his father began to work as a freelance natural gas driller, the Yeager family moved to a three-room house in the nearby town of Hamlin.
Despite the hardships, the young Yeager enjoyed the rural life. Coached by his father and grandfather, he became an experienced fisherman and hunter – shooting squirrels and rabbits with a .22 rifle from the time he was six. By helping his father to repair machinery and trucks, Yeager also learnt to become a skilled mechanic.
His years at school were less enjoyable. By his own admission, he excelled at anything that demanded physical dexterity or mathematics, but his language skills left much to be desired. By the summer of 1941, Yeager was scraping a few dollars by working and hustling in the local pool hall when an air corps recruitment officer visited Hamlin. Impressed by what he heard, Yeager signed on for two years as an aircraft mechanic, but soon applied for a programme to become a "flying sergeant".
When it soon became clear that the teenager was a born flier, he was recommended to train as a fighter pilot. During a period of training at Casper, Wyoming, Yeager had his first near-death experience. Bailing out after his plane's engine caught fire, he was knocked unconscious when his parachute opened. Suffering from a fractured back, he was eventually found and carried back to civilisation on a sheepherder's burro.
Fortunately, his recovery was swift, and his squadron was shipped out for England on the Queen Elizabeth in November 1943. Three months later, Yeager began flying combat missions over occupied Europe, but after claiming one Me-109, he was shot down over southern France on 5 March 1944. With the help of the French underground, he evaded capture and crossed the Pyrenees. After successfully carrying his appeal to return to combat all the way to General Eisenhower, he was allowed to resume combat duty in August 1944.
Blessed with exceptional 20/10 vision, Yeager had eyes that could "see forever", enabling him to detect incoming enemy aircraft at a distance of 50 miles. He combined this advantage with cunning, concentration, ruthless ferocity and superb piloting skills to rack up a final total of 12.5 aerial victories – including five Me-109s and four FW-190s.
He later recalled: "In the midst of a wild sky, I knew that dogfighting was what I was born to do."
Clarence Anderson, the leading ace in the 363rd squadron, later commented: "He flew like a demon and was always taking calculated risks that are the essence of his personality. We all liked to buzz, but Chuck buzzed a few feet lower than the rest of us. But he was also a superb team player, he saw everything taking place around him, and in his calm and confident manner, helped a lot of guys out of tough moments."
Yeager, promoted to captain before his final sortie on 15 January 1945, completed 64 combat missions during his tour of duty. He returned to the United States as a war hero and married his long-term sweetheart, Glennis, after whom all of the aircraft he flew were named. Free to choose the base where he would be stationed, Yeager selected Wright Field in Ohio, which was relatively close to his hometown.
As an assistant maintenance officer to the fighter test section, he was able to fly the latest, most advanced aircraft as well as most of the captured German and Japanese fighter planes. He soon became the most experienced jet pilot in the US air corps, and by the autumn of 1945 he was demonstrating the P-80 Shooting Star to awe-struck audiences at air shows around the country.
His unique flying ability soon came to attention of Colonel Boyd, the commander of Wright Field, who persuaded Yeager to train as a test pilot. Despite crashing a two-seat trainer into a chicken house on a local farm, Yeager successfully struggled through the six-month course, and was soon chosen as the principal pilot for the X-1 experimental rocket plane, based at California's Muroc airfield, later known as Edwards Air Force Base.
After three glide flights and eight powered trips, the moment of truth came on 14 October 1947. Once the X-1 was dropped from the B-29 launch aircraft, he gingerly tested the rocket plane's newly installed moveable tail before igniting a third engine. Suddenly, the Mach needle began to fluctuate at 0.965, then it jumped off the scale. At the unprecedented speed of Mach 1.06 (700mph), Chuck Yeager had just accelerated into the history books.
When his achievement was finally declassified in June 1948, Yeager was awarded the highest honours in aviation and quickly became an international celebrity. His picture subsequently appeared on the cover of Time magazine and he was filmed carrying out stunt flying in the John Wayne movie Jet Pilot. As the most valuable property in US military aviation, Yeager was feted in Washington DC and made powerful friends in high places, but otherwise the modest man of action gained no tangible reward for his exploit – apart from a fur coat for his wife.
Over the next seven years, Yeager continued to work in the heat and dust of the Mojave Desert, flying and testing the latest prototypes and research aircraft in between propaganda speeches and personal appearances.
Towards the end of his time at Edwards, Yeager began to test the new X-1A rocket plane. Determined to overtake the recent speed record of Mach 2 set by another pilot (Scott Crossfield), Yeager soared to an altitude of 80,000 feet before starting a shallow dive. Approaching Mach 2.3 (1,650mph), the X-1A began to spin out of control. Despite a fogged visor and a tremendous buffeting as the plane plummeted 51,000 feet in 51 seconds, Yeager's instinctive reactions enabled him to stabilise the spin and land safely on the desert runway. Once again, he had survived to rewrite the record books.
Yeager never flew the X-1A again, but the dangerous assignments kept on coming. In February 1954, at the request of General Boyd, Yeager was sent to Okinawa to perform the first flight evaluation of a MiG-15 delivered by a North Korean defector. Despite wretched weather, he put the "flying booby trap" through its paces, giving the US military an unprecedented insight into the capabilities of the Soviet frontline fighter.
Soon after, he was transferred to Germany as commander of the 417th Fighter Bomber Squadron. In 1957, Yeager returned to California when he took over command of the 1st Fighter Day Squadron at George Air Force Base. Flying the new supersonic F-100 Super Sabres, the squadron was considered one of the Tactical Air Command's (TAC) elite units. Despite the difficulties associated with inflight refuelling during long-range deployments of fighter units, Yeager planned and led the first flawless transatlantic deployment of a jet fighter squadron in TAC history, when all of the fighters landed together and on schedule at Moron Air Base, Spain.
Promoted to full colonel, Yeager returned to Edwards as deputy director of flight test in 1961. The following year, he took over as commander of the new Aerospace Research Pilot School, where he presided over the development of a unique centre designed to prepare US military test pilots for spaceflight. Many of the school's graduates were eventually selected for the US space programme and flew in the Gemini, Apollo and Space Shuttle programmes.
Despite his senior rank, Yeager was unable to resist yet another attempt to break a world record. During a preliminary flight on 12 December 1963, he climbed into a rocket-powered F-104 Starfighter and soared to a height of 104,000 feet before the aircraft went out of control. With its engine no longer operating, the Starfighter completed 14 spins before plunging into the desert. Yeager managed to punch the ejector seat after 13 of those spins, but the seat became tangled in his parachute lines, striking and breaking his helmet, then engulfing his face in smoke and flames. After a month in hospital, he lost the tips of two fingers but escaped without serious scarring.
With the government's decision in 1966 to cancel the Air Force Dyna-Soar space project, Yeager returned to combat when he took command of the 405th Fighter Wing, with his headquarters at Clark Air Base in the Philippines. Yeager commanded five squadrons and detachments scattered across southeast Asia, including tactical bombers and air defence squadrons based in South Vietnam. Flying close air support and interdiction missions in a B-57, he added 127 flights and 414 hours to his combat record.
In March 1968, he took over command of the 4th Tactical Fighter Wing in response to the crisis involving North Korea's seizure of the Pueblo, a US military vessel. Under his command, the wing achieved its first "Outstanding Unit" citation, and Yeager was promoted to the rank of brigadier general.
He returned to Europe as vice commander of the 17th Air Force in July 1969, working closely with the West Germans in organising joint exercises and training. In January 1971, he became US defence representative to Pakistan at a time when tensions were high in the subcontinent. He returned to the United States in March 1973 to take over as the director of aerospace safety at Norton Air Force Base, California, an appointment which ensured that he would be able to continue flying, despite his rank.
By the time he retired in 1975, Yeager had accumulated more than 10,000 flying hours in some 180 types of military aircraft. However, he remained an active consulting test pilot, flying and evaluating the most modern high-performance aircraft on behalf of the Air Force Flight Test Centre. His advice continued to be sought by both the government and the aerospace industry on a wide variety of issues ranging from the development of new state-of-the-art aircraft systems to the safety of spaceflight operations. In 1986, he was appointed to the Rogers Commission, established by President Reagan to investigate the loss of the Space Shuttle Challenger.
The publication of Tom Wolfe's best-seller in 1979, followed by the movie The Right Stuff, ensured Yeager's place as an international celebrity, with endless demands for public appearances, lectures and interviews.
On 14 October 1997, he returned to Edwards to commemorate the 50th anniversary of his historic X-1 flight. In front of a worldwide TV audience, he climbed into an F-15 Eagle with the name Glamorous Glennis gracing its nose and reprised the flight that had taken him through the sound barrier. He finally retired from flying military aircraft on 26 October 2002, after creating a sonic boom to open the Edwards Open House and Air Show.
Charles Elwood "Chuck" Yeager, pilot, born 13 February 1923, died 7 December 2020
Register for free to continue reading
Registration is a free and easy way to support our truly independent journalism
By registering, you will also enjoy limited access to Premium articles, exclusive newsletters, commenting, and virtual events with our leading journalists
Already have an account? sign in
Register for free to continue reading
Registration is a free and easy way to support our truly independent journalism
By registering, you will also enjoy limited access to Premium articles, exclusive newsletters, commenting, and virtual events with our leading journalists
Already have an account? sign in
Join our new commenting forum
Join thought-provoking conversations, follow other Independent readers and see their replies