Cleotha Staples: Vocalist with the Staples Singers
Even before their biggest hits they had long been associated with the civil rights movement
Pierre Perrone
Saturday 02 March 2013 02:33 Comments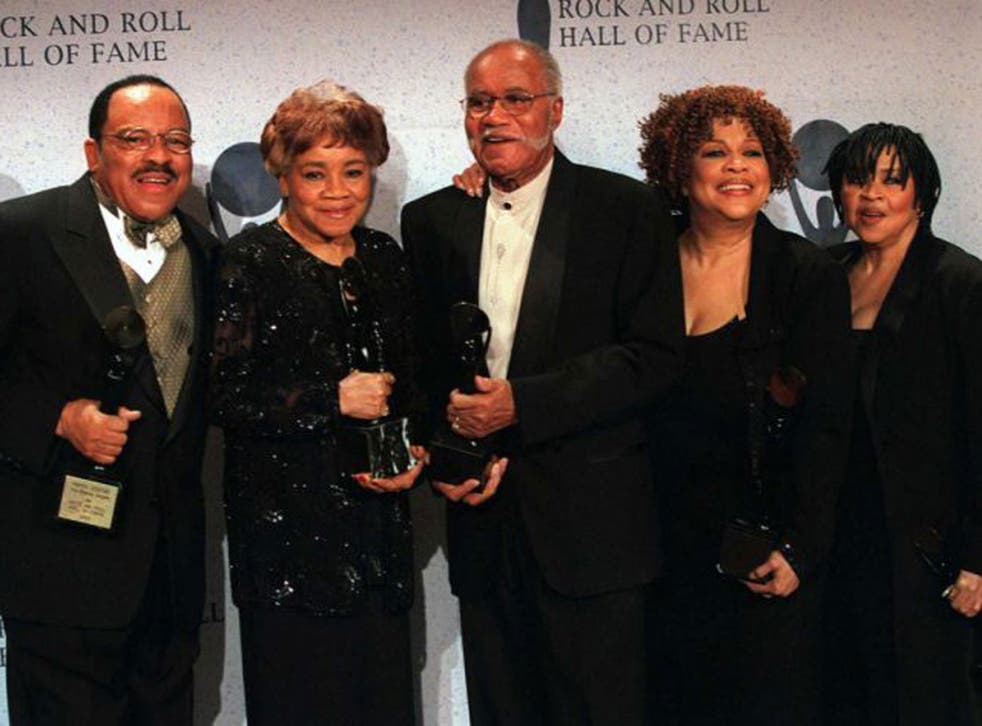 The family group the Staple Singers came to international prominence in the early 1970s with three crossover hits, the self-empowerment message song "Respect Yourself", the feel-good, call-and-response classic "I'll Take You There" and the soulful sermon "If You're Ready (Come Go With Me)". But they had long been associated with the civil rights, non-violent, protest movement led by Dr Martin Luther King Jr. throughout the previous decade.
In fact, their gospel roots could be traced further back, to the 1940s, when Cleotha Staples, the eldest sibling of the group, was encouraged to sing in church by the family patriarch, Roebuck "Pops" Staples. Father and daughter roped in the other Staples siblings, Pervis, Yvonne and Mavis, and started on the long road that transformed them into "God's Greatest Hitmakers", as they were termed, including appearances in such epochal concert films as Soul To Soul (1971), Wattstax (1973) and The Last Waltz (1978), and culminating in their induction into the Rock and Roll Hall of Fame in 1999 and a Grammy Lifetime Achievement Award in 2005.
While Mavis and the guitar-playing "Pops" featured prominently on their best-known songs, Cleotha's velvety soprano and harmonies gave the Staple Singers, as Mavis said, "a down-home, country sound. Her voice would just ring in your ear. It wasn't harsh or hitting you hard, it was soothing,. The way we sang was the way Pops and his brothers and sisters would sing down in Mississippi. Those were the voices they would use to sing after dinner out on the gallery."
Cleotha was the only child of Pops and his wife Oceola to be born in Mississippi, on a sharecroppers farm near Drew, in 1934. The couple's four other children – Cynthia arrived in 1952 but never joined the group – were born in Chicago after the family moved to join relatives, including Pops' older brother Chester, the pastor at Mount Zion Baptist Church where the Staple Singers began performing regularly. By 1953, they had enough of a local following to warrant the recording and pressing of two Southern spiritual 78 singles, the first on their own label, and the second on United, a local imprint, before moving to the larger Chicago company Vee-Jay.
With the lead, deep contralto of Mavis well to the fore, their versions of "Uncloudy Day" and "Will The Circle Be Unbroken" sold steadily, while their 1955 interpretation of the traditional gospel song "This May Be The Last Time" inspired "The Last Time", the Rolling Stones' first self-penned chart-topper, a decade later.
After Vee-Jay, the Staple Singers recorded for Riverside, which specialized in jazz and folk, and covered Bob Dylan's "Blowin' In The Wind", "Masters Of War" and "Hard Rain's Gonna Fall" in 1964. Known as "Cleedi", Cleotha was an accomplished seamstress, and often designed and made the group's stage clothes. She also intervened to defuse tense situations when they encountered racism on tour. "It was just like the movies, but without the actors. I was scared to death," she recalled of their 1964 arrest in Memphis after Pops punched a white petrol pump attendant who had refused to give him a receipt. Thankfully, one of the officers had seen the group on The Tonight Show and let them go.
The Staple Singers first made the US pop charts with the protest song "Why? (Am I Treated So Bad)", written by Pops, and a soulful version of Buffalo Springfield's "For What It's Worth" on Epic in 1967. The following year they completed their transition to secular music when they signed to Stax, but despite being backed by Booker T & the MGs on two albums they struggled to make an impact. In 1970 Jesse Jackson admonished Stax co-owner Al Bell for not helping "the first family of gospel" fulfil their potential as "one of the greatest black acts in America."
Bell changed tack and teamed up the Singers with the Muscle Shoals Rhythm Section, aka the Swampers, a team of sessioneers – keyboard-player Barry Beckett, drummer Roger Hawkins, bassist David Hood and guitarist Jimmy Johnson – who had contributed to the success of Aretha Franklin, Wilson Pickett and Percy Sledge, and would go on to record with la crème de la crème of '70s rockers. Between 1971 and 1974, this partnership cut four albums and a dozen singles which made both the R&B and pop charts, starting with the infectious "Heavy Makes You Happy (Sha-Na-Boom Boom)", and also including the message songs "You've Got To Earn It", "This World" and "Touch A Hand, Make A Friend", as well as "Respect Yourself", "I'll Take You There", the US R&B and pop No 1 written and produced by Bell, and "If You're Ready".
"We sang our earlier pop releases over prerecorded instrumental tracks, but it just didn't have the same feeling as recording with live musicians in the studio," Cleotha told Billboard in 1973 when asked about the ingredients behind the group's new-found mainstream success. "We can really cook with musicians that we feel loose with, and who can follow us as we change things during a take."
However, Stax was forced into involuntary bankruptcy, and even if the Staples managed another US No 1 with "Let's Do It Again", the title song of the 1975 film starring Bill Cosby and Sidney Poitier, on Curtis Mayfield's Curtom label, their subsequent releases for Warner Brothers fared less well. In 1984, an inspired remake of the Talking Heads track "Slippery People" and the Turning Point album introduced them to a new generation of club goers, before Mavis embarked on a solo career on Prince's Paisley Park label.
The death of Pops and the onset of Cleotha's Alzheimer's disease in 2000 put paid to a reunion, though Mavis intends to dedicate her second album with Wilco's Jeff Tweedy to Cleotha.
Cleotha Staples, singer: born Drew, Mississippi 11 April 1934; married 1959 Edgar Harris (deceased); died Chicago 21 February 2013.
Register for free to continue reading
Registration is a free and easy way to support our truly independent journalism
By registering, you will also enjoy limited access to Premium articles, exclusive newsletters, commenting, and virtual events with our leading journalists
Already have an account? sign in
Join our new commenting forum
Join thought-provoking conversations, follow other Independent readers and see their replies