Coleen Gray: Star of Forties and Fifties film noir who appeared in such classics as 'Nightmare Alley' and Kubrick's 'The Killing'
Saturday 08 August 2015 01:30 Comments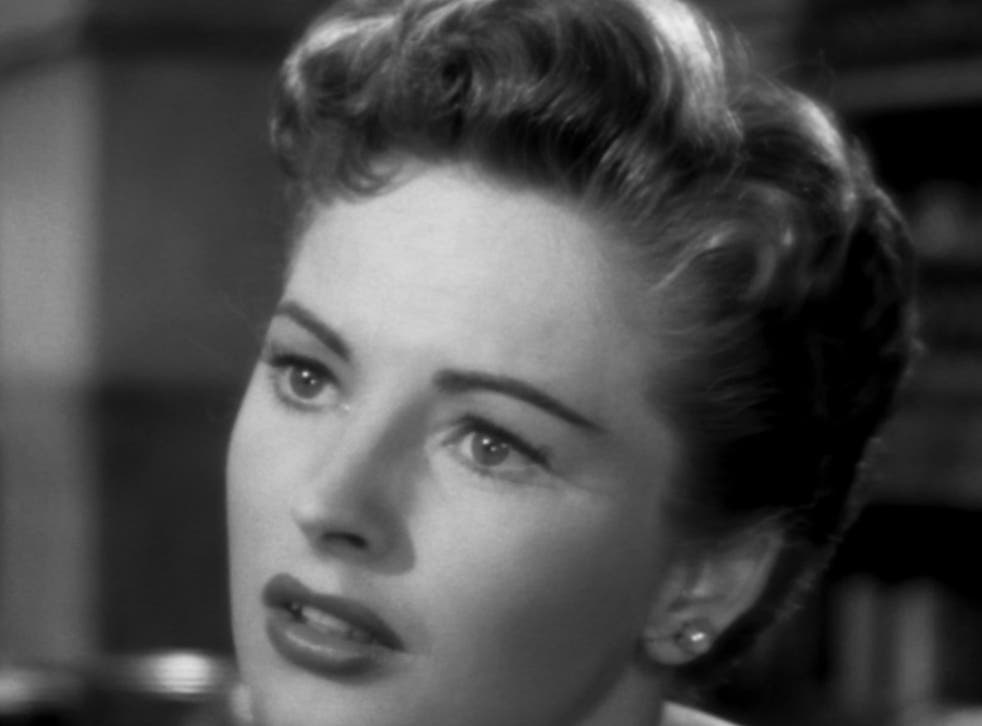 Dark haired and pertly pretty, Coleen Gray was a versatile actress who is particularly associated with films noir of the late Forties and early Fifties.
She had leading roles in several notable films, among them at least four classics. In Howard Hawks's western Red River (1948) she had a touching scene with John Wayne at the film's start, and three of the numerous thrillers she starred in stand out: Henry Hathaway's Kiss of Death (1946), Edmund Goulding's Nightmare Alley (1947) and Stanley Kubrick's The Killing (1950).
She also played opposite Bing Crosby in the Frank Capra musical Riding High (1950), and later in her career starred in a low-budget horror movie, The Leech Woman (1960), which has become something of a camp classic. It gave her a rare villainous role, which belied her wholesome appearance. Frequently cast as nice girls who fall in love with bad guys, she later bemoaned, "I was always goody two-shoes."
A farmer's daughter, she was born Doris Bernice Jensen in Nebraska in 1922. After graduating summa cum laude with a Bachelor of Arts degree from Hamline University in Saint Paul, Minnesota, where she had directed and acted in several college dramas, she moved to Los Angeles. There, she enrolled at the University of Southern California, working in the library and as a waitress to pay for tuition.
After being spotted by an agent in a play, she was signed to a contract by 20th Century-Fox in 1944, and made her screen debut with a one-line part in the Rodgers and Hammerstein musical State Fair (1945). The same year, she married the studio writer Rod Amateau, and had to relinquish a role in the Betty Grable musical The Shocking Miss Pilgrim (1947) when she discovered that she was pregnant.
She returned to the screen with her prestigious casting in Red River (1948), then played the sweetheart and later wife of a thief (Victor Mature) who is captured and persuaded to inform on other villains in Kiss of Death (1947). Shot entirely on New York locations, it was a box-office hit, particularly recalled for the brutal scene in which a psychopathic killer (Richard Widmark) fastens an old lady into her wheelchair then pushes it down a steep flight of stairs. Gray also provided narration for the film, though she later told the historian Eddie Muller, "That's one thing I regret. I could have done better with that narration. It should have had more juice."
She had a fine role in Nightmare Alley, a cynical but riveting exposure of carnival tricksters, with Gray the devoted wife of a fortune-telling con-man, played by Tyrone Power in a startling change of pace. "Tyrone Power was a lovely man. That film was his love, but not the studio's. They didn't sell it, they just let it out."
Gray co-starred with Mature again in Fury at Furnace Creek (1948), a western remake of John Ford's Four Men and a Prayer, in which brothers team up to clear their father's name. A loan out to Paramount to co-star with Bing Crosby in Riding High gave her a rare chance to display her singing skills on screen, partnering Crosby for the film's hit song, "Sunshine Cake".
In 1949 she made her Broadway debut, co-starring with Charlton Heston in Joseph Hayes' torrid tale of farm folk in Indiana, Leaf and Bough. Considered cut-rate Tennessee Williams, it ran for only three performances, prompting Gray to comment, "It bowed and left."
After Fox failed to renew her contract, she relished the role of a corrupt nurse in The Sleeping City (1950). Having divorced Amateau in 1949, she began a lengthy romance with actor John Payne while they were making Phil Karlson's Kansas City Confidential (1952), but in 1953 she married an aviation executive, William Bidlack. She starred with Payne again in the western Tennessee's Partner (1955), and the following year made one of her finest films, The Killing, as the devoted sweetheart of Sterling Hayden, mastermind of a complex robbery.
Gray generously acknowledged the impact made by Marie Windsor in the film. "I feel so guilty about receiving top billing. It's Marie's movie. She's incredible in it and she should have had top billing opposite Sterling Hayden."
Gray's later films included The Leech Woman, a cult movie in which she was a scientist's wife who discovers that the brain fluid of men will keep her young, prompting her to go on a murderous spree. "We had a lot of fun making that one. We blew a lot of takes because we were all laughing so hard."
Bidlack died in 1978, and the following year Gray married Fritz Zeiser, a biblical scholar, who died in 2012. Gray played several guest roles on television during the Sixties, but later partnered Zeiser in Presbyterian causes. Reflecting on her films, she told Muller, "One of the reasons film noir is still popular is that it left something to the imagination. Even though the films were about dark subjects, they were told in a way that inspired audiences to think about what they were watching."
TOM VALLANCE
Coleen Gray, actress: born Staplehurst, Nebraska 23 October 1922; married first 1945 Rodney Amateau (divorced 1949, one daughter), second 1953 William Bidlack (died 1978, one son), third 1979 Fritz Zeiser (died 2012); died Los Angeles, California 3 August 2015.
Register for free to continue reading
Registration is a free and easy way to support our truly independent journalism
By registering, you will also enjoy limited access to Premium articles, exclusive newsletters, commenting, and virtual events with our leading journalists
Already have an account? sign in
Join our new commenting forum
Join thought-provoking conversations, follow other Independent readers and see their replies