Colin Vearncombe: Singer known as Black whose 1987 song Wonderful Life was a hit around the world
Vearncombe was broke and could barely afford bread and milk. He returned from the shop and wrote "Wonderful Life" within 10 minutes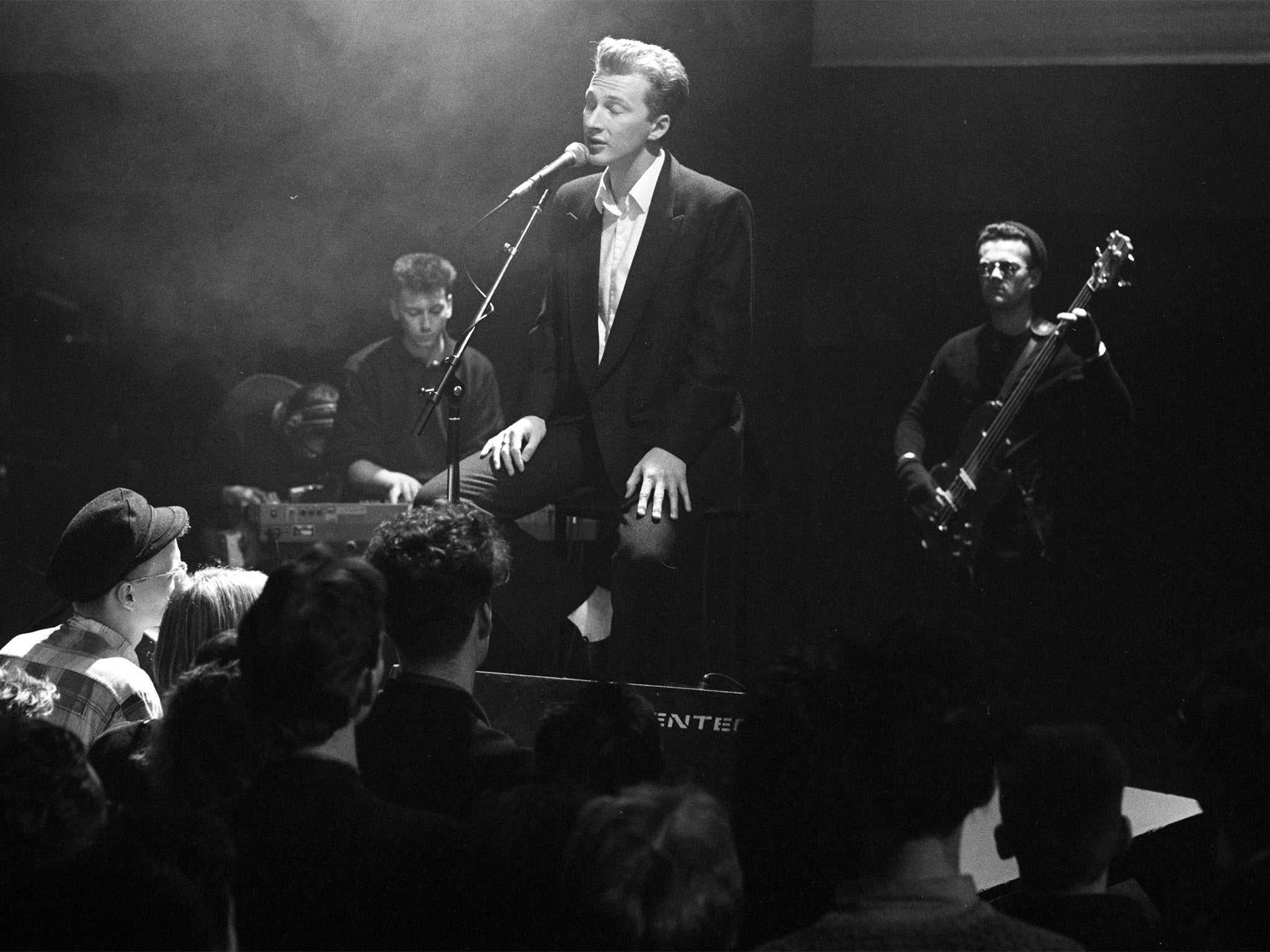 "I was really being ironic when I wrote 'Wonderful Life'," Colin Vearncombe, aka Black, told me in 2004 of his biggest hit. "Most people took it at face value, but why should they think otherwise? Only Donald Fagen and Randy Newman can sing sarcastically in a way that people understand. As a result, Smash Hits wrote about me because they thought it was a pop thing and Q wouldn't touch me."
Colin Vearncombe was born in the West Derby area of Liverpool in 1962 and went to Prescot Grammar School. He saw Deaf School at the new wave club, Eric's, in 1977 and wanted to be a performer himself. He went to art college and played with the Epileptic Tits. "It was a stupid name for a stupid band but I knew I wanted to play original material. If you play your own tunes, no one knows whether you're making a mistake or not."
His first single, "Human Features", was made for Rox Records from Birkenhead, and he called himself Black as he didn't think Vearncombe would be remembered. Pete Fulwell, the manager of Pete Wylie, was impressed and, partnered by Dave Dickie (Dix) from the Last Chant, he toured with Wylie and the Thompson Twins. Black released two singles for Warners but they then dropped him.
Vearncombe was broke and could barely afford bread and milk. He returned from the shop and wrote "Wonderful Life" within 10 minutes. "I worked on it but I didn't change it much. It came out on Ugly Man Records and was picked up by A&M in 1987. The single sold 2.5m and yet it was pretty much the recording I had made in Pink Studios in Liverpool for £300."
His first A&M hit, though, was "Sweetest Smile", also in 1987. He said, "It's another of life's rich ironies that because my first marriage f**ked up in a very big way, I ended up writing a couple of songs that were the most successful I've ever written." The Wonderful Life album was in the charts for six months and sold more than a million copies.
Black had further success with Comedy (1988) and Black (1991) but critics said that the new songs did not match "Sweetest Smile" or "Wonderful Life". He wrote about issues which concerned him: "All We Need Is The Money" was about the regeneration of his home city. Moving to Normandy, Vearncombe wrote Are We Having Fun Yet? which was released on his own Nero Schwarz label, an imprint he maintained until the end.
In 1994 "Wonderful Life" had a new lease of life when it was used in TV advertisements for Standard Life, and it has been used in many guises since. It has been covered by Tony Hadley, Kim Wilde and Katie Melua. Although he had a fine voice and had taken singing lessons, he was careful not to let it get in the way of the song. "I enjoy people doing my songs unless they are doing circus tricks by racing up and down the scales. You can get a lot more mileage by just singing the words. I would never be interested in Michael Ball doing my songs but if Rex Harrison were still alive, it would have great to have heard them being performed in that half-spoken, half-sung style of his."
His passion for songwriting was renewed in 1998 when he attended a workshop hosted by Chris Difford of Squeeze, and he released an album of new songs, The Accused, under his own name. This led to several more albums including Live At The Bassline, recorded in Johannesburg with South African musicians, and a double-CD, Smoke Up Close, containing solo performances of 30 new songs.
As Vearncombe was never keen on show-business life, it was not surprising when he and his second wife, the Swedish opera singer, Camilla Griehsel, and their three children, moved to the idyllic Schull in West Cork. The couple recently separated but continued to live in Schull.
In 2005 Vearncombe began collaborating with Calum MacColl, the son of folk singers Ewan MacColl and Peggy Seeger. Their album, Between Two Churches, made with a mixture of South African and British musicians, was highly acclaimed. In 2009 he gave away digital copies of The Given, and members of his so-called Blacklist were given the option to purchase a second album, Water On Stone.
Vearncombe enjoyed the artistic community in Schull and in 2012 he published a book of poems and paintings, I Am Not The Same Person, and then worked across Europe with MacColl. As he wanted to communicate directly with his fans, he used the Pledge crowd-funding site for his 2015 album, Blind Faith. In November he sang a Catalan version of "Wonderful Life" for a charity appeal.
On 12 January he was involved in a car accident while driving to Cork Airport, and his injuries proved fatal. He will be remembered as a fine singer and songwriter, one of the best to come from a musical city. He had a cult following but many of his albums deserve more attention. "I despair of some of the songs that do become popular," he said, "it really sickens me that the vocabulary of the popular song is now down to about 200 words. It's like they are taking the mickey out of their audiences. You always have to do your best and use some ingenuity."
Colin Vearncombe, singer and songwriter: born Liverpool 26 May 1962; married twice (three sons); died Cork 26 January 2016.
Join our commenting forum
Join thought-provoking conversations, follow other Independent readers and see their replies