Colonel Brilhante Ustra: Feared army intelligence chief accused over Brazil human rights abuses
Although Ustra was eventually prosecuted, he only incurred a fine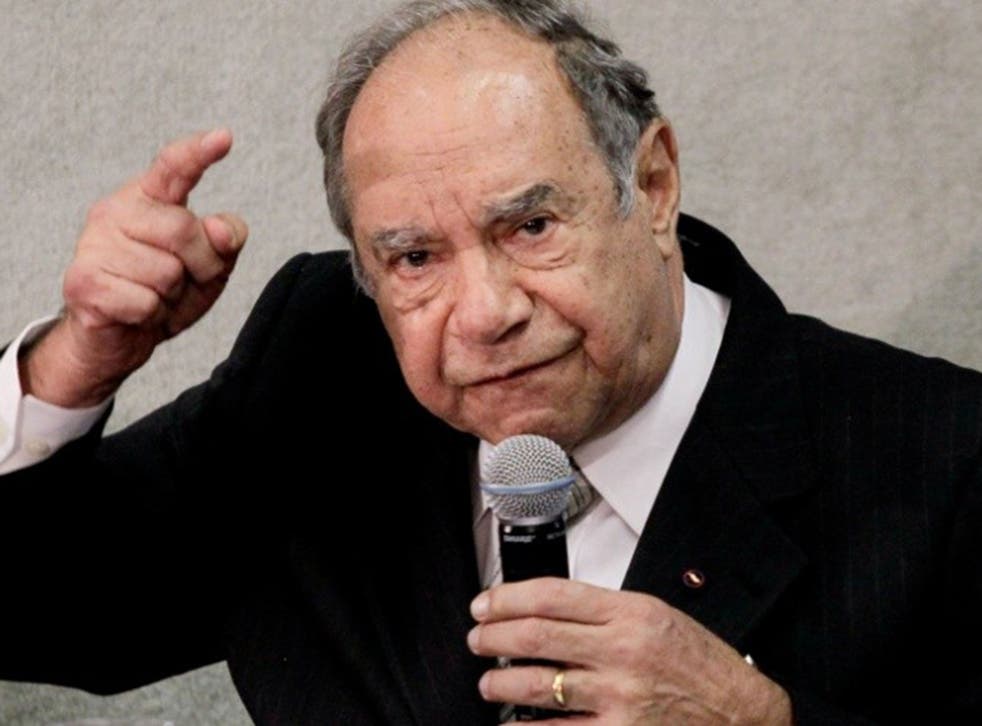 Colonel Carlos Brilhante Ustra, de facto head of army intelligence during some of the worst years of Brazil's two-decade military dictatorship, has been described as "the master of life and death, the man who decided who was going to live and who was going to die." Human rights groups said he was responsible for the illegal arrests and torture of more than 500 Brazilians from 1970-74 when he headed the notorious Doi-Codi (the Portuguese-language acronym for the Department of Information Operations – Internal Defence Centre) in Sao Paulo.
Only in recent years was he convicted – incurring no more than a fine for "human rights violations" – for ordering the arrest and torture of journalist and left-wing militant Luiz Eduardo da Rocha Merlino, who died in custody. The colonel escaped accusations of widespread abduction and torture, including overseeing the use of electric shocks to the genitals of both men and women prisoners. He was still appealing the fine, and compensation for the journalist's family, when he died.
More than 430 people were killed or never seen again throughout Brazil during the entire military dictatorship, from 1964-85. Although Brilhante was in charge of Doi-Codi "only" in Sao Paulo and "only" for four years, the city was where Doi-Codi was founded, based and at its most ruthless. It was also, and remains, the largest city in the southern hemisphere. In the years after the Cuban revolution, during the Vietnam war and the Cold War, Sao Paulo was inevitably a hive of communist and general anti-military activity.
When accused in recent years, Brilhante, whose name means "bright", rather than "brilliant", in Portuguese, responded with a well-known defence: "I was a soldier, merely following my orders. I never tortured a soul." But he did not repent. "I fought terrorism," he said at a hearing of the Brazilian National Truth Commission in 2013. "Our struggle stopped Brazil from becoming a Castro-style communist régime. The terrorists' aim was to depose the military and implement communism in Brazil. There were no little angels in the Doi-Codi cells. Our struggle was to uphold the democracy we now enjoy. Otherwise, I would not be facing you today. I'd be facing a communist firing squad."
His argument echoed those of General Pinochet in Chile and General Galtieri and other junta leaders in Argentina. Like the other two, his argument also pointed out that he had had strong support from much of the country at the time, not just the wealthy, but businessmen and the middle class.
He also noted that Brazil's Truth Commission, launched in 2011, was sanctioned by Brazil's first woman president, Dilma Rousseff, and that she appointed its seven members. His argument hit a nerve among left and right in Brazil. For although Rousseff was a victim of torture in Sao Paolo during the start of Brilhante's term at the head of Doi-Codi, his assertion that she was part of a communist terrorist insurgency in Brazil in the 1960s gave younger Brazilians pause for thought. Only a minority of the old communists in their massive country look to communism as an answer any more. Terrorism is even greater anathema.
Although she was an armed Marxist insurgent, Rousseff insists that she was a freedom fighter, not a terrorist. Given Britain's recent past, notably involving the IRA, it as a distinction we have tried to make for the sake of a peaceful future. Speaking of the IRA, a Newsnight report last year by Emily Buchanan said that some of Brilhante's men had been trained by British intelligence agents in "more sophisticated interrogation techniques" – some would call that a euphemism for torture – against IRA suspects during the first years of the Troubles in Northern Ireland in the early 1970s. Brazilian Doi-Codi agents reportedly dubbed their new, brutal techniques "the English System".
As well as left-wing students and intellectuals, Brazilian trade unionists were among those targeted by Ustra's Doi-Codi – and, in some cases, major companies were accused of supporting the military against their own workers. Only last month, days after the Volkswagen emissions scandal broke, 12 former VW workers in Brazil filed a civil lawsuit against the German carmaker claiming that they had been tortured in the VW plant at Sao Bernardo do Campo, near Sao Paolo, during Brazil's military rule. They claimed local pro-military VW executives had colluded in their detention and torture. VW's Brazilian subsidiary said it was investigating the allegations.
Brilhante Ustra died in the Santa Helena hospital in Brasilia, where he was being treated for cancer, of severe pneumonia and multiple organ failure. He is survived by his wife Maria and their children.
Carlos Alberto Brilhante Ustra, army intelligence agent: born Santa Maria, Brazil 28 July 1932; married Maria Joseita Silva (children); died Brasilia 15 October 2015.
Join our new commenting forum
Join thought-provoking conversations, follow other Independent readers and see their replies